December 4, 2015
For immediate release: Dec. 4, 2015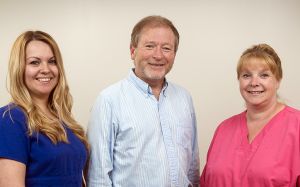 An experienced rheumatologist, Schweitzer had practiced at Northampton Internal Medicine in Florence since 1997. Kelly Grabowski, LPN, and medical assistant Jillian Teal accompanied Schweitzer in his move from the Nonotuck Street practice to Cooley Dickinson Medical Group.Cooley Dickinson Medical Group is pleased to now offer rheumatologic care, having welcomed Wayne Schweitzer, MD, to 22 Atwood Drive on Dec. 1.
Training and Medical Interests
Schweitzer earned his medical degree from Albany Medical College. Following residency at Boston City Hospital (now Boston Medical Center), he completed a rheumatology fellowship at Massachusetts General Hospital and Jackson Memorial Hospital in Miami, Florida. He is board certified in Internal Medicine and Rheumatology.
Schweitzer is interested in conditions including arthritis, osteoporosis, fibromyalgia, and gout, and autoimmune diseases such as lupus, scleroderma, and vasculitis.
Care Philosophy
"As a rheumatologist, I think it's important to do the detective work necessary to discover the causes of swelling and pain," Schweitzer said. "It's crucial to determine a correct diagnosis early so that appropriate treatment can begin."
He also expresses a strong belief in the importance of integrative care. "I refer my patients to orthopedists and physical and occupational therapists, as well as to nontraditional health-care providers," he said.
For more information or to make an appointment, call 413-584-9511.