February 3, 2016
For immediate release: Feb. 3, 2016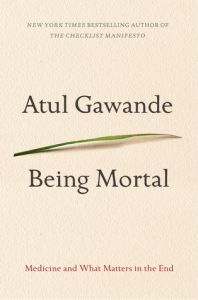 Hampshire & Franklin Counties – More than 25 libraries throughout the region and medical professionals from Cooley Dickinson Health Care are teaming up to sponsor community conversations about end-of-life care and planning.
Each library will offer community conversations based on Being Mortal, Medicine and What Matters in the End, by Atul Gawande, MD. View the list of library-hosted discussions and events here.
The community conversations start Saturday, March 5, and events will continue through Wednesday, April 20. An end-of-life community lecture featuring Vicki A. Jackson, MD, chief, division of Palliative Care, Massachusetts General Hospital, will be held Thursday, April 14.
Fostering Discussions among Patients, Doctors, and other Medical Professionals
Jeffrey Zesiger, MD, director of Palliative Care at Cooley Dickinson Hospital and an event organizer, says the goal of the initiative is to help community members prepare for the later stages of life, as well as better understand the aging process, death and dying, and advanced care planning.
As a palliative care physician who helps people cope near the end of their lives, Zesiger often sees patients, their families and their friends under extreme stress.
"Our society is neither comfortable with nor used to discussing serious illness or dying," he said.  "It is my hope that by offering book reads and local discussion groups throughout Hampshire and Franklin counties that we will begin to have meaningful, sustained dialogue about our wishes regarding end-of-life care."
Lisa Downing, assistant director/patron services librarian at Forbes Library and an event organizer, echoes Zesiger's wish for conversations about end-of-life care. "As librarians, we believe in the power of books to spark discussion and dialogue. We are very excited to have so many public libraries partnering with Cooley Dickinson." She adds that the book tells a thought-provoking story that is sure to reach readers on both intellectual and emotional levels as Dr. Gawande reminds readers that "endings matter."
Donors Underwrite Books
To ensure ample copies of Gawande's book are available at local libraries, $3000 has been donated to Cooley Dickinson to purchase copies of Being Mortal. Downing says books are available at participating libraries, including books available in large print and as audio editions. She said the book is also available as an ebook or eaudio through Overdrive and the Commonwealth eBook Collection. Speak with your local librarian for more information about the ebook and eaudio editions.
Events at Local Libraries
To learn more about the events at local libraries including the discussion with Cooley Dickinson health experts as well as other end-of-life events that are being organized locally at participating libraries, visit the event webpage.
Cooley Dickinson/Mass General Lecture featuring Vicki A. Jackson, MD
Cooley Dickinson Hospital and Mass General will host a free community lecture about the topic of end-of-life planning with Vicki A. Jackson, MD, chief, division of Palliative Care, Mass General, on Thursday, April 14, 6–7 pm, at Edwards Church, Northampton.
This event, part of Cooley Dickinson's continuing community education series, is free and open to all; space is limited and registration is required by calling 888-554-4CDH or www.cooley-dickinson.org/classes.
For more information about the Being Mortal events, contact Lisa Downing at ldowning@forbeslibrary.org or call 413-587-1017.