September 26, 2016
For immediate release: June 24, 2015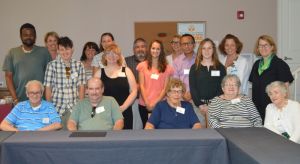 Nursing scholarship awardees, families, friends, and
Cooley Dickinson leadership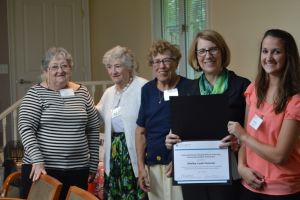 Shelby Cormier, right, with, from left, Peg
Mansfield, Maureen Mathers, Joyce Brigham, and
Joanne Marqusee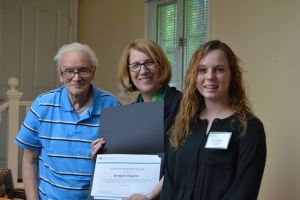 Bridget Diggins, right, with Joanne Marqusee and
Stanley Finn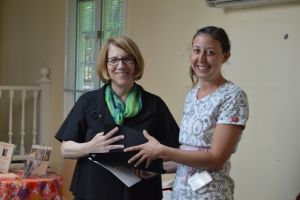 Cady Heon with Joanne Marqusee

Tsering Dhundup and Joanne Marqusee
Each year, scholarships are made possible through the generosity of donors who wish to encourage excellence in health care and continuing education. The Cooley Dickinson Development Team announced the recipients of the 2015 Nursing Scholarship Awards Monday, June 22, at an awards luncheon.
Therese Connor Nursing Education Fund: Recipient Michelle Roagalski
Created by family and friends in memory of Terry Connor, a Class of 1953 school of nursing alumna, and a longtime nurse at Cooley Dickinson
Michelle is currently a full time registered nurse in the Radiation Oncology department and plans to continue her education for oncology nurse certification.
Louise Finn Nursing Scholarship: Recipient Bridget Diggins
Named in honor of Louise Finn, who was a nurse in the Childbirth Center for more than 50 years and is awarded to the child of a Cooley Dickinson employee
Bridget is the daughter of Charleen Diggins, RN, and the professional development specialist at Cooley Dickinson Hospital. Bridget will continue her education at Fitchburg State University and hopes to practice at Cooley Dickinson after she completes her degree.
CDH School of Nursing Alumni Association Scholarship: Recipient Shelby Cormier
Awarded annually to a graduating Northampton High School student
Shelby graduated from Smith Vocational and Agricultural High School and will begin her nursing education in the fall at Curry College.
Edward Moss Memorial Scholarship Fund: Recipients Cady A. Heon; Sammy C. Rosa; Kathleen Curley; Tsering Dhundup; Jenna Tymkowiche
Awarded annually to Cooley Dickinson employees pursuing or furthering their nursing education. This year, five awards were granted.
Cady A. Heon
Cady works full-time as a medical assistant at Williamsburg Internal Medicine, a Cooley Dickinson Medical Group practice. She has been taking night classes at Greenfield Community College and expects to complete her associate's degree later this year. Upon completion of her associate's degree, Cady will continue her nursing education at Greenfield Community College.
Sammy C. Rosa
Sammy is a certified nursing assistant in the medical/surgical unit at Cooley Dickinson Hospital and has been completing his nursing prerequisites courses. In the fall, Sammy will begin pursuing his registered nurse degree at Springfield Technical Community College.
Kathleen Curley
Kathleen, a part-time patient care technician in the medical-surgical unit at Cooley Dickinson Hospital, recently completed her sophomore year at Westfield State University. Kathleen expects to graduate with a bachelor's in nursing with a minor mathematics in May 2017, and hopes to continue working at Cooley Dickinson as a registered nurse.
Tsering Dhundup
Through Tsering's work in the nutrition and food services department at Cooley Dickinson, he has had the opportunity to get a close look at the tremendous impact nurses have on the lives of their patients and families. This inspired him to begin an accelerated second bachelor's program in Nursing through the University of Massachusetts Amherst; Tsering begins his studies in August.
Jenna Tymkowiche
Jenna worked for Cooley Dickinson at a phlebotomist for 6 years while working toward her BSN from American International College. She will take her nurse credentialing exam in the fall.