September 26, 2016
For immediate release: May 27, 2015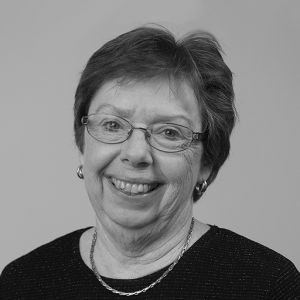 Madelyn Breen, oncology nurse, at the Mass General
Cancer Center at Cooley Dickinson Hospital and recipient
of the one hundred, Caregiver 2015 award.
BOSTON, Mass. – Last evening, Cooley Dickinson's Oncology Registered Nurse Madelyn Breen was among the one hundred honorees: 100 individuals, groups, and organizations from across the country and around the globe who are changing the fight against cancer and inspiring others to take action. Created and supported by the Massachusetts General Hospital Cancer Center in 2008, the one hundred celebrates hope in the cancer community.
About Madelyn Breen
Madelyn Breen, RN, BSN, OCN, "officially" retired in 2011. But her dedication to caring for people living with cancer brings her back to Cooley Dickinson Hospital three days a week as an oncology registered nurse.
In a career that spans 45 years –all at Cooley Dickinson– Breen has set an example of providing exceptional nursing care.  And it's that commitment that led to Madelyn's selection as one of the 2015 one hundred honorees who are changing the fight against cancer and inspiring others to take action. Read more about the award here: https://www.theonehundred.org/honorees/madelyn-breen-rn-bsn-ocn/
In addition, Breen received the Massachusetts Nursing Association's Clinical Excellence Award in 1991 and the American Cancer Society's Volunteers' Community Partner's Award in 2012 for her volunteer leadership. Breen has served in many leadership positions for the Hampshire County Relay for Life.
About the one hundred
Nearly 1,000 nominations were submitted for consideration for the 2015 event from sources around the world through the one hundred website. As in previous years, the one hundred includes remarkable and diverse individuals and organizations from all walks of life.
"At the Mass General Cancer Center, we pair the most advanced science with the most compassionate care. As a result of this comprehensive approach, we are recognized around the globe as a leader in the fight against cancer," said Daniel A. Haber, MD, PhD, director of the Cancer Center.
"Each year, the one hundred honors those who support our mission to help people living with cancer, in inspiring and often revolutionary ways. Our honorees are truly amazing. They are doctors and nurses selflessly caring for patients and their families, advocates raising awareness for the cancer cause, researchers working tirelessly in their laboratories to make important discoveries, and philanthropists contributing generously to make a cure possible."
A signature event, the one hundred is also a key fundraiser for the Mass General Cancer Center. A dinner honoring recipients was held at The Westin Copley Place, Boston on Tuesday, May 26. Funds raised support the Cancer Center's research into targeted therapies and early-detection technologies, as well as innovative supportive care programs.
The full list of 2015 the one hundred recipients along with their photos and stories can be found at: www.theonehundred.org/honorees.
About Cooley Dickinson Hospital
Cooley Dickinson Hospital, a Massachusetts General Hospital Affiliate, is an acute care community hospital that offers medical/surgical, orthopedic, obstetric/gynecologic, psychiatric, geriatric, palliative, emergency, ambulatory, diagnostic, and rehabilitation services; along with Cooley Dickinson VNA & Hospice, which provides home health and hospice nursing and rehabilitation visits; and Cooley Dickinson Medical Group, comprised of primary and specialty care physicians, nurse practitioners, nurse-midwives, and other providers.  Cooley Dickinson Health Care serves Hampshire and Southern Franklin County residents in the Five-College region of the Pioneer Valley.
About the Massachusetts General Hospital Cancer Center
An integral part of one of the world's most distinguished academic medical centers, the Massachusetts General Hospital Cancer Center's commitment to eradicating cancer is fueled by scientific investigation conducted as part of the largest hospital-based research program in the United States. Through a powerful synergy between scientists in the laboratories and physicians at the bedside, the Cancer Center fosters innovation in basic, translational and clinical research. The Mass General Cancer Center can be found online at: http://www.massgeneral.org/cancer. For more information about the Mass General Cancer Center, contact Katie Marquedant, kmarquedant@partners.org, 617-726-0337.