September 26, 2016
For immediate release: Feb. 2, 2015
The American Association of Critical-Care Nurses (AACN) recently conferred a gold-level Beacon Award for Excellence on the Critical Care Unit at Cooley Dickinson Hospital.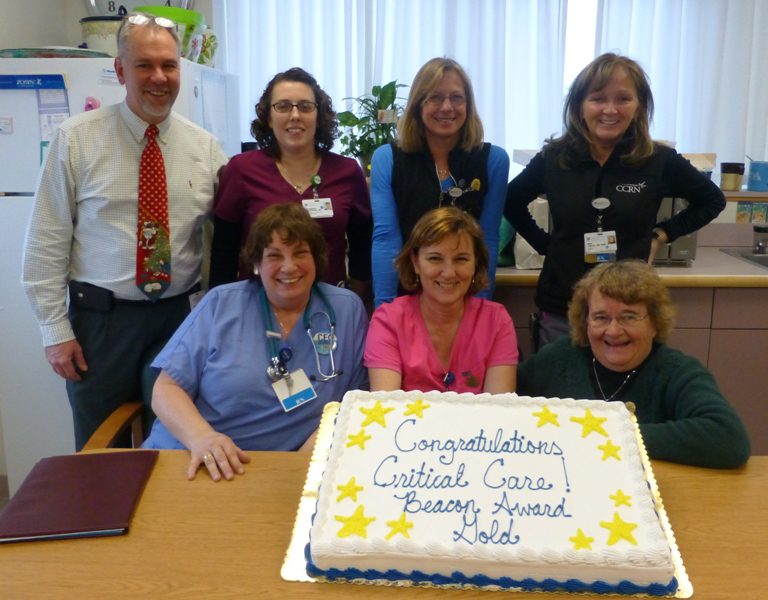 The Beacon Award for Excellence – a milestone on the path to exceptional patient care and healthy work environments – recognizes unit caregivers who successfully improve patient outcomes and align practices with AACN's six Healthy Work Environment Standards.
Only Massachusetts Community Hospital to Earn Gold
Cooley Dickinson's unit is one of three in Massachusetts to have achieved Gold Beacon designation. The other two Gold recipients are both units at Boston Children's Hospital. Seven other units in the state have Silver or Bronze Beacon awards.
According to AACN, the Beacon Award means:
• For patients and families, exceptional care through improved outcomes and greater overall satisfaction.
• For nurses, a positive and supportive work environment with greater collaboration between colleagues and leaders, higher morale, and lower turnover.
Units that achieve this three-year, three-level award with gold, silver, or bronze designations meet national criteria consistent with Magnet Recognition, the Malcolm Baldrige National Quality Award, and the National Quality Healthcare Award.
The gold-level Beacon Award for Excellence signifies excellent and sustained unit performance and patient outcomes. CCU earned a gold award by meeting the following evidence-based Beacon Award for Excellence criteria:
• Leadership structures and systems
• Appropriate staffing and staff engagement
• Effective communication, knowledge management, learning and development
• Evidence-based practice and processes
• Outcome measurement