September 23, 2016
When it comes to joint replacement, choice matters.
Choosing the right hospital can greatly impact the success of your joint replacement surgery and recovery. With larger volumes of patients and comprehensive programs for surgery and rehab, dedicated facilities like the Joint Replacement Center at Cooley Dickinson Hospital can help ensure the best possible outcomes.
The Joint Replacement Center is a quiet, spacious, all inclusive eight-patient unit with its own exercise suite located on the fourth floor of the North Building on the campus of Cooley Dickinson Hospital. At the Center, joint replacement patients are not placed on the same floor, or in the same room, as sick patients. This allows our skilled orthopedic team to offer customized treatment plans and activities designed just for joint replacement patients. Here, you'll get to know other patients undergoing the same procedure. You'll wear your own comfortable clothes and receive care from professionals who specialize in total joint replacement surgery, recovery and rehabilitation.
Education and Preparation
Once you and your surgeon have decided joint replacement is right for you, you'll be scheduled to attend a pre-operative education class with other joint replacement candidates. Here, you'll tour the Joint Center and learn exactly what to expect and how to prepare. After surgery and during your stay, you'll be kept informed with our daily Joint Journal, videos, individualized written instructions and expert staff who welcome questions from patients and their families. We view the patient as the most important member of our team!
Extra Support Means a Better Experience
Before you enter the Joint Replacement Center, you'll be encouraged to designate a family member or friend as your personal coach, to help you through the recovery here and at home. This is in addition to the support you'll receive from the staff and the other patients who are also recovering from joint replacement surgery.
Emphasis on Wellness and Mobility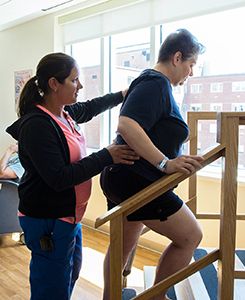 Our patients receive between two and four rehabilitation therapy sessions daily and are usually walking, with a walker, less than 24 hours after surgery. We use both group and individual therapy sessions as opportunities to build strength and mobility immediately following surgery. Studies show progress is enhanced by the shared experience and encouragement of group therapy. Plus, it's more fun. In the private therapy sessions, our therapists can address individual needs. You'll be encouraged to know that most Joint Center patients can climb a flight of stairs before they leave.
Strict Adherence to the Highest Standards
While infection and blood clots are rare, they can be potentially serious consequences of joint replacement surgery. Cooley Dickinson Hospital and the Joint Replacement Center adhere to the highest standards. In 2006, Cooley Dickinson Hospital was accredited by The Joint Commission. The Joint Replacement Center follows all national guidelines on prevention of surgical site infection and deep vein thrombosis. We voluntarily participate in the Surgical Care Improvement Project sponsored by The Joint Commission and Medicare. Cooley Dickinson's low infection rates, model of integrated care and high quality ratings mean added confidence during your hospital stay.
Top Scores in Patient Satisfaction, including Pain Control
Our patients consistently rate the Joint Replacement Center in the top 10 percent for pain control and overall patient satisfaction compared to other hospitals, according to Press Ganey surveys.
Your Discharge Plan is Customized
Throughout your stay at the Joint Center, our case manager works closely with your surgeon, therapists, nurses and most importantly, with you, to make plans that fit your individual progress, preferences and life style. We plan carefully to ensure appropriate follow-up care after you leave the hospital. After three or four days at the Center, most patients go directly home with continued therapy that is provided by a professional home health team, or they attend outpatient therapy. Others choose a short stay at an inpatient rehabilitation facility.
The Latest Techniques and Technology
We offer both traditional and minimally invasive approaches to hip and knee replacement surgery. A variety of implant materials and models, including the Oxford partial knee are also available. Talk to one of Cooley Dickinson's orthopedic surgeons about what is right for you.
For More Information
To schedule an appointment with Cooley Dickinson Medical Group Orthopedics & Sports Medicine, call 413-586-8200 or visit our website.
To inquire about the Joint Replacement Center, contact us.