September 26, 2016
For immediate release: March 31, 2015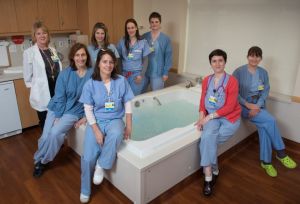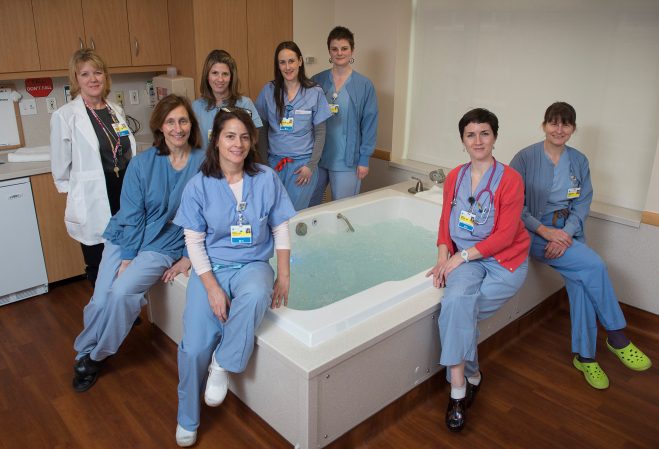 Cooley Dickinson Hospital's Childbirth Center recently received approval from the Department of Public Health (DPH) to offer hydrotherapy (warm water immersion) to women during labor as a method of relaxation, comfort, and pain management.
"I have often observed the soothing, calming effects of hydrotherapy on laboring moms, "said Lead Midwife Annie Heath, a certified nurse midwife.
"Studies show that women in labor who use the tub experience less pain and anxiety, too. I am please we can offer hydrotherapy for women in labor who seek this option as part of their birth plans."
Spacious Room; Benefits for Women in Labor
Heath describes the room that houses the tub as spacious and calming. The tub itself is a permanent, one-person tub equipped with massaging jets that help to relieve contractions and back pain prior to labor.
Other physiological and psychological benefits of hydrotherapy include
• Ease of movement with greater mobility due to the buoyancy of the water
• Relaxation during contractions
• Safe and effective pain management
• A sense of control in a warm environment leading up to the delivery of a baby
Hydrotherapy Tub to be Used for Labor Only
Chief Medical Officer Mark Novotny, MD, said now that the DPH has approved the hydrotherapy plan and accepted Cooley Dickinson's policy regarding the practice, women for whom an uncomplicated vaginal birth is anticipated and who do not have medical conditions that could pose a risk may choose hydrotherapy while they are laboring.
A woman's physician or certified nurse midwife will be required to approve use of the tub, and patients will need to sign a hydrotherapy consent form (a Massachusetts requirement).
Tucker Kueny, MD, chair of the Department of Obstetrics, said that while research supports that hydrotherapy is beneficial during labor, medical experts do not agree that the benefits of delivery in water outweigh the potential risks to the mother and baby. Given this lack of agreement, Cooley Dickinson's tub will not be used to deliver babies.
Certified Nurse Midwife Heath noted a March 2014 Committee Opinion report from the American College of Obstetricians and Gynecologists and the American Academy of Pediatrics, which acknowledged that decreased pain, reduced use of anesthesia, and shorter labors may be positive effects of water immersion during active stages of labor.
Women who are medically appropriate to use the tub have access on a first-come, first-served basis.
Safety Measures for Laboring in Water
To ensure that women who seek hydrotherapy will labor in water safely, Cooley Dickinson's Perinatal Safety Committee approved a new Hydrotherapy in Labor policy that stipulates criteria for tub use.
The policy also sets protocols in accordance with guidelines from the Committee Opinion report issued by the OB/GYN and Pediatrics Groups. For example, women with pre-eclampsia or a suspected infection, may not choose hydrotherapy, Kueny said.
Other safety protocols include:
• a mechanical lift above the tub so that staff can safely move a woman to a nearby bed who has trouble getting out of the tub or who needs to be moved quickly;
• a training program on the new policy and procedures for midwives, nurses, and physicians.
Women who are interested in hydrotherapy should discuss this option with their doctor, nurse, or midwife.
Learn about the women's health providers affiliated with Cooley Dickinson or call 413-586-9866.