November 7, 2016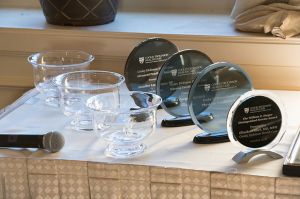 NORTHAMPTON – More than 140 people attended the 130th Annual Meeting of the Cooley Dickinson Board of Trustees that was held Monday, Oct. 24, at the Hotel Northampton.
The meeting of the Board of Trustees, held annually in October, was an opportunity for Cooley Dickinson board members, volunteers, medical staff, employees, donors and other friends of Cooley Dickinson to celebrate the people and accomplishments of the past year, and to look ahead.
Cooley Dickinson President and Chief Executive Officer Joanne Marqusee highlighted the important work of her first two years leading the organization, noting that those initiatives have established a foundation for the organization's five-year strategic plan:
• implementing Cooley Dickinson's affiliation with Mass General;
• hiring a new executive leadership team;
• creating a culture of safety and respect
• continuing to foster collaborative relationships with the Cooley Dickinson medical staff; and
• investing in services outside of the hospital that support the needs of the community
"Based on my two and a half years at Cooley Dickinson, I firmly believe we have the foundation to create a world-class community health system," Marqusee said. "I am confident we have the key ingredients that will allow us to go from good to great: the excellence of our employees, providers, and clinicians; a strong community culture and the affiliation with Mass General.
"We take so much provide in working as a team to deliver the best clinical care that typically one seeks in a major urban center with the personalized, humanistic touch that a community-based system is best poised to provide."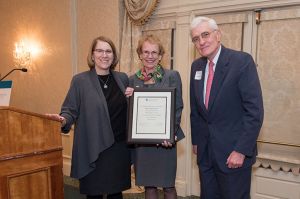 2017 PRIORITIES
Looking to 2017 and beyond, Marqusee outlined three essential elements that define the care Cooley Dickinson Health Care wants to provide to the community:
• Excellence: Cooley Dickinson's commitment to deliver the highest quality and safest care
• Experience: Cooley Dickinson's commitment to respond to patient needs through the delivery of personalized care with a human touch;
• Engagement: Cooley Dickinson's commitment to a close collaboration with its providers, employees, patients and communities.
Noted Marqusee: "It is critical to our success as health care system that we listen to what the community needs and to develop programs to meet those needs, if and when it is appropriate to do so."
In the coming year, those programs are:
• New comprehensive Breast Center, opening in 2017
• Urgent Care, based inside Cooley Dickinson Hospital, which opened in early October 2016
• Partnering with our community in the areas of opioid prevention and treatment
• Offering better and expanded services for the LGBTQ community
• Expanding integrative therapies for people being cared for by providers at the Mass General Cancer Center at Cooley Dickinson Hospital
AWARDS and RECOGNITIONS
In addition to Marqusee's presentation, awards were distributed to employees and community members, providers were honored for special accomplishments and years of service, and Board of Trustee appointments for the coming year were made.
Among the awards, Representative Ellen Story received a special recognition for her commitment to improving the health of Pioneer Valley residents. Story has championed important health care and equity issues throughout her career, including her work before she entered politics. Recently, Story provided leadership and support for the soon-to-open (2017) John P. Musante Health Care in Amherst. She was the first woman to represent Amherst in Legislature and has continued to hold her post since 1992 as state representative from the 3rd district made up of Amherst, Pelham and Precinct 1 of Granby.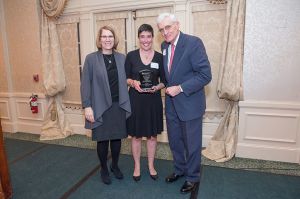 Elizabeth Mort, MD, MPH, received the William E. Dwyer Distinguished Service Award. The Dwyer award is given each year to outstanding individuals whose service on behalf of Cooley Dickinson exemplifies loyalty, leadership, and dedication to improving the health of our community. Mort, senior vice president, quality & safety, and chief quality officer at Massachusetts General Hospital and Massachusetts General Physicians Organization, serves on the board of Cooley Dickinson and has played a significant role in working with the medical staff, leaders, and Board to enhance the culture of safety at both institutions.
Nominated by her colleagues, physical therapist Jennifer Hutchison, DPT, received the BECOME Award, a recognition that celebrates an employee who models the Cooley Dickinson organizational values.
For her years of service to the Cooley Dickinson Auxiliary, outgoing Auxiliary president Pauline Marney received a special service award.
Medical Staff Awards were given to the following people: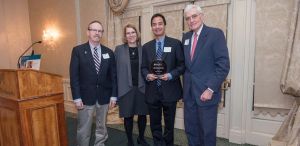 • Pediatrician Wayne Hioe, MD, received the Medical Staff Clinical Excellence Award, which is given by the Cooley Dickinson medical staff to the provider who has achieved significant improvement in clinical outcomes.
• The Medical Staff Nursing Care Excellence Award is given to the Cooley Dickinson registered nurse who best represents teamwork with physicians to drive best clinical outcomes. This year's recipient, Emergency Department Nurse Sara Burgess, RN, BSN, embodies the spirit of team work and commitment to excellence in clinical outcomes.
• The Advanced Practice Clinician Award is given to the provider who best represents teamwork with physicians and hospital staff to create quality patient outcomes and improve care. This year's recipient, Jennifer Lesperance, nurse practitioner, is a member of the hospital-based provider program.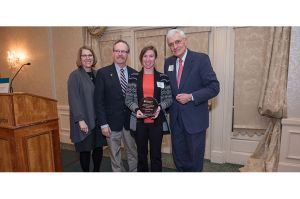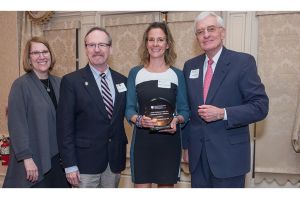 PHYSICIAN YEARS OF SERVICE
The following physicians were recognized for 30+ years of service:
BOARD OF TRUSTEE ANNOUNCEMENTS
In other business of the Board of Trustees, Board Chairman Sanford Belden welcomed two new trustees Timothy Parsons, MD, and Jeffrey Ecker, MD. Parsons is medical director of Northampton Family Medicine, a Cooley Dickinson Medical Group practice. His father, John Parsons, MD, was a surgeon at Cooley Dickinson for more than 30 years and served on the Cooley Dickinson Board of Trustees from 1987 to 1989. Ecker, chief of the MGH Vincent Department of Obstetrics and Gynecology, is a founding member of the Massachusetts Perinatal Quality Collaborative
Cooley Dickinson Health Care Board of Trustees, for the fiscal year ending Sept. 30, 2017:
Officers
John Nunnelly, Chair; Sanford Belden, Vice Chair; Charles Staelin, Treasurer; Kevin Lake, Secretary; Joanne Marqusee, Assistant Treasurer; Laurie Lamoureux, Assistant Treasurer
Board members
Kenneth Bordewieck; R.F. Conway, MD; David Brown, MD; James Donnelly, MD; Jeffrey Ecker, MD; Laurie Fenlason; JoAnne Finck, (effective Nov. 28, 2017); Sally Griggs; Khama Ennis-Holcombe, MD; Tony James; Elizabeth Mort, MD, MPH; James Kirchhoffer, MD, Nancy Reeves; Timothy Parsons, MD; A. Kim Saal, MD; Peter L. Slavin, MD; Kumble Subbaswamy; Geoffrey Zucker, MD
-30-