December 22, 2016
Aleah Nesteby, FNP,  joins Northampton Family Medicine and will serve as the first director of LGBTQ Services at Cooley Dickinson Hospital
For immediate release: Dec. 22, 2016
NORTHAMPTON – Cooley Dickinson Health Care is pleased to welcome J. Aleah Nesteby, MSN, FNP, to Northampton Family Practice at 22 Atwood Drive in Northampton.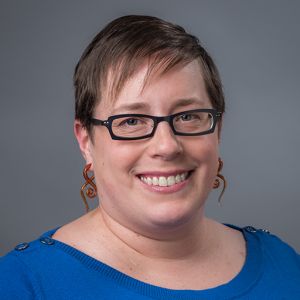 Nesteby comes to Cooley Dickinson from Baystate Health, where she has spent the past 10 years working to ensure availability of compassionate and non-judgmental health care for the LGBTQ community in Western Mass., and will function as Cooley Dickinson's new director of LGBTQ Services.
Her role will be both administrative and clinical, and fills a targeted need to improve access to health care and mental health care for lesbians and transgender people, as identified in Cooley Dickinson's most recent Community Health Improvement Plan.
Training and Medical Interests
Nesteby received her Master of Science in Nursing (MSN) from MGH Institute of Health Professions in Charlestown, Mass., and has pursued specialization in Transgender Health and LGBTQ Health.
She is a nationally recognized trans health provider and has led workshops, lectures and forward-looking training programs for medical students and residents, and is a recipient of a Tufts University School of Medicine educational research grant for transgender student curriculums. She attended Antioch College during her undergraduate years, and worked in reproductive health and STI prevention in San Francisco, Calif. prior to her time in Massachusetts.
Care Philosophy
"I believe that informed consent and collaborative treatment decisions are the cornerstones of quality patient-provider relationships. I strive to meet every patient where they are at, and to tailor their care to ensure them the best possible health outcomes. I am committed to improving LGBTQ care for the patients in our community, as well as to ensuring a supportive and affirming work environment for all of our LGBTQ employees at Cooley Dickinson Health Care."
Nesteby is a member of the World Professional Association of Transgender Health (WPATH), and a provider-volunteer for the online peer-to-peer consultation service TransLine.
To make an appointment with Nesteby, contact Northampton Family Practice at 413-584-2178