January 4, 2017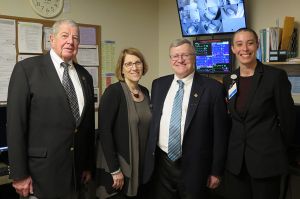 For immediate release: Jan. 4, 2017
NORTHAMPTON – Members of the Hampshire County Deputy Sheriff's Association recognized longtime Hampshire County Sheriff Robert J. Garvey by donating $20,000 in his honor to Cooley Dickinson Hospital's Emergency Department in a brief naming ceremony yesterday. The donation will be used to name an observation station inside the Emergency Department's dedicated mental health area.
"We had been looking for a productive way to honor retiring Sheriff Robert Garvey for his many years of service to this county," said Maureen Callahan, treasurer, Hampshire County Deputy Sheriff's Association. "This is a lasting gift that represents the dignity, compassion and care Sheriff Garvey has demonstrated over his decades-long career," she said. After 32 years of service, Garvey did not seek reelection in November.
Callahan noted Garvey's successor, Patrick J. Cahillane, who has worked with Sheriff Garvey for over 30 years, plans to continue to advance Sheriff Garvey's mission to promote the humane custody of inmates while understanding the need for accountability and a safe, successful reintegration into the community.
Added Callahan: "Having worked with vulnerable populations for decades, the mission and insight of both Sheriff Garvey and Sheriff Cahillane mirror Cooley Dickinson's concern and care for individuals in our community."
About the Emergency Department Mental Health Area
The mental health area within the Emergency Department offers a calmer, safer, more controlled environment where a subset of Cooley Dickinson's Emergency Department patients– roughly 10 percent of the people who visit the ER each day – can be evaluated and receive treatment. Cooley Dickinson opened the dedicated mental health area in 2015. Read more about the dedicated mental health area within Cooley Dickinson's ER.
-30-