February 10, 2017
NORTHAMPTON – Webber & Grinnell, the now-iconic Pioneer Valley insurance company located on North King Street, can trace its local origins all the way back to 1849, when the town was minting $5 coins from California gold rush gold. In its current location since 1973, the company is one of the largest privately-owned insurance agencies in western Massachusetts, and serves more than 5,000 households and 900 businesses throughout the region.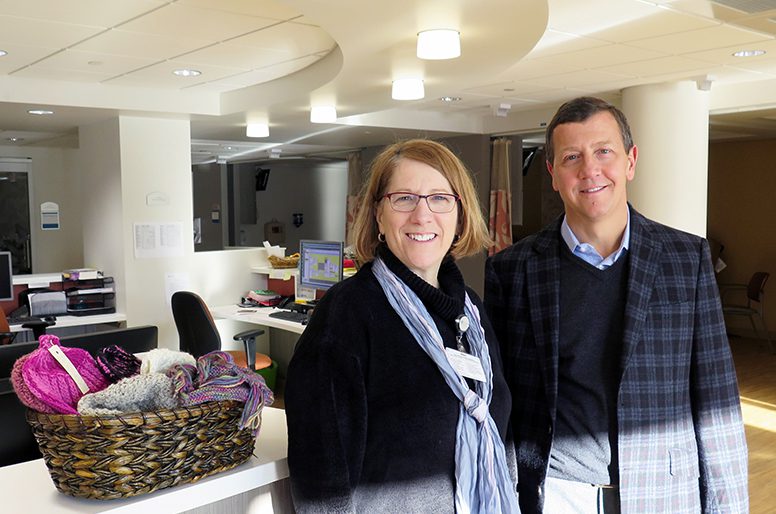 This year, it was the Mass General Cancer Center at Cooley Dickinson Hospital that was celebrating a bit of a gold rush, thanks to current partner Bill Grinnell. Grinnell, the company's president and current torch-bearer for the historically family-owned business, stopped by Cooley Dickinson Hospital in early February to receive the Center's thanks for a $10,000 donation the agency made in December.
Grinnell met with Cooley Dickinson President and CEO Joanne Marqusee and Chief Development Officer Diane Dukette to receive an official thank you on behalf of the agency, and to take a brief tour of the new facility.
"Instinct," said Grinnell when asked why he made the pledge. "I was born at Cooley Dickinson, and I know people with cancer who have been treated here." Grinnell went on to add that he "believes in supporting the community," and was "excited to support a local institution where individuals can get the care they need, where they need it."
The gift was one of the very last ones to come in that helped the Development team at Cooley Dickinson Health Care successfully close the campaign for the Cancer Center, which just celebrated its one-year anniversary of being open to the public in October of 2016. In that time, the Center treated 876 new patients in its medical oncology space and employed 55 staff in its radiation, infusion (chemotherapy), and medical oncology departments.
The Cancer Center also shares its new space with several other complementary disciplines, including palliative care, nutrition, genetics counseling, physical and occupational therapy and social work, and hosts a monthly Liver Transplant Evaluation Clinic where patients can book consultations with specialists from Massachusetts General Hospital's Boston-based Transplant Center. Recently, the Center added access to new integrative therapies including Reiki and massage therapy.
-30-