March 1, 2017
NORTHAMPTON – The new Comprehensive Breast Center at Cooley Dickinson Hospital was the beneficiary of a generous regional fundraising effort that recently gave $9,000 toward the $2.4 million project. Regional supermarket chain Big Y World Class Markets announced the completion of its 10th Annual Partners of Hope Campaign, reporting donations of over $230,000, of which the Breast Center received a portion.
On Valentine's Day, Big Y Amherst store director Doug George and Employee Service Representative Jeremy Brown came in for a visit and had their photo taken with many of the key staff at Cooley Dickinson involved with the planning, clinical programming, administration, operations, and fundraising for the new Breast Center.
Their Valentine's donation follows an even more generous capital gift of $25,000 that Big Y had recently pledged to help fund the Breast Center. Representing Cooley Dickinson Health Care at the visit were Nancy King, Director of Imaging Services; Anthony Scibelli, Vice President, Operations & Chief Administrative Officer; Diane Dukette, Chief Development Officer; Stacy Puza, Women's Imaging Supervisor; and mammographers Deborah Grandmont, Lynn Szaban, Donna Olszewski, and Debra Giordano.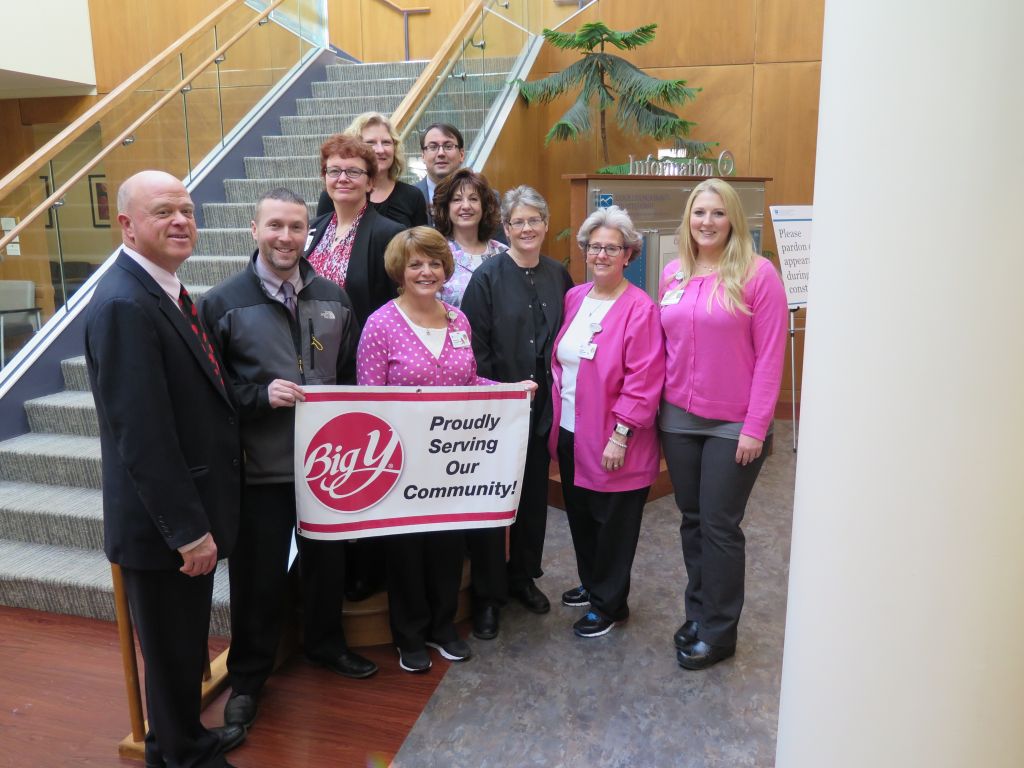 Expected to open in mid-2017, the Comprehensive Breast Center at Cooley Dickinson Hospital will bring together cutting edge diagnostic capabilities and dedicated, highly accomplished staff into a single, patient-centered environment where clients will receive high-quality care in all relevant disciplines, under one roof.  The Center will employ a multidisciplinary approach to breast health and breast care for all patients, offering services including:
• Breast exams
• Breast screening
• Diagnostic breast imaging (including 2D and 3D mammography)
• Biopsy and wire localization
• Ultrasound
• Bone density screening
• A designated patient navigator to help guide patients through diagnosis and treatment.
As Hampshire County has the highest rate of breast cancer of any county in the state of Massachusetts, the creation of the Breast Center is responsive to community needs.  "We are honored that once again Big Y has partnered with us to bring lifesaving services to our community," said Diane Dukette, Chief Development Officer.
Added Dukette: "Through the years, Big Y has been incredibly generous, and we are grateful for these recent gifts."
If you would like to support this critical new resource, please visit the Breast Center Campaign website  or call the Cooley Dickinson Development Office at 413-582-2255.
-30-