March 6, 2017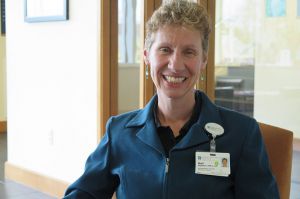 South Deerfield Rehab Clinic Welcomes Upper Extremity Expert Gail Hegeman
People value the use of their hands. Therefore, any loss of function through injury or disease can devastate lives.
Certified hand therapist Gail Hegeman welcomes patients seeking evaluation and treatment of injuries and conditions of the hands and upper extremities, including fingers, wrists, and elbows, at the South Deerfield outpatient rehab clinic,  21 B Elm Street. For more information, call 413-665-7427.
"Hands are the gateway through which people interact with their world – be it at home, work, sports, or playing musical instruments," said Hegeman, who is also certified in ergonomics. "I chose hand therapy as a career because I find it to be the most rewarding specialty of rehab: to assist patients in reclaiming their ability to function and lead meaningful lives."
Training and Certification
Hegeman has practiced as an occupational therapist at Cooley Dickinson for 17 years. She has been instrumental in the leadership of Cooley Dickinson's outpatient Hand and Upper Limb Rehab program.
She earned her Master's Degree in Occupational Therapy from Western Michigan University in 1993, and then became certified in ergonomics in 2001.  She specializes in treating injured musicians. As a musician herself, Hegeman has helped many injured instrumentalists in the Pioneer Valley return to play.
Hegeman has been credentialed by the Hand Therapy Certification Commission (HTCC) since 1999. In order to renew and maintain this certification at the end of each five-year period, CHTs must demonstrate current knowledge in the profession through work experience and professional development activities, or by taking the examination again. Hegeman has successfully renewed her hand therapy certification every 5 years since attaining her CHT credentials.
There are fewer than 200 CHTs in Massachusetts; there are approximately 5,600 individuals worldwide that have earned the CHT designation.
South Deerfield Open House
Area residents are invited to meet Gail Hegeman and physical therapists Terry McKeown and Alicia Robinson, and occupational therapist Rebecca Dejnak, on Saturday, April 29, from 9:30 am to noon, at the newly expanded rehabilitation clinic at 21B Elm Street, South Deerfield.
How to Make an Appointment
For additional information or to schedule an appointment with Gail Hegeman, call the Cooley Dickinson South Deerfield Rehab Services Clinic at 413-665-7427. Read about Cooley Dickinson Rehabilitation Services.
-30-