May 18, 2017
For 36 hours in March, general surgeon Michelle Helms found herself on the other end of the stethoscope.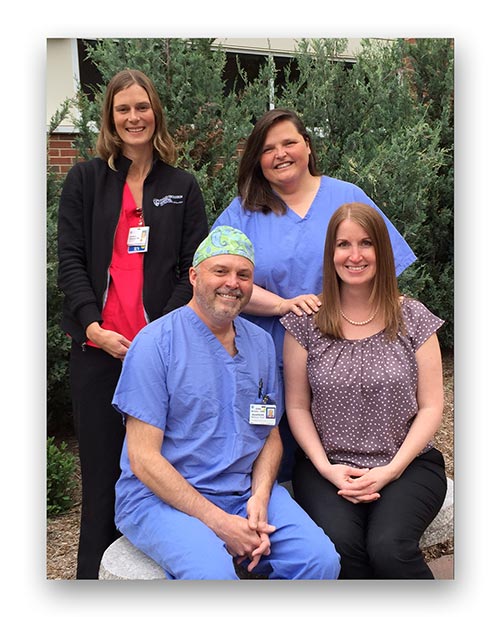 It was a typical "on call" Saturday night for Cooley Dickinson Medical Group general surgeon Michelle Helms. She had operated late into the evening and managed to catch a few hours of sleep before dawn. But when she woke up, she knew something wasn't right.
"I had persistent abdominal pain that wouldn't go away," recalled Michelle.
Following Doctor's Orders
Michelle called Dr. Holly Michaelson, a general surgeon and her partner at Cooley Dickinson Medical Group General Surgical Care. Holly offered to take the on-call pager so Michelle could get the mysterious belly pain diagnosed.
When she checked in at the Emergency Department, Michelle was just another patient. "I was roomed quickly. The ED staff were very attentive. Everyone told me what was happening throughout my stay," remembered Michelle.
A phlebotomist drew her blood. A tech performed a CT scan. With diagnostic results in hand, ED physician Whitney Scholz evaluated Michelle's condition and determined all tests were negative. Whitney discharged Michelle with instructions to rest. Yet Michelle knew from her years as a surgeon that a "negative" CT scan doesn't always show what can be developing in the abdomen.
By the next morning, the pain had become unbearable. Michelle went to see Holly, who performed a physical exam. When Holly gently palpated Michelle's abdomen, Michelle nearly jumped off the exam table. "It was intense, unbearable pain," said Michelle.
Acting Fast
Within the hour, Holly had performed emergency surgery to remove part of Michelle's small intestine. Using a laparoscope to see inside Michelle's belly, Holly was surprised at what she saw. The source of the pain was a small pouch, or a diverticulum, within the wall of the small bowel that had become blocked. The blockage had created weak points in the intestinal wall and the lack of blood to the area caused a perforation.
"In my years as a surgeon, I have never operated on a patient with a small bowel diverticulitis. It is very common in the colon, not the small bowel," said Holly, noting this rare occurrence was something unique to Michelle's anatomy.
Receiving "Attentive, Personable Care"
After emergency surgery, Michelle spent two days recovering in the hospital. "Everyone from the nurses to the people who cleaned my room were incredibly attentive, personable, and on top of their game," said Michelle. Following her surgeon's instructions, Michelle rested at home for two weeks before returning to work in April.
Holly says it's not every day she operates on a fellow surgeon – much less her own partner. "It's a privilege to be trusted with the care of a colleague."
Michelle notes that it's one thing to take care of patients; it's another thing to be a patient yourself.
"I trusted my colleagues and partner and everyone at Cooley with my life, and I am so grateful to everyone who took care of me. I wasn't surprised that I would receive such great care at Cooley Dickinson."