June 30, 2017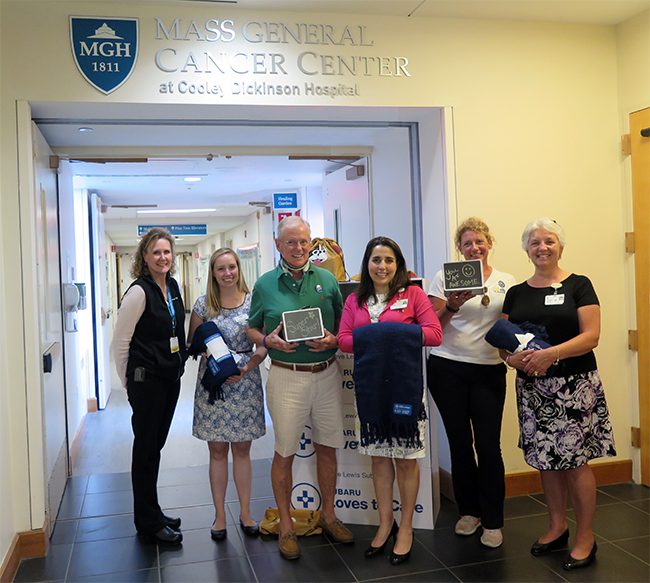 Tracy Stearns and Steve Lewis, from Steve Lewis Subaru in Hadley, paid a visit to the Mass General Cancer Center at Cooley Dickinson Hospital last Tuesday to deliver boxes full of warming blankets and activity kits. The donations, part of a national Subaru effort called the Subaru Loves to Care Campaign, aim to provide comfort to patients being treated for leukemia and lymphoma. Steve Lewis Subaru has been participating in local outreach programs to help fight cancer since the beginning of June, including the Relay for Life and the #LukeStronger Golf Invitational.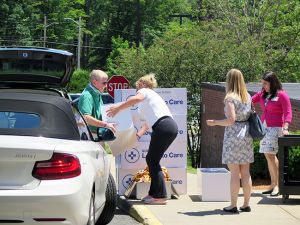 Cooley Dickinson Development Officers Georgia Moore and Jennifer Margolis met the local donors with thanks and refreshments, and helped them to carry in the ten or so boxes containing the blankets and other donated items. Leukemia & Lymphoma Society Campaign Manager Lindsay Nason, who helped arrange the donation in coordination with a national partnership with Subaru, made the trip out from the organization's Massachusetts headquarters in Natick to thank the dealership and to liaise with Cancer Center and Development staff.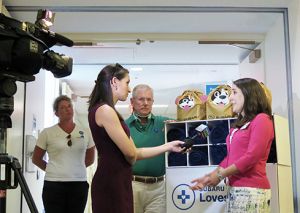 The Cancer Center was represented by Practice Manager Kelly Noonan and Administrative Director Avital Carlis, who spoke with WWLP Channel 22's Alessandra Martinez for the evening news.
Treatment for leukemia and lymphoma—cancers that often pervade the entire body—can be intense and exhausting, and patients can often feel cold as a result of anemia, an occasional side effect of chemotherapy. Blankets can be particularly comforting to these patients, and even just the thought of having a blanket wrapped around you because someone cared enough to think about people who might need one can be warming in a whole other way.
"Having a pause to say, 'There's somebody else thinking about you, and caring about you,' is really important," Avital reminded the viewing audience.