July 20, 2017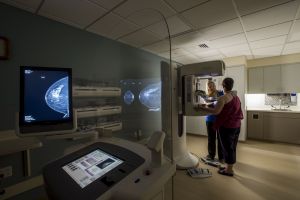 After years of planning, design and fundraising and months of gutting, framing, finishing, wiring, glazing, flooring, tiling, painting and otherwise preparing over 6,000 square feet of space, Cooley Dickinson Hospital's new Breast Center opened to patients Monday, July 17 at 8:30 am.
The new Breast Center consolidates all breast-related services in a single location, including breast screening, breast exams, 2D and 3D mammography/tomosynthesis, biopsy, ultrasound and bone density screening.
Notably, a new feature of the Breast Center includes implementation of the radiology department's new C-View Low Dose 3D mammography technology, which provides greater accuracy, improved comfort, and reduced X-ray exposure.
To mark the opening of the Breast Center, community members are invited to these events on Monday, July 31:
3:30 pm: Paint the Path Pink, a 1.4-mile breast cancer awareness walk from Northampton's City Hall to Cooley Dickinson Hospital's Main Entrance
4:30 – 6:30 pm in the Breast Center: self-guided tours
5:50 pm in the Radiology Lobby:  Remarks by Northampton Mayor David Narkewicz, CDHC President Joanne Marqusee; Chief of Surgery Holly Michaelson, MD; Chief of Imaging Joseph Polino, MD, Interim Medical Director of the Mass General Cancer Center Lindsay Rockwell, DO, and Chair of the Breast Center Initiative Lynne Parsons. Reception includes refreshments.
6:30 pm: The City of Northampton will provide transportation back to City Hall for people who walked from City Hall.
For more information about these events, contact Kelly Charest or call 413-582-2216.
-30-