August 22, 2017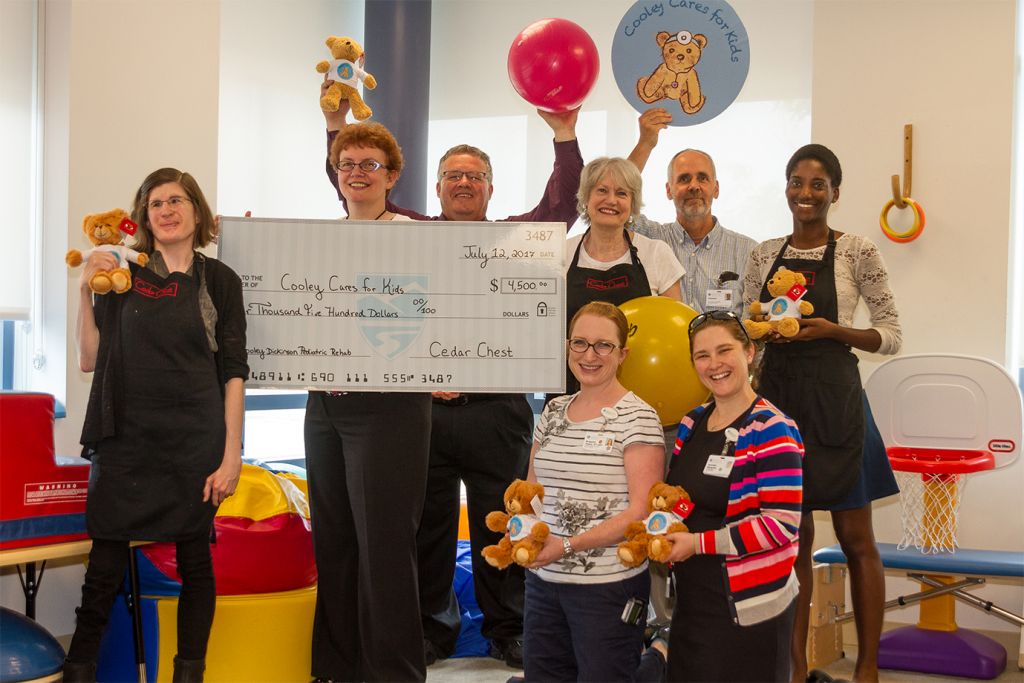 Spring/Summer Campaign Raises Funds for Pediatric Rehabilitation
This Spring and early summer, more than 20 area businesses supported the annual Cooley Cares for Kids program. Raising over $12,000 for local children receiving pediatric rehabilitation services through Cooley Dickinson Health Care, the participants each expressed a dedication to this program and their community. "Who doesn't want to help improve the quality of health care received by our local kids?" says Dror Shmerling, business manager, Cedar Chest. "We are fortunate to have such a high quality health care provider in our town."
Cedar Chest, which ran a month-long fundraiser at their Thornes Marketplace location, brought in an incredible $4,500 in donations—a 70% increase over last year's results and the sum of 450 $10 donations, according to Thornes Marketplace marketing manager Jody Doele.
Pediatric rehabilitation helps children with developmental delays or who are recovering from injuries and may need assistance to expand their therapy at home. Insurance often does not cover the cost of the specialized rehab devices needed in their rehabilitation.
Community support helps provide exceptional, compassionate, and personalized care to the over 9,000 children served by Cooley Dickinson every year.
Thank you to all of our participants:
Atkins Farms Country Market
Burger King
Cedar Chest in Thornes Marketplace
Dave's Soda & Pet Food City Northampton
Daily Hampshire Gazette
Friendly's Ice Cream
Friends of Cooley Dickinson
Herrell's Ice Cream
Mt. Tom Homemade Ice Cream
AEIOU Urgent Care
Big E's Supermarket
CDH Gift Shop and Coffee Shop
Finck & Perras Insurance
Glazed Donut Shop
GoBerry
Judie's Restaurant
Silverscape Designs
WEBS Yarn Store
Riff's Joint
Rigali & Walder Orthodontics
Sierra Grille
The Hangar in Amherst
Development Officer Jenn Margolis was instrumental in more than doubling the number of participants from last year's campaign and in publicizing the effort to local media.