August 15, 2017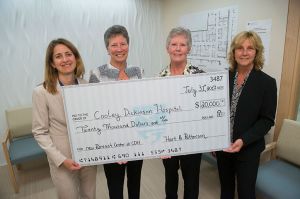 For an all-women-owned financial services firm that thrives on relationships, the local community matters.
So when it came time to name the recipient of a special charitable gift in honor of their firm's 25th anniversary, the choice was easy … and personal.
"Our vision of community is taking care of each other," says Cheryl Patterson, co-founder. "Taking care of each other means we are our brothers' – and our sisters' – keepers. This is how we run our firm and it's the legacy we seek to create with our gift to Cooley Dickinson's new Breast Center."
A Meaningful Gift
For Cheryl Patterson and partners Vikki Lenhart and Sue Patterson, the gift to the Breast Center was deeply personal. Their colleague, partner and friend, co-founder Lorraine Hart, had been diagnosed with breast cancer in 2009. Through that experience, noted Cheryl Patterson, "we learned the importance of locally available services."
Watching their partner go through a diagnosis of breast cancer and treatment heightened the women's understanding of what mattered to them as donors. Hart, especially, had insight into what mattered from the patient's perspective. One seemingly simple example of a well thought out center was "not having to run through the lobby with a johnnie on," said Hart.
Touring the Center as it was being built and learning about the Center's impact on thousands of community members made Cooley Dickinson an easy choice for Hart & Patterson's generous gift.
"We felt that supporting the Breast Center is the perfect way to show our appreciation by helping individuals prevent and fight breast cancer," added Vikki Lenhart.
"We asked ourselves, 'how many people can we touch?' It is our great honor to offer this support on behalf of all of us at Hart & Patterson," said Patterson. "The Breast Center will be a tremendous asset to our community."
About Hart & Patterson
Hart & Patterson Financial Group, based in Northampton and Amherst, is a women-owned, independent financial services firm. Learn more at http://www.hartpatterson.com/
About the Breast Center at Cooley Dickinson
The Breast Center, which opened July 31, brings together advanced diagnostic capabilities with skilled, compassionate staff and physicians into an easy to navigate, patient-centered environment.
Hampshire County has the highest incidence of breast cancer in all of Massachusetts.  Not surprisingly, 50% of women receiving cancer care at Cooley Dickinson are receiving breast cancer treatment.  Even if you have not been diagnosed and you are a patient using the breast care services, you know that the staff is outstanding and that the equipment is top notch.
In one location, patients receive consistent, timely, and high-quality health care for all facets of breast care and breast cancer screening, diagnosis, and treatment. The Breast Center was conceived as a way to address the needs of our community in a setting that will benefit the most people. The Center takes a multidisciplinary approach to breast health, with comprehensive services including: breast exams; breast screening; diagnostic breast imaging; biopsy and wire localization; ultrasound; and bone density screening.
Projects like the new Center are only made possible when our friends and neighbors step forward and give.  We know how important every dollar is.  When you give to Cooley Dickinson, you are making the place where our community receives care so much stronger.
The Beveridge Family Foundation has offered a challenge to Cooley Dickinson: if $50,000 is raised by the end of August, Cooley Dickinson will receive a $25,000 capping grant.
For information about making a gift to the Breast Center, contact Jennifer Margolis or call 413-582-2684.
-30-