October 27, 2017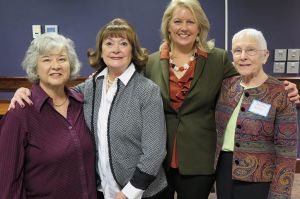 The Friends of Cooley Dickinson (formerly known as the Cooley Dickinson Hospital Auxiliary) celebrated their Annual meeting on October 26, 2017 with a recognition of both past leadership and longtime members.
Leadership recognition was given to retiring members Betsy Belden, who is stepping down as Membership Chair. Also recognized for their Leadership were Marianne Gambaro for her service as marketing chair, and Charonne Masters for her nearly 30 years of managing the CDH Gift Shop. In addition, honored at the meeting were members who have been a part of the organization for 50, 40, 30 and 20 years.
JoAnne Finck, chair of the Friends of CDH noted, "without their loyalty and leadership, and their dedication to improving the health of the community, the Friends of Cooley Dickinson would not have been able to make the significant impact it has had on the hospital.
"From the first donation of a washing machine to its most recent pledge to the new Breast Center, the Friends of Cooley Dickinson have had an impact that is seen throughout the facility and felt throughout the community."
-30-