October 13, 2017
Friendly rivalry and a passion to support the New Breast Center at Cooley Dickinson brought over 144 players, sponsors, and volunteers to The Orchards on Monday, Oct. 2.  In its 28th year, the Golf FORE Health Tournament surpassed the events fundraising goal, bringing in $104,000.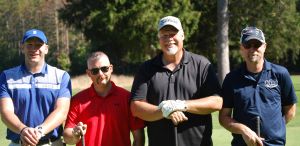 Beautiful New England fall weather made the perfect backdrop for a day of camaraderie and community.  Players were challenged by a championship level golf course peppered with refreshment stations and contests.  On course highlights included hot dogs and refreshments given by the Friends of Cooley Dickinson; lobster rolls from The Smithsonian Chowder House; barbecue from Bub's BBQ; and ice cream from Mt. Tom's Ice Cream.  An exciting new addition to the tournament, an air cannon, gave players the opportunity to fire golf balls towards the 8th hole.
This year's major sponsors included M.J. Moran, Inc., bankESB, Tom & Sue Hodgkins, and Pioneer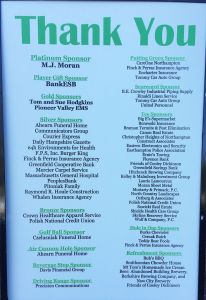 Valley EMS.  Proceeds supported the construction of the new Breast Center, ensuring critical breast care needs will be met at Cooley Dickinson.
"Projects like the new Breast Center would not be possible without the support of our community, our volunteers, and the Golf FORE Health Committee who worked tirelessly on the tournament for months securing sponsorships, raffle prizes, and participants," noted Diane Dukette, chief development officer, Cooley Dickinson Hospital.
The event concluded with dinner at the clubhouse, a silent auction, and short speeches by tournament co-chairs Natalie Didonna and Pat Brough, Cooley Dickinson Health Care President Joanne Marqusee and Dr. Michelle Helms of Cooley Dickinson Medical Group General Surgical Care, a self-described "passionate promoter" of breast health who will be integrating surgical services with the Center.
"Cooley is committed to delivering compassionate and personalized care to every patient and family we serve," stated Joanne Marqusee, President and CEO.  "The New Breast Center allows us to provide exceptional care in a patient-centered environment. We are truly grateful for all who participated and supported this year's tournament."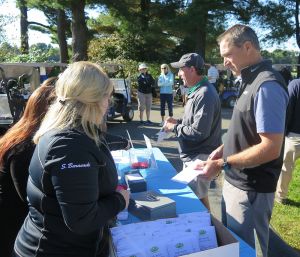 Past Golf FORE Health events have provided funding for the Mass General Cancer Center at Cooley Dickinson (2013/2014/2015); the Nursing Education Program (2012); the Locust Street Entrance Renovation (2011); the Cardiovascular Program (2010); the Emergency Department (2009); the Center for Midwifery Care (2008);
and the Pediatric Hospitalist Program (2007).