October 24, 2017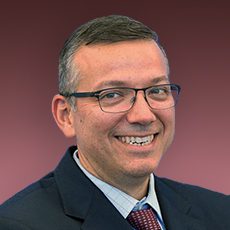 NORTHAMPTON – Cooley Dickinson Health Care welcomes Estevan Garcia, MD, MPA, to its senior leadership team as Chief Medical Officer (CMO). Garcia started his new role in early September.
"It's my pleasure to announce Dr. Garcia's arrival to our organization and to our community," said Cooley Dickinson Health Care President and CEO Joanne Marqusee.
"We are fortunate to have someone of Dr. Garcia's caliber, with his years of experience as a health care leader take on the important position of Chief Medical Officer.  In addition to directly overseeing a number of important departments, Dr. Garcia will play a key role in advancing our engagement with our medical staff, supporting our work to continuously improving quality and safety, and further developing our clinical programs to meet the needs of our communities.  He will also focus on strengthening our connections with Mass General," noted Marqusee.
Medical Education
Originally from Texas, Garcia earned his medical degree from the University of Texas Southwestern Medical Center and completed his residency and fellowship at Childrens' Medical Center of Dallas, as a Pediatric Emergency Medicine physician.
Focus on Quality and Safety
After a few years in Washington State, he relocated to New York City where he held a number of progressively senior administrative positions including leading emergency departments and serving as the Associate CMO for Quality and Safety at Maimonides Hospital.
He held the CMO post at Brookdale Hospital as part of a team of senior leaders charged with turning around a safety net hospital that was on the verge of closure. He put in place hospital-wide peer review processes, developed physician quality champions, and launched executive walk rounds as well as patient safety huddles on each unit. As a result of his leadership, Brookdale Hospital made significant improvements and the hospital was stabilized.
Most recently, Garcia was Vice President and Medical Director of Hospitals Insurance Company, a risk management organization. In this position, he led safety activities including enhancing documentation and communication across multiple hospital systems and developed/supervised simulation initiatives.
Throughout his career, Garcia has continued to practice clinically. He also pursued additional educational advancement over the years, having earned a Master in Public Administration from NYU's Wagner Graduate School of Public Service, and becoming a Certified Physician Executive. At Cooley Dickinson and in addition to his CMO duties, he will practice within the departments of Emergency Medicine and Pediatrics
On Joining the Community
In his free time, Garcia enjoys cooking, watching his children compete in local sporting activities, and finding some time for cardio at the gym. Of his new role, Garcia says he is "excited to be part of a successful community hospital and health system with a clear mission to serve their patients and community."
About Cooley Dickinson Health Care
A Massachusetts General Hospital Affiliate, Cooley Dickinson is an acute care community health care system that offers medical/surgical, orthopedic, obstetric/gynecologic, psychiatric, emergency, and rehabilitation services; along with Cooley Dickinson VNA & Hospice, which provides home health and hospice nursing and rehabilitation visits; and Cooley Dickinson Medical Group, comprised of primary and specialty care physicians, nurse practitioners, nurse-midwives, and other providers.  Cooley Dickinson Health Care serves Hampshire and Southern Franklin County residents in the Five-College region of the Pioneer Valley. Learn more at cooleydickinson.org
-30-