December 14, 2017
The idea of saving for her co-workers' baby showers by putting change into a piggy bank took on new meaning for Greenfield Savings Bank Office Sales Manager Debbie Sjodahl and her staff, Sheila Harrington, April Parker and Kristen Peyman.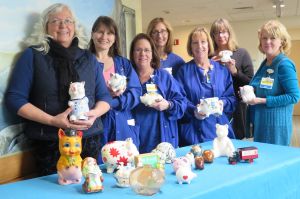 Before they knew it, Sjodahl's idea had taken off. Customers throughout Conway, where Greenfield Savings has a branch office, had donated more than 20 piggy banks – one filled with $90 in quarters and another stuffed with a $20 bill. A total of $400 was raised, with $200 donated to the Childbirth Center at Cooley Dickinson Hospital and the rest to another organization.
"A lot of people donated banks with money in them," noted Sjodahl. "Conway is such a generous community."
While the money will support Childbirth Center programs, the piggy banks – of varying shapes and sizes and dating from different time periods – will be on sale at the Hospice Shop, 18 Bridge Street, Northampton early next week.
"These are small gifts from birth to end of life," added Sjodahl.