March 7, 2018
Dr. Angela Belmont Named Vice President Patient Care Services and CNO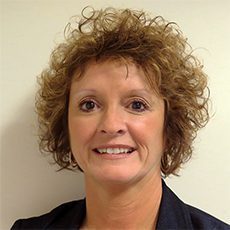 NORTHAMPTON – Cooley Dickinson Health Care President and Chief Executive Officer Joanne Marqusee announces the appointment of Angela Belmont, DNP, RN, as Vice President Patient Care Services and Chief Nursing Officer (CNO).
"It's my pleasure to welcome Angela Belmont to Cooley Dickinson Health Care and to our community," Marqusee said.
"In her new role, Angela provides leadership, oversight, and support of our leaders in the Patient Care Services division at Cooley Dickinson Health Care," Marqusee added. "Angela is responsible for advancing our dyad program of nursing and physician collaboration, and partners with our Chief Medical Officer Dr. Estevan Garcia to focus on quality and patient safety. In this regard, Angela will help us to drive improvements in patient satisfaction and nursing practice at Cooley Dickinson."
A successful nurse administrator with over 30 years of experience, Belmont has held progressively responsible leadership positions in acute care hospitals throughout her career, including more than 20 years with Faxton-St. Luke's Hospital, a 370-bed acute care hospital in Utica, New York.
Prior to joining Cooley Dickinson, Belmont was the Assistant Vice President of Nursing for Mohawk Valley Health System, a community health care system with over 4,000 employees that serves patients throughout three counties in upstate New York. In this role, Angela led efforts to significantly improve patient care services and outcomes across the two hospital campuses.
Belmont earned both her Bachelor of Science in Nursing and Master of Science in Nursing Administration degrees at the State University of New York and her Doctorate in Nursing Practice in System Leadership from Rush University in Chicago, Illinois.
"I feel both honored and privileged to be the CNO at Cooley Dickinson," said Angela. "This is a great community hospital filled with some of the most committed staff I have worked with in my 34 years of nursing."
Since arriving at Cooley Dickinson, Angela has observed first-hand the nursing team's commitment to their patients. "Cooley Dickinson's nurses are dedicated to making patients' experiences the best they can be."
"I am proud to lead this team and look forward to building on the strong foundation that's already established, and to continue to improve patient outcomes and satisfaction."
In her free time, Belmont enjoys outdoor activities such as hiking, biking, gardening and traveling. She also enjoys spending time with her husband and three children.
Belmont started her new role in December. She joins the executive leadership team of Estevan Garcia, MD, Chief Medical Officer; Holly Conway, Vice President, Cooley Dickinson Medical Group; Laurie Lamoureux, Vice President, Finance; Diane Dukette, Chief Development Officer; Anthony Scibelli, MBA, Vice President, Operations and Chief Administrative Officer; and Julia Sorensen, MSW, MBA, Chief Marketing and Communications Officer.
About Cooley Dickinson Health Care
A Massachusetts General Hospital Affiliate, Cooley Dickinson is an acute care community health care system that offers medical/surgical, orthopedic, obstetric/gynecologic, psychiatric, emergency, and rehabilitation services; along with Cooley Dickinson VNA & Hospice, which provides home health and hospice nursing and rehabilitation visits; and Cooley Dickinson Medical Group, comprised of primary and specialty care physicians, nurse practitioners, nurse-midwives, and other providers.  Cooley Dickinson Health Care serves Hampshire and Southern Franklin County residents in the Five-College region of the Pioneer Valley.
-30-