May 15, 2018
When Cooley Dickinson Physical Therapist Ross Bell isn't treating patients, he's enjoying time in the saddle. The bike saddle, that is.
Bell says he tries to leave his car parked at home in Florence, and rides his bike to work as much as possible. "There's nothing like hearing the birds singing and getting some fresh air before starting my day at 8 Atwood Drive," says Bell.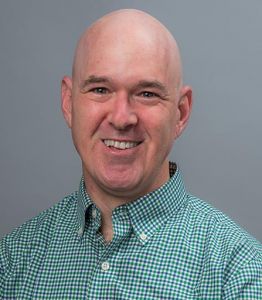 "Taking a longer route home is a great way to end the day and get a workout in on the way home. If I had my choice though, I would rather be pedaling through the woods on some of the awesome mountain bike trails that our area has to offer.
Bell adds that with mountain biking, every trail offers a new challenge: whether it is a rocky technical section that "requires balance and perseverance to negotiate or a flowy technical downhill section to bomb through."
In recognition of Bay State Bike Week May 12-20, Bell shares his love of all things cycling with these tips:
1. Make sure your seat height is adjusted properly. Make sure to position the ball your foot over the pedal spindle to the best leverage, comfort and efficiency. When your leg is in full extension on the downward stroke, make sure that the angle of your knee is close to 35 degrees to avoid stress on your knee. A saddle height that is too high may cause iliotibial band syndrome, hamstring tendinitis or calf strain. A seat that is too low can cause patella pain, and other knee issues.
2. The saddle on your bike should be level. To avoid abnormal pressure on the hands and lower back make sure the saddle does not tip downward. The saddle should also be a comfortable distance from the handle bars. If the saddle is too close to the handle bars extra weight will be placed on your mid-back and arms, too far away and you may put extra strain on your lower back and neck.
3. When pedaling your bike, 80-90 revolutions per minute is a good goal.  Avoid riding in gears that are too hard and avoid excessive "hammering" up hills. Pedaling at this rate will lessen chances of injuries such as patella tendinitis.
4. If you are riding your bike more than 30 minutes at a time, be sure to take "posture breaks". This means take the time to sit up straight and roll your shoulders back and squeeze your shoulder blades a few times. A lot of time in the saddle and focusing on the road/trail ahead can cause stiffness in the neck and upper back.
Lastly, if you are in the market for a new bike, make sure the bike fits you properly. Bell adds that there are several good local bike shops that will make sure that you get the right bike for your goals and your body.
Learn more about Bay State Bike Week as well as local bike week celebrations.
-30-