June 11, 2018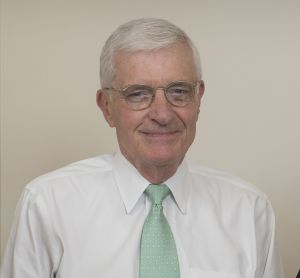 Sanford A. Belden, Ph.D., a Hatfield resident and member of the Cooley Dickinson Healthcare Board of Trustees, has been awarded the 2018 Trustee Excellence in Leadership Award from the Massachusetts Health & Hospital Association (MHA). 
Each year at the association's annual meeting, MHA honors the significant contributions of a trustee leader whose professional achievements have been of exceptional value to the healthcare community. This year's awards went to Mr. Belden and Christoph L. Hoffmann, who served on the board of directors at Beth Israel Deaconess Hospital-Needham.
Belden joined the Cooley Dickinson Board of Trustees in 2008, and served as Board Chair from 2015 to 2017.
"Sandy's commitment to community service is long-standing. Before returning a decade ago to Western Massachusetts where he grew up – in fact, where 12 generations of Beldens lived – Sandy served in multiple volunteer roles," said Joanne Marqusee, President & CEO of Cooley Dickinson Health Care, who presented Belden with the award.
"A decade on the Cooley Board, Sandy has been on every Board committee and many task forces. He chaired several, not because he seeks the limelight but because his peers look to him for wise and effective leadership. As an officer, including two years as Board Chair, he continues to be unwavering in his commitment to the organization and to our community."
"All his nominations echoed common themes – Sandy's patience; wisdom; knowledge; ability to bring Board, medical staff and administrators together; openness to new ideas and constructive debate; generosity; and advocacy.
"He has the highest level of integrity, makes everybody feel heard and respected, and has the courage to identify the elephant in the room," Marqusee said. "It gives me great pleasure to recognize Sanford Belden as an exemplary trustee leader."
-30-