June 22, 2018
Steve Lewis Subaru, Leukemia & Lymphoma Society Bring Comfort, Words of Encouragement to Those in Treatment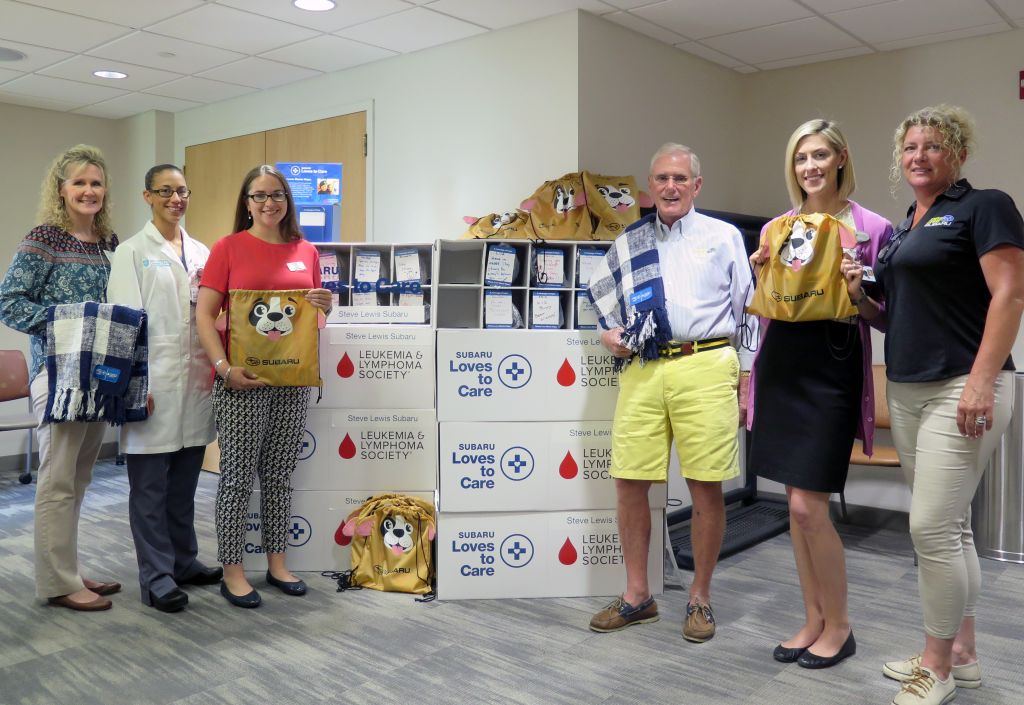 Tracy Stearns and Steve Lewis, from Steve Lewis Subaru in Hadley, visited Mass General Cancer Center at Cooley Dickinson Hospital bearing boxes full of warm blankets and activity kits. Part of a national Subaru effort called the  Subaru Loves to Care Campaign, the kits are designed for patients being treated for leukemia and lymphoma. This year's blankets each came along with a personalized message of inspiration and encouragement courtesy of the Amherst Police Department, whose employees chipped in their voices of support.
Blankets can be particularly comforting to patients being treated with chemotherapy. One of the treatment's side effects can be a tendency toward developing anemia, which thins the blood and can result in chills and feeling cold. Leukemia and lymphoma, which are system-wide cancers, can also be overwhelmingly exhausting, and simple comforts like something warm and soft can mean the world to someone going through treatment
Cooley Dickinson Development Officer Georgia Moore organized this year's donation drop-off, which saw two Pioneer Valley living legends, Steve Lewis and WWLP's Sy Becker come face-to-face with smiles to spare. Representing the Leukemia & Lymphoma Society was Florence native Sally Ekus, a survivor of childhood leukemia and 2017's LLS Woman of the Year.
On behalf of Cooley Dickinson's patients, thank you to Steve Lewis Subaru, the Leukemia & Lymphoma Society, and all involved.