July 3, 2018
(Note: The MGH Shuttle Service is still suspended due to the COVID-19 pandemic as of Jan. 20, 2022)
Since Cooley Dickinson began offering free, daily shuttle service to patients and employees traveling to Massachusetts General Hospital, the phone has been ringing off the hook at the Cooley Dickinson Call Center.
"I have a lot of new friends," says Call Center representative Mary Ann Phelon with a smile.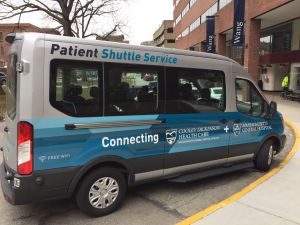 The shuttle service has successfully delivered more than 230 patients, family/support people and employees to Mass General since its maiden voyage on April 9th of this year. Reviews have been overwhelmingly positive, from a range of patients and family members traveling for appointments with oncologists, cardiologists, neurologists, urologists and gastroenterologists. Some use the shuttle to travel to Massachusetts Eye and Ear, which is adjacent to the Mass General campus on Charles Street in Boston, and part of the Partners HealthCare Network.
"It's particularly helpful for people who get their eyes dilated," says Phelon, who says people have told her they have had to drive home through Boston traffic with sensitive, post-dilation vision.
"Much easier," says Sherry Morgan of South Deerfield of the service, who makes the trek to Mass General once a year. "Saves the drive into downtown Boston." Up until taking the shuttle, Morgan drove herself, or would drive to Shirley, Mass. and get a friend to drive her the rest of the way. She also commented that the "drivers are very polite, very helpful, provide good directions."
On request, the usual 12-seat shuttle can be swapped out for a wheelchair-accessible van with a wheelchair lift, which still leaves 6 other seats available. This can be an incredible help for people who typically need to get their wheelchair-bound family member in and out of a car by themselves.
Diane Shumway of Hadley was the first to employ the wheelchair-accessible shuttle, and described the experience as "phenomenal." Up until then, Diane had had to engineer getting her husband Lee and his wheelchair into their own vehicle and driving into Boston.
"I can't say enough good stuff about the shuttle," says Diane. "I hate driving in the city, parking, navigating with a wheelchair—it's a lot of work."
Diane says she's told an elderly friend about the shuttle and encouraged her to go see a specialist at Mass General that she was recommended to for some chronic health issues but had yet to make an appointment. "You know, she doesn't have anybody to take her, and I said—you should just take this shuttle, it's great!"
"People are very grateful for this service," added Phelon. "Several people say they couldn't have made the trip without it."