October 12, 2018
Congratulations to the following members of the Cooley Dickinson Medical Staff who received recognition for their service and commitment to Cooley Dickinson's providers and patients at the annual Medical Staff Meeting, which was held on Sept. 17.
The awards were presented by outgoing President of the Medical Staff R. F. Conway, MD and Cooley Dickinson Chief Medical Officer Estevan Garcia, MD.
Of the selection process Conway noted, "this is always a tough decision to make every year. We have such a great group of quality and diverse providers and nursing staff. When we look through the nominees we try to pick the winners that were outstanding for the last year."
Congratulations to this year's awardees Sara Burgess, RN, Emily Baecher, PA, and Adam Lau, MD.
Sara Burgess, Nursing Excellence Award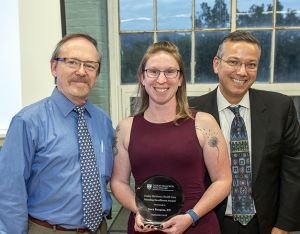 Registered Nurse Sara Burgess serves as Cooley Dickinson's EMS coordinator. In conjunction with the EMS medical director, Burgess oversees ambulance care of patients coming to the hospital and coordinates with the ambulance services with whom Cooley Dickinson partners.
Burgess is respected for her hard work and positive energy. She is committed to continuous learning and improvement. Most recently, she participated in the inaugural Lean Six Sigma Greenbelt class at Cooley Dickinson. Under her leadership, patients in our community who use ambulance and Emergency Department services receive excellent care.
Emily Baecher, Advanced Practice Clinician Excellence Award
Physician Assistant Emily Baecher works nights on the Cooley Dickinson Critical Care Unit. Baecher is recognized and celebrated by her team for her willingness to help and collaborate. She is quick to pick up shifts to keep the unit running, and she is a consummate team player. Baecher is proactive in her work, and doesn't wait to be called to jump in and help. She is thoughtful and kind.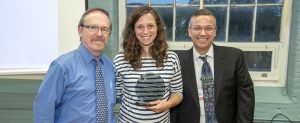 One of Baecher's colleagues shared, "When I know she is on, it doesn't matter what the night will be like. I know it means we have solid help backing us up. It takes a special breed to be a nocturnist, and Emily fits the mold through her easy going and resilient manner."
Adam Lau, Physician Excellence Award
Adam Lau, MD, is the chief of Psychiatry at Cooley Dickinson. In addition to that leadership role, Lau led by example during Cooley Dickinson's Partners eCare implementation last October and during several external reviews throughout the year.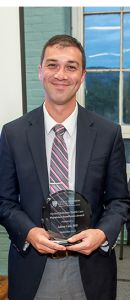 Lau is recognized by his colleagues and patients as clear, kind, communicative, patient-centered, grounded, and funny. He is quick to step up and take on new responsibilities.
Lau is always willing to assist fellow providers and leaders, which supports a collaborative team environment throughout the inpatient behavioral health unit and across the organization.
-30-