November 15, 2018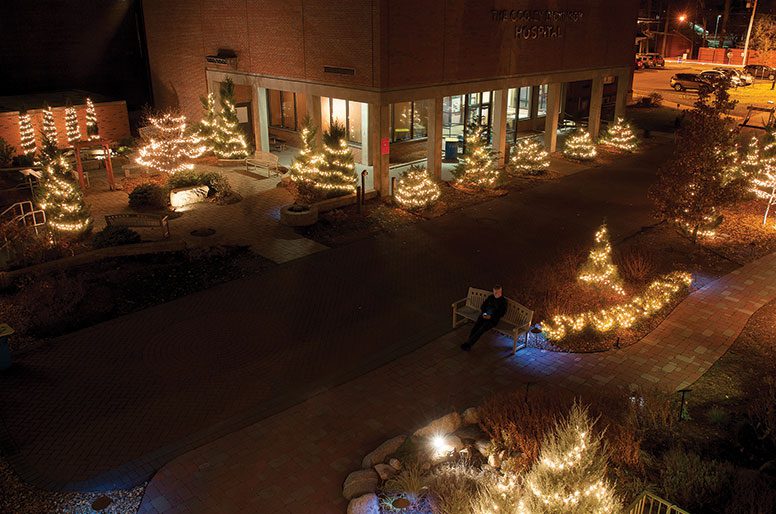 For twenty years, holiday lights have illuminated the grounds of Cooley Dickinson Hospital while providing funds for numerous projects that support the healthcare needs of the community. Through a donation of $15 or more per individual, community members can designate a light in honor or in memory of someone or an organization during the annual Trees of Love and Thanksgiving fundraising initiative. This drive is sponsored by the Friends of Cooley Dickinson and the Pastoral Care Department at CDH and runs through December 31st.
This year the funds raised will support the renovations and upgrades to the Cooley Dickinson Childbirth Center, which was constructed nearly 20 years ago. In addition, monies will again provide infant car beds, which are critical to ensuring the safe transport of underweight babies. Patients in need are profoundly grateful. The goal is to raise $15,000.
Over the past 20 years, Trees of Love and Thanksgiving campaigns have raised more than $300,000, providing funding for pediatric rehabilitation, pediatric rooms in the hospital's Emergency Department, an infusion bay in the Mass General Cancer Center, and 3D mammography.
The lights shine brightly in the Healing Garden as well as at the entrances of CDH throughout the winter months. The names of those honored and/or memorialized are displayed at the hospital for all to bear witness. An acknowledgement card is mailed to those honored or to family members of those memorialized.
The lighting ceremony will be held on Sunday, November 18th at 4:30 p.m. in the Healing Garden. A reception will follow in the Surgical Day Room at the North Entrance. All in attendance are invited to share light refreshments and listen to the Horse Mountain Jazz Band immediately after the ceremony.
Those wishing to donate can pick up a donor form at the CDH Coffee Shop or online at www.cooleydickinson.org/treesoflove.