March 2, 2019
Did you know that 99% of beef served at Cooley Dickinson is sourced locally, and is antibiotic-free?
Did you know every potato (and a lot of the other in-season produce) used in the CDH kitchen comes from a nearby farm?  Cooley Dickinson serves a minimum of 500-600 meals a day at the hospital, and the balancing act of keeping up those meals' nutritional requirements alongside efforts to acquire food that's fresh and local (and end up with a healthy, good-tasting product), is no small feat.
Last week, Cooley Dickinson Executive Chef Gary Weiss joined CISA (Community Involved in Sustaining Agriculture) Director Philip Korman on WRSI, to talk about a whole lot of things that many patients – and employees – probably don't know about the food served at the hospital. In the interview, Gary detailed some of the overarching efforts he and his department have made to improve what kind of food the hospital purchases, over his 10 years at Cooley Dickinson, and detailed his ongoing relationship with the international organization Healthcare Without Harm, whose regional offices work with Massachusetts and other New England healthcare facilities to try to help them source food locally and sustainably.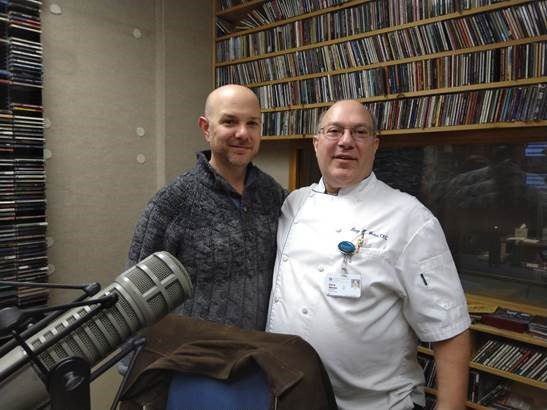 Host Monte Belmonte brought up the inevitable lament of folks who frequently eat "hospital food," that, out of necessity, things like butter and salt (i.e. some of the primary ingredients that make food taste good) are limited to ensure that patients who need to can stay within prescribed dietary restrictions. Gary – a lover of food himself – expressed an understanding of this culinary challenge, and pointed to some creative solutions he uses to keep low-fat, low-salt offerings from presenting as bland or comparatively tasteless.
"We try to use different spices, different herbs – we even do international flavorings to try to make it a little more exciting, and to try to give it that boost that the salt would normally give," says Weiss. "I also find things like granulated garlic and granulated onion can simulate the functions of salt." The executive chef's penchant for trying out different recipes using "blended beef" (beef that's essentially "thinned" with similarly textured food like mushrooms) is well-known and has been generally well-received; the blended beef lasagna may be one of the most successful incarnations of the technique. "In addition to lowering the fat and salt content," adds Gary, "using less beef in each serving contributes to a measurable reduction of greenhouse gasses, so we're trying to do our part to address carbon emissions as well. This is also why we've adopted 'Meatless Mondays' into our rotation."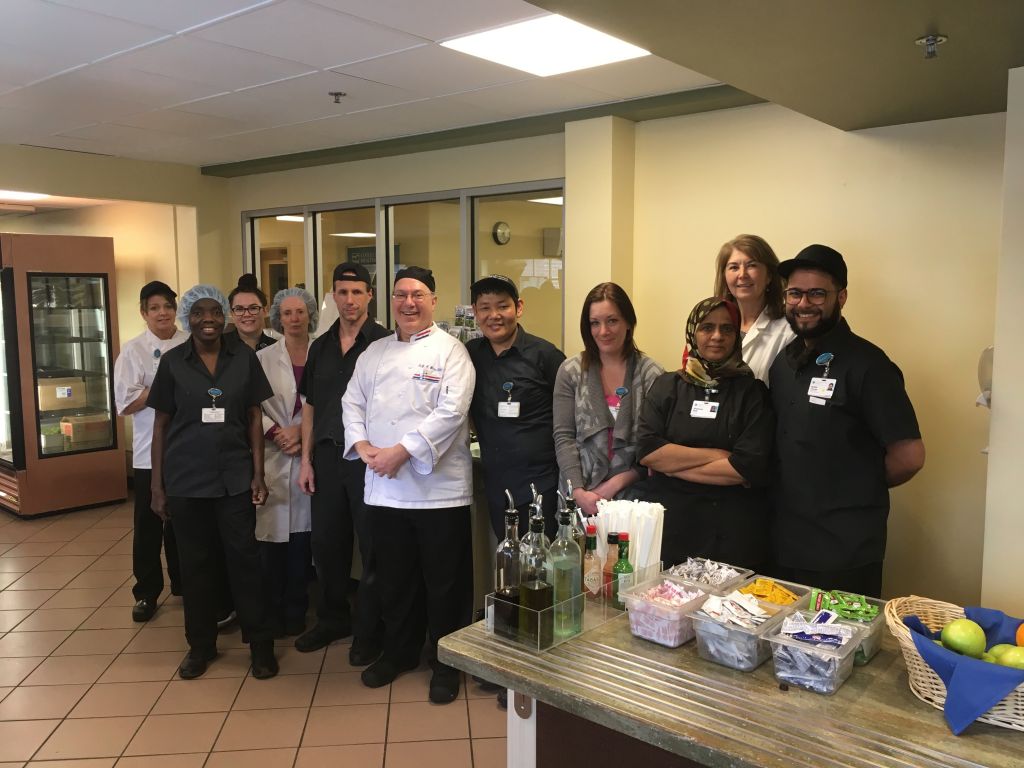 Much of the work required to prepare and deliver the meals at Cooley is a labor of love; the staff in the Nutrition department work so hard in the Cooley kitchen and cafeteria every day, at all hours. Savor each mouthful of their creative, often multicultural fare; it's evident that Gary and his crew really put a lot of care into what we eat that many people don't even realize.