March 1, 2019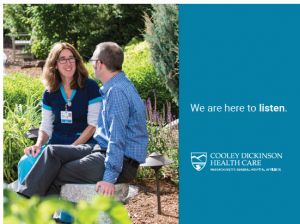 As of Friday, March 1, Cooley Dickinson began surveying outpatients about their experience using a new survey platform.
Patients who are treated in these departments – Radiology, Rehab Services, the Cardiovascular Services suite, the Mass General Cancer Center at Cooley Dickinson Hospital infusion area or the Emergency Department – will be surveyed by phone or email.
Those questions asked in the survey probe the patients' experiences by asking questions such as 'During your most recent visit, were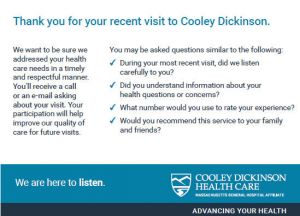 you listened to?' and 'Would you recommend this service to your family or friends?'. Responses will help Cooley Dickinson better serve patients.
"Cooley Dickinson is reaching out directly to more patients for their feedback to improve our services," says Director of Volunteer and Guest Services Robin Kline.
Previously, only a subset of patients who received care in these areas were surveyed using a traditional paper form. That method, Kline added, took longer to process and meant staff were finding out about problems many months after an incident had happened. Yet due to a CMS requirement, the paper surveys will continue to be used for patients who are admitted to the hospital.
Noted Kline, "We want to be sure that patients' health care needs are addressed in a timely and respectful manner. We also want to know about their experience, from their point of view."
Patients will be asked if Cooley Dickinson providers listened carefully to them and "did we answer their questions and concerns in a way that was understandable." The new process, managed by NRC Health, collects feedback quickly and confidentially. Two attempts are made to contact the patient by phone; if there is no response, the patient receives an email.
"We're changing what we do to reflect our mission of providing exceptional, compassionate, and personalized care. And we want more immediate, almost real-time feedback from our patients," Kline said.
Cooley Dickinson Medical Group made the switch from a paper to a digital survey platform several years ago. For employees who are patients of any Cooley Dickinson Medical Group provider, you have likely received a survey phone call or email soliciting your input about your experience with your CDMG provider. Cooley Dickinson's outpatient process is similar to the CDMG process.
-30-