May 30, 2019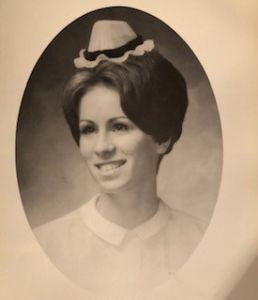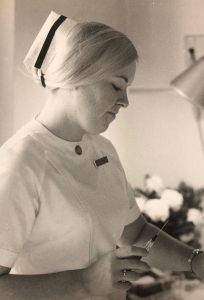 Earlier this month, 115 employees were recognized at Cooley Dickinson's annual Service Award celebration. Among that group are two of the longest-serving employees Registered Nurses Jeanne Johndrow and Sally Surgen. They were each honored for 50 years of service.
Here are their reflections on 50 years of taking care of Cooley Dickinson's patients and families.
JEANNE JOHNDROW
 Jeanne works full-time on the medical/surgical unit at Cooley Dickinson. Jeanne grew up near Natick, Mass, but as fate would have it, Cooley Dickinson was a place she would make her forever home. When asked if she plans on retiring, Jeanne says, "I love my job and the people I work with; I am just not ready to leave yet."
When did you start working at Cooley Dickinson? Did you attend the Cooley Dickinson School of Nursing?
I came to work at Cooley Dickinson three days after graduating from the Cooley Dickinson School of Nursing. I remember the day well; it was June 9, 1969.
 How did you decide on nursing as a profession?
Being a nurse was all I ever wanted to do. My mother always wanted to be a nurse, but at the time you were either a secretary or a teacher; she was thrilled when I told her I wanted to be a nurse.
What are some of your earlier memories as a nursing student/new nurse?
We got thrown into things more than new nurses do now. There was more hands-on training then. That training was three years; it was constant, no vacations. We had weekends off, but most of us worked as CNAs, so most of us didn't have weekends off. I lived in the McCallum Building; it was a beautiful building.
I had a roommate, Michelle Abel, all three years; Michelle, who has since passed away, was also a nurse at Cooley Dickinson. We hit it off immediately. In fact when we went to our three-month affiliation, (which is somewhat similar to today's clinical rotations for student nurses) at Boston Floating Hospital, we had requested a double room. When we got there, there was no double room, so we pulled our mattresses together and went against the rules.
We were expected to do both book learning and be hands-on with patients. At Boston Floating Hospital, the Cooley student nurses took care of and were responsible for the entire unit of patients. The work was very hands-on. Our other affiliations were at Medfield State Hospital, and we were supposed to go to Boston City Hospital, but it was condemned so we went to the VA hospital in Leeds.
What stands out for you over all the years here at Cooley?
The changes are unreal. Take medications for example. Medications were stored in tiny rooms, where medications were kept in bottles. You would take a bottle down from a shelf. Put the meds in a cup. Put the cups on a tray and walk around the floor and give out the meds to each patient on that unit. It was a very different time.
And the friendships. So many great people. Several women from my graduating class worked here. But I've known so many nurses here over the years; and even the newer nurses. They may think of me as a mother. It's a nice group pf people. If it wasn't a good group of people, I wouldn't have stayed. It takes special people to make a unit run.
Patients are much sicker today than back then. We take care of critical care patients. The patients require more intense and individualized care now. This is another significant change, especially in med surg nursing. Med surg patients change hour to hour.
What do you like most about being a nurse?
The patients. My most favorite thing is taking care of patients who are dying and their families. I want them to be able to go out with dignity and comfort. I help take care of the families and what they see and feel when it happens. I've taken care of a lot of people near end of life. I want them looking nice, just before they pass or after. We are there for families; when patients go to comfort measures, we explain what is happening. We cry with them and laugh with them. I have a lot of notes at home from families; we made it easier for them.
What occupies your time when you are not working?
My family. I also do a lot of crafting.
What advice do you have for new nurses entering the profession?
Don't think about a specialty right off the bat. Get the techniques and the knowledge before you specialize. Stay in med surg for at least two years.
Parting Thoughts?
It's been wonderful; I continue to work because I love my job and the people. This is why I am not ready to leave Cooley Dickinson Hospital.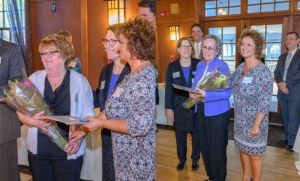 SALLY SURGEN
Sally was born at Cooley Dickinson and volunteered as a candy striper. A highlight of her time as a teen volunteer was when then Senator Ted Kennedy was a patient at Cooley Dickinson for three weeks after his plane crashed in a Southampton apple orchard in June 1964. Five years later, Sally graduated from Holyoke Hospital School of Nursing with a nursing diploma; she was hired at Cooley Dickinson Hospital on July 7, 1969. After 33 years as a critical care nurse, Sally transferred to Endoscopy in 2002. She continues to work in Endoscopy two to three days a week.
What do you like best about being a nurse?
I like making a difference. We can't always save everybody, but you can always make a difference for patients and their families. Helping people is a rewarding feeling.
The one thing about Cooley is that it has always been more than where I work. This was my community hospital. I would take care of parents of friends or classmates, neighbors; now that I am in endoscopy, I see classmates, friends, friends of friends who come in for their scheduled colonoscopies.
I always felt that this is my community and I needed to make it a good place. Even if I didn't know a patient, these people are still my neighbors, my friends. So it has never felt like just a job, and I love being a nurse.
Talk about your early days as a nurse.
Because I was a product of the diploma school, I had a fair amount of experience compared to new nurses today. Still, you don't know everything. My first two weeks at Cooley, I oriented with the then charge nurse on the night shift on West 5, which was a med surg unit. And after that, I took her place so she could go on vacation. You just jumped in and did what had to be done.
I understand you spent time in the United States Army Nurse Corps. What was that like?
I was a night float when I started. I left in November of 1969 to join the US Army Nurse Corps. I was stationed at Walson Army Hospital at Fort Dix, NJ. I worked in a surgical ICU and recovery room. I returned to Cooley in April 1971. Because I left and returned for military service, I never lost my original date of hire. I am proud of that service. It was one of the most valuable experiences as I took care of seriously injured soldiers on their return from Vietnam as well as regular surgical patients. And in the Army, it really is see one, do one, teach one.
 In 50 years, what's changed?
The science and technology of patient care has gotten a lot better. For example, when I first started if someone had a heart attack, they would stay in bed for a week. Now they are home in a few days. My role is basically the same as it was. There isn't time for all the niceties that we used to be able to do; it is more fast-paced now.
What would you tell a new nurse?
Don't ever stop learning. And this is not so much of an issue now, but when I first started out as a nurse, doctors were very intimidating. It took me time to realize that they are not better than I am; their role is different than mine. My role is just as important as a doctor's role as is what a housekeeper does. We all work together to take care of the patient.
What do you do in your free time?
I am a quilter and I sew and go to classes any chance that I can. I make quilts for new moms or new grandparents plus for people who I work with when they retire.
Parting Thoughts?
Like anywhere, there have been ups and downs here. But what stands out for me over the years are all the great people I've worked with. I work with really caring people who always have the best interests of patients in mind.