June 26, 2019
In 2018, a Cooley Dickinson grant helped Grow Food Northampton – a non-profit that supports both sustainable local agriculture and affordable, accessible healthy food – bring fresh farm produce to subsidized housing communities in Northampton. That grant helped underwrite a "mobile market" pilot program at those housing communities. Grow Food Northampton and Cooley Dickinson will again make this opportunity possible for local residents.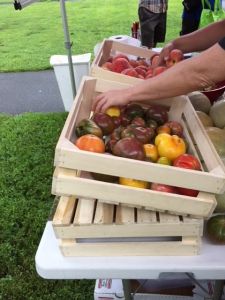 Grow Food Northampton Director of Programs Michael Skillicorn says mobile markets, now called Neighborhood Markets, are unique because they bring the highest quality, fresh produce directly to where people live.
"Every subsidized housing community in Northampton, will host, or be within walking distance, of a Neighborhood Market, this year. This marks a significant achievement for the residents who helped create this program."
"The community – including Cooley Dickinson – have stepped up to make their vision possible," Michael added.
After last summer's successful pilot program, Grow Food Northampton was able to raise enough money to sustain the program into the current summer season.
The program will again help provide fresh, local, highly affordable fruits and veggies to City residents at six locations, including the Northampton Senior Center, Florence Heights, and Jackson Street School.
Cooley Dickinson's Healthy Communities Committee has again supported this important program for 2019.