September 5, 2019
Cooley Dickinson Hospital has again been recognized as a LGBTQ Healthcare Equality Leader by the Human Rights Commission (HRC), the country's largest lesbian, gay, bisexual, transgender, and queer (LGBTQ) civil rights organization.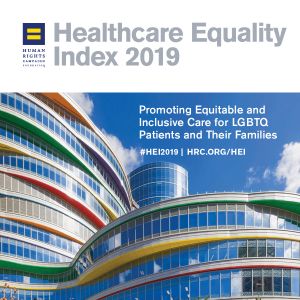 Cooley Dickinson is the only hospital in western Massachusetts and one of only 7 hospitals in the Commonwealth to earn the Healthcare Equality Index designation.
"This designation affirms Cooley Dickinson's commitment to providing equitable, inclusive and affirming care for LGBTQ patients and their families," said Cooley Dickinson Health Care President and Chief Executive Officer Joanne Marqusee.
"We are proud to receive – for the third consecutive year – this honor and to continue our efforts to ensure that our local LGBTQ community has access to respectful, appropriate care."
Marqusee noted that "we are also proud that our parent organization and clinical partner, Massachusetts General Hospital, was one of the other six Massachusetts hospitals to receive this recognition. Together, we are committed to providing the best care for the LBGTQ communities across the state and to being inclusive, affirming places to work."
Cooley Dickinson's focus on improving care for the LGBTQ community has been a high priority for the last five years and is part of its broader efforts related to diversity, inclusion, and health equity. Of the three consecutive years Cooley Dickinson has earned the HEI designation, 2019 marks the second year the organization earned a top score of 100.
Initiatives that Demonstrate Cooley Dickinson's Commitment to Equitable and Inclusive Care for the LGBTQ Community 
• Recruit and train clinicians who specialize in the care of LGBTQ people.
• Implement changes to electronic medical record that facilitate the use of patient's preferred gender, name and pronouns.
• Collaborate with local gender-diverse community members, The Fenway Institute and researchers from Harvard Medical School on The Path Project (Plan and Act for Transgender Health), a study that will inform the expansion of gender-affirming health services in western Massachusetts.
• A Positive Place, in partnership with Cooley Dickinson's clinical leader for our LGBTQ program, now offers short term health navigation to transgender patients most in need of prevention support.
About the Health Care Equality Index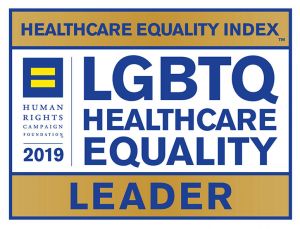 The HEI, which is in its 12th edition, assesses participating organizations on four criteria: non-discrimination and staff training; patient services and support; employee benefits and policies; and patient and community engagement.
The HEI designation is given to facilities that meet LGBTQ-inclusive benchmarks that are part of the Healthcare Equity Index, a survey that examines equal care for LGBTQ people by evaluating inclusive policies and practices related to LGBTQ patients, visitors, and employees.
"As the Trump-Pence administration continues to attack the most fundamental rights of LGBTQ people, including rolling back non-discrimination protections in the Affordable Care Act and promoting a license to discriminate in health care, it is more important than ever that health care institutions stand with the LGBTQ community," said HRC President Alphonso David.
"The health care facilities that participate in HRC's Healthcare Equality Index are making clear that they stand on the side of fairness and are committed to providing inclusive care to their LGBTQ patients. Going beyond inclusive non-discrimination policies, these health care facilities are adopting best practices in the areas of LGBTQ patient care and support, employee policies and benefits, and LGBTQ patient and community engagement. We commend all of the HEI participants for their commitment to providing inclusive care for all."
For more information, learn about the HEI criteria, or to download a copy of the report, visit the HEI 2019 website.
About the Human Rights Campaign Foundation
The Human Rights Campaign Foundation is the educational arm of America's largest civil rights organization working to achieve equality for lesbian, gay, bisexual, transgender and queer people. HRC envisions a world where LGBTQ people are embraced as full members of society at home, at work and in every community.
About Cooley Dickinson Hospital
Cooley Dickinson Hospital, a Massachusetts General Hospital Affiliate, is part of an acute care community health system that has been advancing the health of our region since 1885. Cooley Dickinson serves Hampshire and southern Franklin County residents in the Five-College region of the Pioneer Valley of Massachusetts. Learn more at cooleydickinson.org