September 19, 2019
Cooley Dickinson Providers Honored at Annual Medical Staff Meeting
Clinicians from across Cooley Dickinson were honored at the annual Medical Staff Awards event on Monday, Sept. 9. One nursing team, the Joint Replacement Center/North 4 Team, and two individuals, Casey Fowler, NP and James Kirchhoffer, MD, received medical staff awards. Also receiving a special shout out at the event were physicians who in the past year were acknowledged by their patients as Gift of Caring recipients. Congratulations to everyone who helps to deliver on Cooley Dickinson's mission to serve our patients and communities with exceptional, compassionate, and personalized care.
Listed below are the recipients and the awards they received.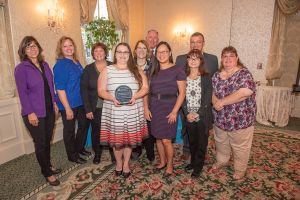 Nursing Excellence Award: Joint Replacement Center Nursing Team
The Joint Replacement Center/North 4 team is known for being a collaborative and tight knit group. They have the highest patient satisfaction scores in all the inpatient areas – consistently, and they have for years. The team provides very consistent, evidence based, and personalized care. And the patients do very well because of their approach. The dedicated PCAs work shoulder to shoulder with the nurses and are adept at moving patients and meeting their specific needs.
Described by their patients as very knowledgeable, caring, empathetic, motivating, and focused, the North 4 team is an essential part of helping Cooley achieve its mission. Go North 4 Team!
Casey Fowler, NP, Advanced Practice Clinical Excellence Award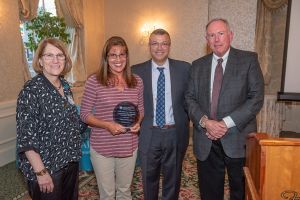 Born and raised in Northampton, Casey Fowler is a graduate of Northampton High School where she was always in motion doing gymnastics, diving, and cheering for the soccer team. She joined the Navy where she served as a Navy Corpsman in San Diego and on the USS Holland and returned home to attend nursing school.
Casey's first job at Cooley Dickinson was as a phlebotomist. Everyone knew when she was coming down the hall by the tap of the heels of her white cowboy boots. She then became a fixture of nursing on nights in the Emergency Department, eventually working with sleep medicine and cardiology, until finally finding her true love – surgery.
Casey currently practices with the Cooley Dickinson General Surgery team. She also takes overnight call as a nursing supervisor at the hospital. She is a skilled clinician, a gracious colleague, a loving friend, and a passionate advocate for Cooley Dickinson.
Her patients accurately describe her as "amazing, impressive, friendly, helpful, professional, engaging, compassionate," and the list goes on. Congratulations Casey!
James Kirchhoffer, MD, Physician Excellence Award
James B. Kirchhoffer came to Cooley Dickinson after spending 18 years at Baystate Medical Center, where he served as chief of Cardiology. During his tenure in the Pioneer Valley, Dr. Kirchhoffer has participated in and led the development of high-quality programs in interventional cardiology, noninvasive cardiology, heart failure, peripheral vascular disease, prevention and wellness, and electrophysiology. Dr. Kirchhoffer is a fellow of the American College of Cardiology and a member of the Heart Rhythm Society. His career in cardiology spans more than 20 years. He is in practice with Hampshire Cardiovascular Associates.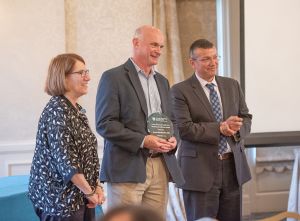 Dr. Kirchhoffer is recognized for the impact of his contribution to Cooley Dickinson. Whether reminding us all to "Eat less, move more" or embodying those values while championing the Cooley Team in the annual bike ride to support the Food Bank of Western Massachusetts.
An avid birder, Dr. Kirchhoffer can identify countless species by sight and sound. When not working, biking, or birding, Dr. Kirchhoffer spends every minute he can with his grandchildren.