October 29, 2019
Susan Hodgkins, Lois Siegel, and Nancy Flickinger, longtime members of the Friends of Cooley Dickinson, were celebrated for their years of service at the Friends Annual Meeting on Oct. 24. Read how Sue, Lois, and Nancy have made a significant impact on Cooley Dickinson over the years.
Sue Hodgkins: 56 years of Service
Some years ago, a Cooley Baby named Sue Hodgkins was born. And that was the start of a very long history which has brought so much to Cooley Dickinson. She's seen the hospital celebrate its 100th anniversary, and was there when we aligned with Dartmouth Hitchcock, and more recently with Mass General.
She has been a president of the Friends of Cooley Dickinson (formerly known as the Auxiliary), and a member of the Board of Trustees. She's volunteered with Cooley for 56 years,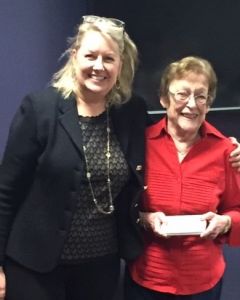 Over the years, Sue has served at a number of Information desks, including the former Locust Street desk where she became the Chairperson. Moreover, she's been a key organizer of the volunteer Awards ceremony for more than 20 years.
In fact, in 1998 she organized an awards tea for 40 volunteers in the Date Room of the McCallum building. She has helped with numerous fundraisers, both for the hospital and the Friends of Cooley Dickinson. In 1994 Sue wrote in her President's Annual Report, "In completing my term as your president, I am grateful for the support I've received from all of you. After reviewing annual committee reports, I feel we are a very strong and dedicated group. We fulfilled our fourth installment of $50,000 toward our pledge of $250,000 to the building fund."
That building fund was for what is now the Main Entrance of the hospital. Sue didn't stop there, and her continued support has helped CDH build the North building, the Cancer Center and the Breast Center.
Thank you Sue for the incredible impact you have had over the years at Cooley Dickinson, bringing new buildings and new programs to the hospital to make it what it is today.
Lois Siegel: 53 Years of Service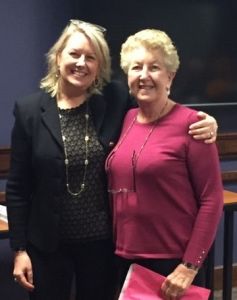 In 1966, when the Auxiliary members wore hats and gloves and had a silver tea service, Lois Siegel was invited by her aunt, Mildred Wolf, to become a volunteer at Cooley Dickinson. Those days if you belonged to the Auxiliary, you were an "in person." Although Lois was currently teaching French at Northampton High School, she still found time to volunteer.
She is listed in the Follies committee of 1971, and although she wasn't on stage, she enjoyed the dance group, the Psychedelic Steppers, who performed that year. She continued to serve for several years to support the Follies, an annual fundraiser. Moreover, she volunteered with various community members, including her friend Sue Hodgkins, at the Locust Street entrance, helping patients and visitors find their way. She stayed in that position until 1972.
She took a break to raise a family, and in 2004, Sue Hodgkins "welcomed" her back by nominating her as secretary of the Auxiliary. She has stayed on the board, covering a number of positions including Corresponding Secretary, Legislation and now Membership. Lois has been a member for 53 years.
We recognize Lois for her incredible commitment to the hospital and to the Friends of Cooley Dickinson. She has been an important connection during our transition to the many accomplishments of the past. Her passion for excellence continues to support the Friends.
Merci beaucoup, Lois, for all you have given.
Nancy Flickinger: 44 Years of Support
In 1975 the Cooley Dickinson Gift Shop began a new Gift Cart program, which brought items for sale to the patient bedside. That year also brought the exceptionally gifted Nancy Flickinger to Cooley Dickinson.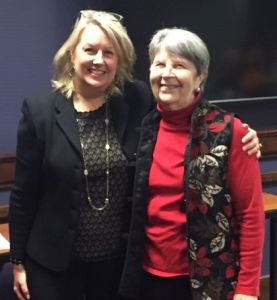 Nancy started in the Gift Shop and then moved on to a very important area: taking baby photos. It may be hard to believe, but in those days, no one had a cell phone, and many new parents would forget to bring their cameras with them to the hospital to record their newborn baby. Baby Photo Volunteers took pictures and helped new parents choose baby announcements to celebrate their new family member. Other areas where she donated her time and talents included the Emergency Department and Admitting.
Nancy always been an active member of the Friends of Cooley Dickinson and served on the board as Membership Chair for several years. She helped with many of the Follies and assisted the co-chairs with following up on the many details that led to a successful event.
Over the years Nancy has been in so many areas of the hospital and has held so many roles it's hard to list all of them. Nancy brings a fine attention to detail to all she does, which makes her a very valuable asset!
Nancy now volunteers in the Medical staff office, helps with filing in Maintenance, and assists with files for Hampshire Health Connect. Always willing to do extra, Nancy joined the Hospice Shop and served as Chair of their board as well. Nancy was celebrated at the annual meeting for her 44 years with Friends, her strong organizational skills and for her continued support.
Thank you, Sue, Lois and Nancy for your life-long commitment to Cooley Dickinson and the community!