December 4, 2019
Cooley Dickinson General Surgeon Michelle Helms, MD, FACS, was among 1,993 people from around the world who last month became Fellows of the American College of Surgeons during the convocation ceremony at the College's Clinical Congress 2019 in California.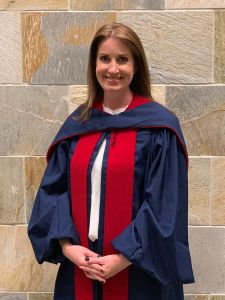 On being initiated into the American College of Surgeons, Cooley Dickinson General Surgeon Holly Michaelson, MD, FACS, says she is proud that the ACS "recognizes Dr. Helms for her dedication to improving the care of the surgical patient as well her willingness to safeguard the high standards of surgical care at Cooley Dickinson Hospital."
Safeguarding high standards and providing compassionate care are cornerstones of Helms' patient care philosophy. She believes in creating a reassuring and comfortable experience for her patients that is founded on trust and respect. "I want to exceed patients' expectations with each interaction, and my goal is to achieve the best outcomes possible," said Helms, whose medical interests include minimally invasive colon surgery, hernia repair, and breast surgery.
Medical Training
Helms earned her medical degree from Rutgers University, New Jersey Medical School. She completed her internship at Robert Wood Johnson University Hospital and completed her residency in surgery at Morristown Medical Center.
She has been working as a general surgeon at Cooley Dickinson General Surgical Care since 2016. In 2015, Helms earned board certification from the American Board of Surgery.
For more information, view Helms' provider profile here. To make an appointment with Cooley Dickinson Surgical Care, call 413-584-4637.
About the American College of Surgeons
By meeting the College's stringent membership requirements, Fellows of the College have earned the distinguished right to use the designation of "FACS" (Fellow, American College of Surgeons) after their names.
An applicant for Fellowship must be a graduate of an approved medical school; must have completed advanced training in one of the 14 surgical specialties recognized by the College; must possess certification by an American surgical specialty board or appropriate certification by the Royal College of Physicians and Surgeons of Canada; and must have been in practice for at least one year at the time of his or her application.
Before admission into Fellowship, the surgeon must further demonstrate ethical fitness and professional proficiency, and his or her acceptance as a Fellow of the College must be approved by three-fourths of its Board of Regents.
The American College of Surgeons is a scientific and educational organization of surgeons that was founded in 1913 to raise the standards of surgical practice and to improve the quality of care for the surgical patient.
The College is dedicated to the ethical and competent practice of surgery. Its achievements have established it as an important advocate for all surgical patients. The College has more than 82,000 members and is the largest organization of surgeons in the world.
Learn more about the American College of Surgeons.
-30-