February 12, 2020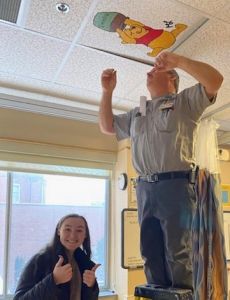 A local girl, Megan Lempke, is helping children feel calmer in hospital rooms with her new project "Making Smiles Happen."
What is Making Smiles Happen? Lempke says it "addresses the frightening faces that children give off when they are staring up at the ceiling in a hospital.
By putting pictures up on the ceiling hopefully the kids will not be as scared, and the pictures will make them smile." The project focuses on giving children something fun and calming to look at by adding drawings to ceiling tiles in hospital rooms to make the children feel more at ease.
Lempke began this process for her Girl Scout Gold Award project and has been working since June of 2018, going through numerous steps and presentations to the hospital and its administration, and coordinating her project with multiple departments at Cooley Dickinson.
Lempke has been in the Girl Scouts organization for many years, and this project completes the rankings in her scouting process. The Girl Scout Gold Award recognizes girls in grades 9 through 12 who demonstrate extraordinary leadership through sustainable and measurable projects; it is considered the highest achievement in Girl Scouts and one of the most prestigious awards in the world for girls.
"Visionary Change Maker"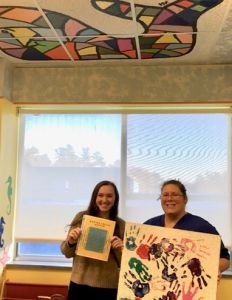 It was obvious when I met her that Meghan wanted to share her talent in a very unique way," notes Cooley Dickinson Chief Nursing Officer Angela Belmont. "She gave us a presentation of her proposal and followed through with the artwork. It's amazing! We have had so many compliments on her work. Thank you Meghan for helping us make a difference in the lives of the kids who rely on us for care!"
"Gold Award Girl Scouts are courageous leaders and visionary change makers," says Dana Carnegie, communications manager for Girl Scouts of Central & Western Massachusetts. "They are our future, and it looks bright!"
This seven-step project addresses a significant long-term issue in the girl's community with a plan to sustain the work for years into the future. Recipients of this award are also eligible for college scholarships and qualify for a higher pay grade if they join the military.
True Perseverance
To get this project established at the hospital, Lempke navigated multiple barriers to creating a successful initiative, from choosing the right department to feature the art in to deciding what kind of paint to use.
As the only artist to draw these murals and characters to be placed on the tiles, Megan has put extensive time and effort into the project. She has even recruited her peers from school to place their hands in paint for a collage tile so that the children in the hospital could see that they are supported. (She also draws Disney cartoon characters, so there will be something fun and recognizable to look at in the hospital rooms).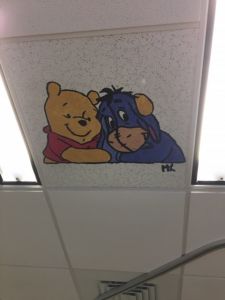 "Megan's perseverance with continuing her project despite multiple challenges to its implementation at the hospital is a testament to her character," says Emma Dragon, RN, who helped to oversee the Making Smiles Happen project.
Dragon praised Lempke's patience and tenacity in completing the project, and for her "dedication to having it make an impact within our community."
Lempke says she chose Making Smiles Happen as her project "because I want to be a pediatric physician when I get older." The one thing she says she hates when she visits a doctor's office is "seeing babies cry or little kids scared and hiding behind things. I truly do believe that putting pictures on the ceiling will make smiles happen."