March 27, 2020
Cooley Dickinson CEO Joanne Marqusee on the Bill Newman Show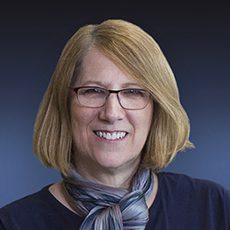 President & CEO Joanne Marqusee discusses the COVID-19 outbreak as of today, preparedness, cooperative coordination between western Mass. hospitals, our gratitude to our community for its amazing outreach and most importantly, what you can do to help keep health care workers and yourself safer.
(3/27/2020)
---
Editorial from President and CEO Joanne Marqusee
---
From the March 21 Daily Hampshire Gazette
I write to you — our community, our patients, staff and friends — during this unprecedented time for the nation and the world. We now face a public health crisis unlike any that we have experienced in our lifetimes. We at Cooley Dickinson understand how confusing, concerning, and rapidly changing the current healthcare situation is.
We are doing all we can to be here for you as your health care provider and as your source of credible, up-to-date information.  We appreciate all you are doing to follow the critically important suggestions from credible sources such as the Massachusetts Department of Public Health (DPH) and the Centers for Disease Control and Prevention (CDC). If you have not yet adopted these strategies, we urge you to do so! Precautions like hand washing, social distancing and the closure of public spaces help slow the spread of the disease. We need everyone to follow those directives. By every one of you doing all you can to reduce the spread, you not only protect yourself and your loved ones, but you also help us better meet the needs of those who do become sick. We thank you.
We also appreciate your understanding as we make changes to reduce spread — like eliminating visitors and cancelling or rescheduling non-urgent appointments and procedures that we know create inconvenience, hardship and concern. Thank you for your understanding, flexibility and patience.
At Cooley Dickinson, and at every healthcare organization, we are always preparing for emergencies and that preparation is serving us well right now.  BUT this is different and we are all feeling that. With our first presumptive positive tests for COVID-19, and the likelihood that more people will be infected in the days and weeks to come, I know there is incredible concern in the community. We are here for you. And we are adopting best practices, based on the most current information and resources from Massachusetts General Hospital and from across the Partners Healthcare system as well as CDC and DPH.
We are also working closely with the other western Massachusetts hospitals and advocating through our local legislators, the Massachusetts Hospital Association, state agencies and directly to the federal government to do more. To get the supplies and equipment we need manufactured, to increase testing capacity, to stand up surge capacity clinics and hospitals. We are so grateful for the support we are receiving, particularly from our local, municipal, and state leaders.
At Cooley Dickinson, we have knowledgeable, experienced and wise clinical experts who are making sure we do all we can to provide high quality, safe care, and reduce spread. In addition to doing all we can to meet the current needs, we are working just as hard on planning to "surge" as more people become ill, like developing approaches to increasing our bed capacity, staffing, et al. As we do this, we follow all best practice procedures put forth by the Centers for Disease Control and others.
I am in awe and proud of our staff and providers who have stepped up in so many ways during these unprecedented times.  I know how caring, committed and skilled our workforce is.  To see them continue to care so well for patients and for each other is extremely gratifying. In addition to the clinical staff, I also want to recognize all the non-clinical and support staff who are also working so hard through this crisis. Their contributions are invaluable. We are doing everything we can to take care of all our staff.
If readers are looking for things they can do: expressions of support and appreciation from the community would mean so much to our staff during this time. If you would like to reach out to them, please use our social media (facebook, twitter and Instagram) or email feedback@cooleydickinson.org and we will make sure those messages are seen by our staff.
We have also established a webpage where we post all the latest information on COVID-19 (https://www.cooleydickinson.org/home/coronavirus-resources/). We update this site regularly and encourage you to visit it. If you have suggestions for the site, or questions, you can leave us feedback right there. We are a resource for you.
Lastly, even though it's being said in so many places, I would like to reiterate the importance of following all the public health guidelines very strictly, including social distancing.  The entire nation, and Cooley Dickinson is no exception, does NOT have the capacity to meet the needs if the spread is as fast and as significant as in some other countries.  We still have opportunities to impact that from our own actions. We need you to do your part. Thank you for helping us help you.
Joanne Marqusee
President and Chief Executive Officer
---
An Update to Our Community as of March 17
Rescheduling Patient Procedures; No-Visitor Policy; and Update from Cooley Dickinson Healthcare Leadership; President and CEO Joanne Marqusee, Chief Medical Officer Estevan Garcia, MD, and Chief of Infection Prevention Joanne Levin, MD.
We at Cooley Dickinson fully understand how confusing, concerning and rapidly changing the current health care situation is. Thank you for all you are doing to follow the critically important suggestions from credible sources, such as the Mass Department of Public Health and the Centers for Disease Control and Prevention.
We want our community to be informed, not only about federal and statewide trends and policies, but also about what is happening right here in our community.  Please know that we are making the changes below under the guidance of best practices to slow the spread of infection in our community.  And we are planning ahead now and discussing possible contingencies if the situation gets worse.
These are difficult decisions to make and ones that we will continue to reexamine daily as we seek to serve our patients and communities with exceptional, compassionate and personalized care.
In the spirit of transparency during an ever-evolving pandemic, we share the following updates:
RESCHEDULING PATIENT CARE THAT CAN SAFELY BE DEFERRED TO KEEP OUR COMMUNITY SAFE
Staff are reaching out to patients based on appropriate criteria for each service area to reschedule patients who are scheduled for surgeries or procedures that are safe to defer for at least four weeks.   We will check in with patients during that time to ensure that it is still appropriate for their procedures or visits to wait.  Surgeries and procedures that cannot wait without harm to patients are still happening.
Similarly, we are rescheduling patients who have appointments for well visits in our primary care practices, imaging that is not urgent, and rehab visits that can be deferred.  Visits and testing that are not clinically appropriate to wait are still happening.
TESTING
Despite what you may hear, testing for COVID-19 is still extremely limited. Like all health care organizations, Cooley Dickinson is applying strict criteria for those who get tested.   Call your primary care provider if you believe you might need testing.
We will open a testing clinic as soon as the quantity of testing calls for it.
We have restructured our primary care practices to separate, as much as possible, people with respiratory illness from those with other medical concerns.
VISITOR RESTRICTIONS
As of this afternoon, we will have a no visitors policy.  (We put in place a one visitor per patient per 24-hour policy last week.)  Again, this is to help reduce the spread of the disease.
We know this will create hardship for patients and their loved ones.  There will be limited exceptions such as one person accompanying a Childbirth Center patient, visitors for patients at end-of-life, someone needed to help a patient who is unable to understand and communicate.  Please understand that we are instituting this policy to protect everybody.  We ask for everybody's understanding and cooperation.
LAB DRAWING LOCATIONS/PHLEBOTOMY CHANGES
Due to staffing challenges, some of our Lab Drawing locations at practices are closed. Visit the lab drawing webpage to learn about closures.
Please know that we want to be as helpful as possible to our community, both by giving safe care, reducing opportunities to spread the virus, and being a source of up-to-date and accurate information.  Thank you for all of your support!  And a special thank you to our staff who are working tirelessly to meet your needs today and into the future.
SOME HELPFUL TIPS AND POSTS WE'D LIKE TO SHARE
Social Distancing
Hand Hygiene
Wet your hands with clean, running water (warm or cold), turn off the tap, and apply soap.
Lather your hands by rubbing them together with the soap. Lather the backs of your hands, between your fingers, and under your nails.
Scrub your hands for at least 20 seconds. Need a timer? Hum the "Happy Birthday" song from beginning to end twice.
Rinse your hands well under clean, running water.
Dry your hands using a clean towel or air dry them.
TALKING WITH CHILDREN ABOUT CORONAVIRUS
7 Ways to Support Kids and Teens Through the Coronavirus Pandemic.
---
3/14/2020
We are reaching out to our entire community to ask for your help.  We fully understand how confusing and concerning the current health care situation is.  We are dedicated to doing all we can to meet the health care needs of our community and to prevent the spread of COVID-19.
With that in mind, and based on what we know now, please understand the following:
TESTING
Despite what you may hear from government officials or others, testing for COVID-19 is still extremely limited.  This is true throughout most of the nation. Locally, all health care organizations – including Cooley Dickinson Heath Care – are applying strict criteria for who gets tested.  Even if we recommend more testing, there is simply not the capacity in the State of Massachusetts to do it.

So please do not come to a health care site asking or demanding testing. Not only can we not do it (unless you fall into those very limited categories), but you are out and about more than you need to be.
If you are ill with fever or respiratory disease, call your primary care provider (do not go to their office) and they will determine with you the most appropriate course of action.
KEEPING OUR COMMUNITY HEALTHY
We are focused on keeping our health care staff healthy – so we can provide care in the future.  Please do all you can to not come to the Emergency Department or your doctor's office if you have symptoms that are mild.
WHY WE CHANGED OUR VISITOR POLICY
STAY CURRENT; VISIT CREDIBLE WEBSITES
Our community is known for how it cares for one another and pulls together in challenging times.  We thank you for helping us help you.