May 20, 2020
The American Association of Critical Care Nurses (AACN) has awarded the ICU at Cooley Dickinson Hospital the Beacon Award for Excellence. Cooley Dickinson's ICU earned the silver distinction and is among only two hospitals in the state to receive the silver Beacon Award.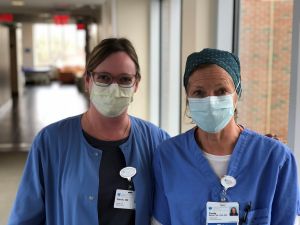 The AACN created the Beacon Award to recognize individual units within hospitals that distinguish themselves by improving patient care, and exemplifying excellence in professional practice, patient care and patient outcomes.
Notified earlier this month, ICU Director Ann LeBrun, RN, said she is extremely proud of the ICU team. "This award comes at a time when the staff have been under a significant amount of stress, given the acuity of both COVID-positive and non-COVID patients on the unit.
"The award validates the excellent patient care and collaboration that happens every day on our unit. It also demonstrates the low turn-over and high morale. Congratulations ICU staff!"
Chief Nursing Officer Angela Belmont, RN, also extends her congratulations to the entire ICU staff – providers, nurses and the departments that support the ICU team – for their commitment to excellence in patient care.
"This award is a true testament to your expertise, dedication and compassionate care that you deliver to our community every day. Thank you for all you do!"
According to the AACN, the Beacon Award for Excellence "recognizes care givers in stellar units whose consistent and systematic approach to evidence-based care optimizes patient outcomes. Units that receive this national recognition serve as role models to others on their journey to excellent patient and family care."
Learn more about the Beacon Award for Excellence.
-30-