August 26, 2020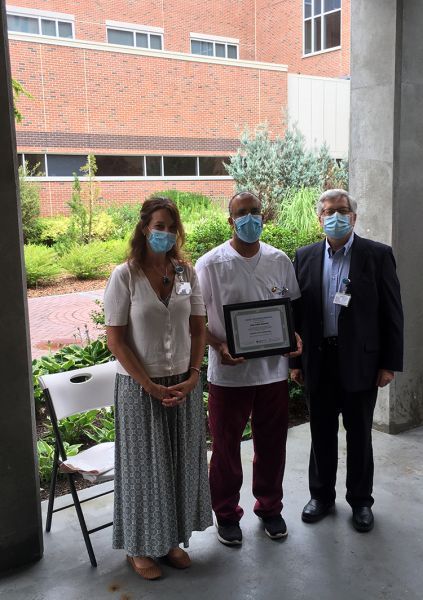 NORTHAMPTON – About 20 members of Cooley Dickinson's Lab community gathered last week to celebrate the moving on of a colleague whose clinical lab internship experience was probably very different from what he – or anyone – might have expected the program to be when they initially applied. Adel Abdel-Maksoud, PhD, who came to Cooley Dickinson through the Clinical Laboratory Science Program at Springfield Technical Community College was honored with a "pinning ceremony" in the hospital's Healing Garden on Friday, July 17th.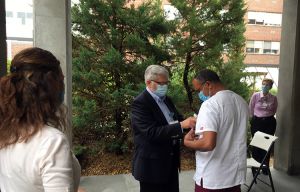 Adel began his internship in early January, just before the COVID-19 pandemic hit. In March, STCC halted all clinical internships as social distancing mandates were started. At the same time, many personnel were asked to work remotely and protocol for on-site work at Cooley Dickinson was still being developed. In May, he returned to on-site work and has been considered an invaluable asset to the organization in a highly challenging time.
During his time at Cooley, Adel followed the lab's five main clinical rotations, working in Phlebotomy, Hematology, Chemistry, Microbiology and in the Blood Bank. He says he'd been interested in the program for a while, thinking "it is close to organic chemistry, where I have my PhD. But," he says, "I decided to start with a certificate in Biotechnology from STCC and then moved to the program."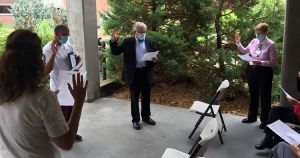 "Pinning" is a tradition that echoes aspects of a graduation at a college but connotes more of a responsibility being bestowed and accepted, and includes the recitation of an oath of the trade.
"The pinning ceremony is similar to other health professional rites of passage," says Cooley Dickinson Hematology Supervisor Robert Skiba. "Held separately from the college graduation ceremony where diplomas are presented, 'pinning' acknowledges the transition from clinical education and training to clinical practice." Usually, he says, the tradition is carried out at Springfield Technical Community College (STCC). "But because of the constraints caused by Covid, each clinical site held their own pinning ceremony."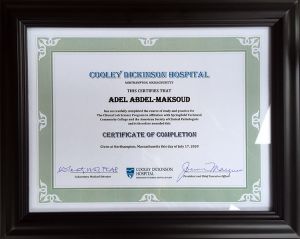 "It feels very good to finish the program," says Adel, who described the pandemic hitting in the middle of his rotations, the 'last step' in the program, as "a nightmare."
"Everyone in the program got scared," he recalls. "We did not know if we'd ever be able to finish this year or not. With the mercy of God and then good collaboration between Rob and (STCC Professor) Susan Schneider, we were allowed back." For many years, Cooley Dickinson has recruited lab techs from the highly respected STCC program. Program graduates now comprise nearly 50% of the total clinical laboratory scientists and technicians in the hospital's Core Lab, Blood Bank, and Microbiology Lab.
For his own part, Adel will be heading for a job in the private sector using his PhD in Chemistry that, ironically, is related to potential COVID testing or treatment. He also hopes to apply his clinical laboratory skills in a part-time position in a clinical laboratory.
"At the end I would like to say I met great people in Cooley`s lab," he recalls. "And since I will not be able to thank all of them enough, I turn to God and say in Arabic "Gazakum Allah Kyarn,' which means 'May God thank you.'" Adel now turns to the next hurdle in his professional education and is studying hard for his certification.