August 5, 2020
Cooley Dickinson Upgrades Cancer Treatment Technology. For Patients, More Precise Treatments; Shorter Appointment Times; Closer-to-Home Care
NORTHAMPTON – The radiation oncology team at the Vitkauskas Crowe Radiation Oncology Suite, part of the Mass General Cancer Center at Cooley Dickinson Hospital, began treating patients on its new state-of-the-art linear accelerator (LINAC) in late July.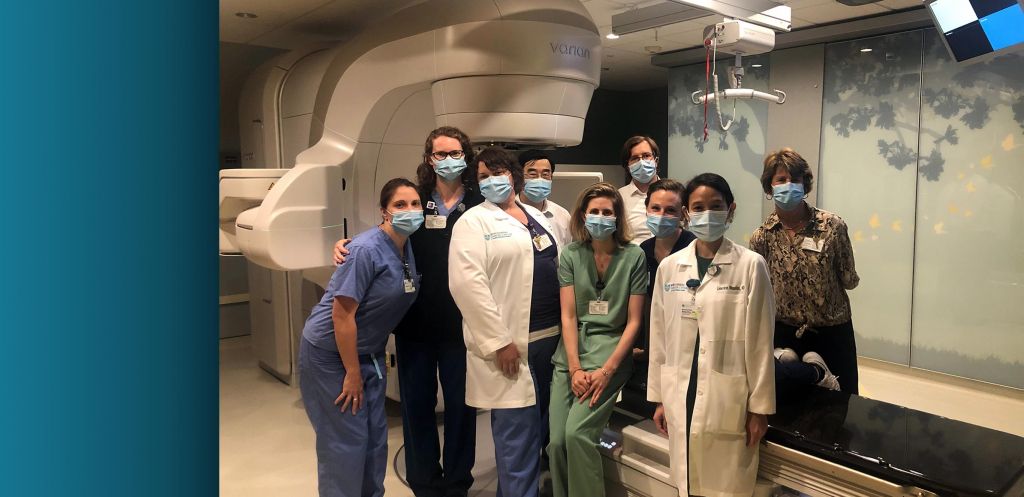 For patients who require radiation therapy for treating cancer, they now have access to advanced technology that more precisely target tumors while minimizing side effects and exposure to surrounding healthy tissue. The addition of the new equipment also expands the types of cancers that can be treated with radiation at Cooley Dickinson Hospital.
Radiation Oncologist John Sheldon, MD, medical director of Radiation Oncology at the Mass General Cancer Center at Cooley Dickinson Hospital, says the LINAC delivers more powerful cancer treatments with pinpoint accuracy and precision.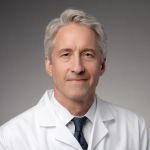 "This accuracy is made possible by the new LINAC's sophisticated architecture, which synchronizes imaging, patient positioning, motion management, beam shaping and dose delivery. It also performs accuracy checks every 10 milliseconds throughout the patient's treatment," Sheldon explains.
"This is the most advanced radiation therapy treatment available in our community," he adds.
Coupled with the expertise of our radiation oncologists, dosimetrists, medical physicists, and radiation therapists, the LINAC provides a "significant technological advantage for our patients," Caitlyn Lundberg, director of Hospital-based Clinical Practices at Cooley Dickinson Hospital.
Care During Treatment Planning Minimizes Side Effects
Investments in the Vitkauskas Crowe Radiation Oncology Suite in 2018 saw the installation of a new treatment planning machine for computed tomography (CT) simulations which include IV contrast, which was previously not available within the Cancer Center.
The simulation consists of CT scans or X-rays of the tumor. With these X-rays, the radiation oncologist can map the exact location of a tumor, and the area to be treated.
The new LINAC also includes accessories that can create molds and masks, which helps replicate the precise position each time a patient undergoes treatment. Making sure the patient is in the correct position throughout their course of treatment helps to minimize uncomfortable side effects and allows for sculpting of the beam of radiation more precisely and tightly to the shape of the tumor.
Quicker Treatments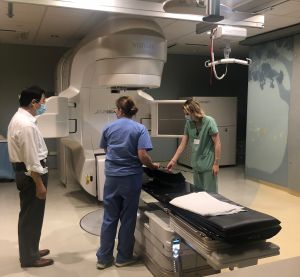 Treatment times on older radiation machines can take 10 to 30 minutes, depending on the patient's diagnosis. On the new LINAC, treatments can be completed in less than 10 minutes. For example, a radiation therapy appointment for a patient being treated for prostate cancer took 30 minutes. With the new LINAC, treatment time is less than 10 minutes.
This time savings results from higher radiation output capability and more sophisticated engineering of the machine.
Treating More Types of Cancer
With the new LINAC, radiation oncology teams can treat more types of cancers at the Mass General Cancer Center at Cooley Dickinson Hospital, including cancers of brain, lung, spine, liver, and spine.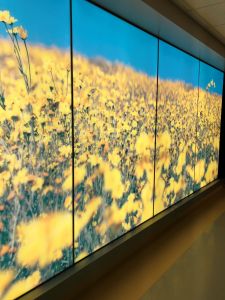 Treatment Room Renovation
In addition to the equipment upgrade, the treatment room housing the LINAC machine was renovated. Designers focused on creating a comfortable, calming environment for patients undergoing treatment.
Adds Lundberg, "we wanted to design a space filled with hope and light. Specific design elements such as a back-lit wall of flowers and a serene mural inside the treatment room help to uplift people needing treatment."
Staff and physicians at Cooley Dickinson have been planning for the new LINAC machine for three years. Just coming online now, the radiation oncology services mirror the capabilities and technology available at Mass General Cancer Center in Boston.
"This machine allows us to do so much more, right here, and really provide cutting-edge treatment," notes Lundberg.
LINACs at Cooley Dickinson Hospital
The new linear accelerator replaces a machine that was installed more than a decade ago. The new machine, delivered from California in November 2019, was carefully lowered by crane through a skylight and shuttled into its new home. You can watch a video of the installation here. The Vitkauskas Crowe Radiation Oncology Suite has two LINACs.
COVID-19 and Cancer Treatment
Learn about Cooley Dickinson's safe care commitment. We screen to protect patients, families and our staff; we clean our hands and spaces and make it easy for patients to do the same; we require all people at our facilities to wear hospital-issued masks.
Visit the Mass General Cancer Center at Cooley Dickinson Hospital webpage to learn more about services and programs. Call 413-582-2107 with questions about radiation services at the Mass General Cancer Center at Cooley Dickinson Hospital.