September 18, 2020
Each year, the Cooley Dickinson Hospital Medical Staff grants three awards: the Nursing Excellence award; the Advanced Practice Clinical Excellence award; and the Physician Excellence award.
These awards are given by the Cooley Dickinson Hospital Medical Staff to the individuals who demonstrate a highly developed ability to bring teams of clinicians together to improve care and clinical outcomes, and who demonstrate empathic care looking to the patient's values to guide decisions. The annual Medical Staff awards were announced, via Zoom, on Sept. 14, at the annual Medical Staff meeting.
Nursing Excellence Award: Margaret-Ann Azzaro, MSN, RN
Margaret-Ann is the Director of the Medical/Surgical Services, as well as Childbirth Services. Each of these roles would normally be considered a full-time job for most people, yet Margaret-Ann manages to do both and do them well.
She has been critical in working with other administration and team leaders to adapt our hospital to the COVID-19 crisis, assisting with staffing changes and deployment as needed.
Margaret-Ann is smart, energetic and has tremendous clinical skills and dedication. A quick collaborator and important member of our community, she is most deserving of this recognition.
Advanced Practice Clinical Excellence Award: John Noviello, CRNA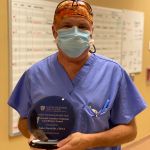 In the best of times John Noviello stands out for his clinical expertise and for being a sheer joy to work with. His colleagues describe him as funny, having exceptional bedside manner, and extremely competent.
The past six months have not been the best of times. At the start of the pandemic when elective surgeries were canceled, the anesthesia department quickly pivoted to form the airway team and support their ICU colleagues. John became a paramount member of the team. He was first in line to offer to be on the intubation team and ultimately worked in the ICU at his request all throughout the COVID-19 response. John swiftly honed his medical knowledge, procedural skills, and Epic abilities so he could most efficiently care for his patients. He intubated, placed lines, and comprehensively managed critical patients. John speaks of being honored to care for COVID patients. John was unflappable in times of crisis and supported the morale of the organization.
John embodies our Cooley values and is most deserving of this award.
Physician Excellence Award: Khama Ennis, MD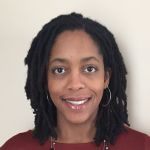 Dr. Ennis has long demonstrated the ability to deliver excellent clinical care in the setting of her Emergency Room. She is quick to assist and guide the other physicians, APCs and nurses who work alongside her
As a Board member, she has been a voice of informed wisdom, and is widely respected across the organization for her knowledge and experience. She has extended herself into writing, publishing letters which have been published in the Washington Post and local news, and has helped lead the Medical Staff efforts on addressing systemic racism.
Dr. Ennis served as Chief of Emergency Medicine for close to five years. Under her leadership the ED patient experience improved significantly. Dr. Ennis was also instrumental in recruitment of high caliber providers and focused on multidisciplinary collaboration. In addition, she has played an essential role in addressing, planning and responding to the COVID-19 pandemic in our community, helping our hospital weather the crisis with competent, compassionate care and effectiveness.
Recipients of Honorary Awards
To say this has been a challenging time is an understatement. COVID-19 presented an unprecedented difficulty, and our medical staff rose in unprecedented ways. In recognition of the outstanding collaboration and care given during the COVID-19 response, the Medical Staff leadership presented three honorary awards to:
• James Most, MD and the Hospitalist team
• David Serlin, MD and the ICU Team
• Joanne Levin, MD and the Infectious Disease specialists
These awards were given with gratitude in recognition of providers' tireless commitment to the mission of Cooley Dickinson and the care of our patients.
-30-