September 29, 2020
Wednesday, Sept. 30 is International Translator and Interpreters' Day. It is celebrated on the feast of San Jerome, who was the Bible translator and it is considered the patron of Translators. The International Federation of translators has celebrated the day since 1953, and in 1991 as a result of globalization the Federation started to promote the day as an international celebration to promote translation in different countries and to display pride in a profession that is becoming more and more necessary.
Here at Cooley Dickinson, we know how critical medical interpretation is in providing high quality patient care, eliminating clinical errors, and helping to ensure both patient and provider satisfaction.  This year, as part of our commitment to cross cultural conversations and diversity dialogues we'd like to introduce you to our wonderful team of interpreters.
Says Interpreter Services Manager Emma Aldana, "we are proud and fortunate to count the talents and expertise of our professional interpreters who come from Cuba, Puerto Rico, and Venezuela."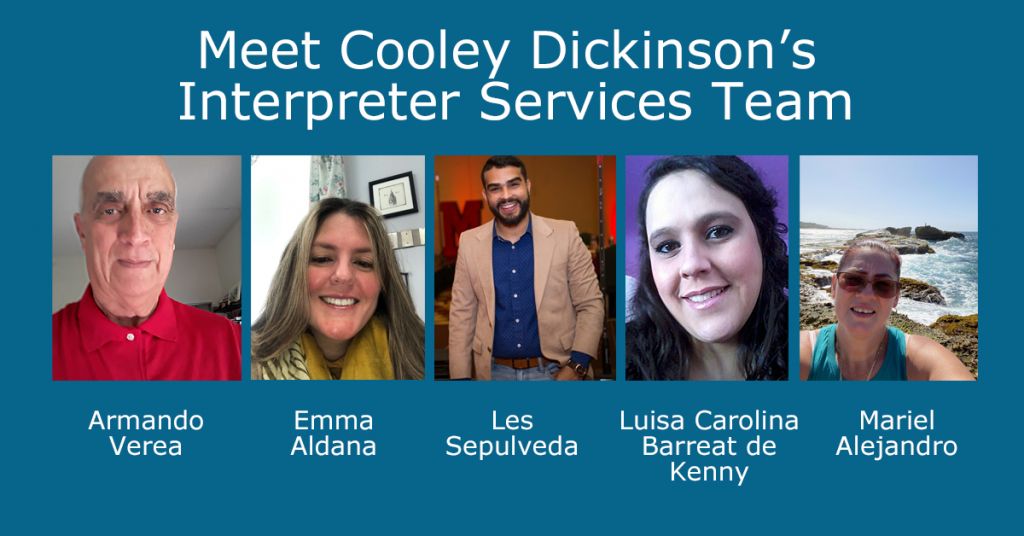 Get to Know Cooley Dickinson's Interpreter Services Team and Join Us in Celebrating Them
At Cooley Dickinson, we are proud and fortunate to count the talents and expertise of our professional interpreters from Cuba, Puerto Rico and Venezuela.
Armando Verea was born in La Habana and was raised in La Playa de Santa Fe where he lived until the age of 12 when he moved to Florida. Since then he has lived in the USA attended college in Florida and obtained his BS education/major physical ed/minor psychology and in Connecticut his master's in social studies. He worked as a teacher in a bilingual program and with the State of Connecticut. In his professional life being bilingual has been an important piece of his job. In 2012 He decided to become an interpreter, therefore he pursued his certificate, as a continuation of his professional history and personal values as a human being. He has worked with us for 8 and ½ years.
Emma Aldana was born and raised in Caracas, Venezuela. She attended college and obtain her major in Architecture in 1997. She moved to the united states in 2002. In 2009, when it became necessary to switch careers, Emma looked for a profession where she could help others and to be passionate about it. She realized that listening to her clients in architecture required lots of attentive listening and understanding the needs of others, something extremely necessary to provide excellent care to our patients. She created the Interpreter Services Department at Cooley Dickinson and has overseen it since then, over 11 years ago.
Les Sepulveda was born and raised in Ponce, Puerto Rico. He lived there until 3 years ago when he moved to the US. He holds a BA in Business Administration with specialization in Business Media Communication. He also holds 2 minors one in French and one in Music. As soon as he moved to the US, he got interested in utilizing his language skills to work. He learned about Medical Interpretation and went for his training to become one because of the social value of the profession and because he is a people person. He has worked with us for over 2 years.
Luisa Carolina Barreat de Kenny was born and raised in Caracas, Venezuela. She moved to the United States in 2001 and holds a B. A. in Theater Arts. In her professional years she has been an actress, dancer, choreographer director, a college language instructor and a community health outreach and enrollment worker. In 2013 she obtained her Interpreter's certificate as a result of loving the language instruction and communications. Also seeing how needed the service was and having a medical background from both of her parents being MDs and her work in community health. She has been working with us for a little over a year.
Mariel Alejandro was born in Santurce, Puerto Rico, and moved with her family to the US when she was about 4 years old. She was raised in Massachusetts and earned her Associate's degree as a Medical Assistant; she is also a Billing Coder and she is certified as an electronic health record specialist. She worked in those fields before deciding in 2012 to become a Medical Interpreter and earned her certificate. Her decision was made as a result of having to interpret for her family throughout her life and her desire to help others. Therefore, immediately after finishing her training she started to work in our department as per diem and now she is a full-time interpreter. In total she has been with us for 8 and ½ years of which a little over 4 years as a full-time.