September 21, 2020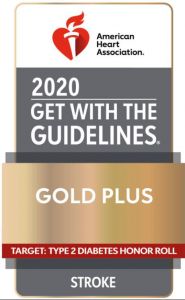 Cooley Dickinson Hospital has received the American Heart Association/American Stroke Association's Get With The Guidelines®– Stroke Gold Plus Quality Achievement Award.
The award recognizes the hospital's commitment to ensuring stroke patients receive the most appropriate treatment according to nationally recognized, research-based guidelines based on the latest scientific evidence.
"State-of-the-art stroke care is most effective when patients present to the emergency department within 3 hours of symptom onset," says Medical Director of the Cooley Dickinson Stroke Team Robert Redwood, MD. "We encourage our patients to call 9-1-1 immediately if they notice a face droop, arm weakness, slurred speech or other concerning symptoms."
Cooley Dickinson Hospital earned the award by meeting specific quality achievement measures for the diagnosis and treatment of stroke patients at a set level for a designated period. These measures include evaluation of the proper use of medications and other stroke treatments aligned with the most up-to-date, evidence-based guidelines with the goal of speeding recovery and reducing death and disability for stroke patients. Before discharge, patients should also receive education on managing their health, get a follow-up visit scheduled, as well as other care transition interventions
"We are dedicated to improving the quality of care for our stroke patients by implementing the American Heart Association's Get With The Guidelines-Stroke initiative," adds Dr. Redwood, who is also Chief of Emergency Medicine at Cooley Dickinson. "The tools and resources provided help us track and measure our success in meeting evidenced-based clinical guidelines developed to improve patient outcomes."
In addition, Cooley Dickinson Hospital received the Association's Target: Type 2 Honor Roll Award. To qualify for this recognition, hospitals must meet quality measures developed with more than 90% of compliance for 12 consecutive months for the "Overall Diabetes Cardiovascular Initiative Composite Score." The organization has also met specific scientific guidelines as a Primary Stroke Center, featuring a comprehensive system for rapid diagnosis and treatment of stroke patients admitted to the Emergency Department.
Stroke is the fifth leading cause of death and a top cause of disability in the U.S. and in the world.