September 3, 2020
Cooley Dickinson Hospital Earns "Leader in LGBTQ Healthcare Equality" Designation from the Human Rights Campaign Foundation
NORTHAMPTON – Cooley Dickinson Hospital is one of only two health care organizations in western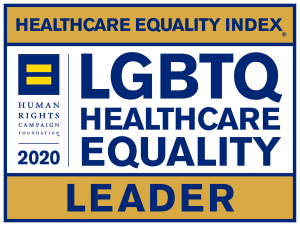 Massachusetts – and 16 in all of Massachusetts – to earn the "Leader in LGBTQ Healthcare Equality" designation from the Human Rights Commission (HRC), the country's largest lesbian, gay, bisexual, transgender, and queer (LGBTQ) civil rights organization.
The announcement was included in the 13th edition of HRC's Healthcare Equality Index, (HEI), which was released on Monday, Aug. 31, 2020. According to the HRC, 765 health care facilities across the United States participated in the HEI 2020 survey. Of those facilities, 495 earned the "LGBTQ health care Equality Leader" designation.
"Earning the designation from the HRC demonstrates Cooley Dickinson's commitment to providing equitable, inclusive and affirming care for LGBTQ patients and their families as well as our employees," says Cooley Dickinson Health Care President and Chief Executive Officer Joanne Marqusee.
"This year has been unlike any other – a year in which the value of quality health care and of health care workers has become blazingly clear – but also one in which many of the inherent inequities of our country's health care system have been exposed in an equally stark light."
Adds Marqusee, "we are proud to receive – for the fourth consecutive year – this honor and to continue our efforts to ensure that our local LGBTQ community has access to respectful, inclusive care."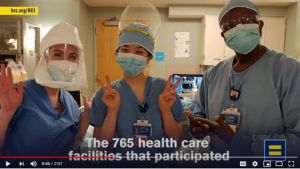 Prior to the COVID-19 pandemic, Cooley Dickinson opened its newest medical practice Oxbow Primary Care in Northampton. With providers who have pursued specialties in addition to board certifications in Family Medicine, the clinicians also have expertise in LGBTQ care. As the organization continues to welcome the community back safely for care, Cooley Dickinson will continue its focus on improving care for the LGBTQ community.
HEI Criteria
The HEI assesses participating organizations on four criteria: non-discrimination and staff training; patient services and support; employee benefits and policies; and patient and community engagement.
The HEI designation is given to facilities that meet LGBTQ-inclusive benchmarks that are part of the Healthcare Equity Index, a survey that examines equal care for LGBTQ people by evaluating inclusive policies and practices related to LGBTQ patients, visitors, and employees.
Cooley Dickinson is a member of Mass General Brigham (formerly Partners Healthcare.) Two other facilities within the Mass General Brigham family – Brigham and Women's Hospital and Brigham and Women's Faulkner Hospital – also received the Leader in LGBTQ Healthcare Equality designation.
"From the previously unimaginable impact of the COVID-19 pandemic to the horrific incidents of racial violence targeting the Black community, the events of the past year have brought about so much pain and uncertainty. Yet, even during this moment of profound unrest, we are seeing more of our humanity and resilience come to life.
For me, nowhere is that more true than through the tireless dedication of our health care providers and the intrepid support and administrative staff members by their sides that show up every day to ensure this life-saving work continues," said HRC President Alphonso David.
"The health care facilities participating in the HRC Foundation's Healthcare Equality Index (HEI) are not only on the front lines of the COVID-19 pandemic, they are also making it clear from their participation in the HEI that they stand on the side of fairness and are committed to providing inclusive care to their LGBTQ patients."
Every year, HRC recognizes the health care facilities that participate in the HEI for their dedication and commitment to LGBTQ inclusion.
In the 2020 report, 495 facilities earned HRC's "LGBTQ Health Care Equality Leader" designation, receiving the maximum score in each section and earning an overall score of 100. Another 193 facilities earned the "Top Performer" designation for scoring from 80 to 95 points. With 90% of participating facilities scoring 80 points or more, health care facilities are demonstrating concretely that they are going beyond the basics when it comes to adopting policies and practices in LGBTQ care.
The progress reflected in the 2020 HEI includes:
● 92% of participants met the HEI's training requirements, completing more than 150,000 hours of staff training in LGBTQ patient-centered care.
● 53% of HEI participants indicated that their facility has a policy or policies that specifically outline procedures and practices aimed at eliminating bias and insensitivity, and ensuring appropriate, welcoming interactions with transgender patients.
● After many years of trailing their corporate counterparts in the provision of transgender-inclusive health care benefits for employees, HEI participating healthcare facilities are nearly on par with the HRC Foundation's Corporate Equality Index (CEI) participants as 80% have at least one health care plan that offered this benefit. The latest CEI noted 85% of participants having such benefits.
In addition to active survey participants, the HRC Foundation proactively researched the key policies at over 1,000 non-participating hospitals. Unfortunately, the adoption rate at these researched hospitals stands in stark contrast to the near-perfect adoption by active participants. Among the researched hospitals in which we were able to find or obtain enumerated patient non-discrimination policies, only 67% have policies that include both "sexual orientation" and "gender identity," and only 63% were found to have an LGBTQ-inclusive employment non-discrimination policy. The equal visitation policy, at 93%, is the only one that comes close to matching the rate of the participating facilities.
About the HRC
The Human Rights Campaign Foundation is the educational arm of America's largest civil rights organization working to achieve equality for lesbian, gay, bisexual, transgender and queer people. HRC envisions a world where LGBTQ people are embraced as full members of society at home, at work and in every community.
About Cooley Dickinson
Cooley Dickinson Hospital, part of Mass General Brigham, has been advancing the health of our region since 1885. Cooley Dickinson Health Care serves Hampshire and southern Franklin county residents in the Five-College region of the Pioneer Valley of Massachusetts. Learn more at cooleydickinson.org.
-30-