November 30, 2020
The Cooley Dickinson COVID-19 testing team has new digs, thanks to the teamwork and tenacity of Cooley's Facilities staff.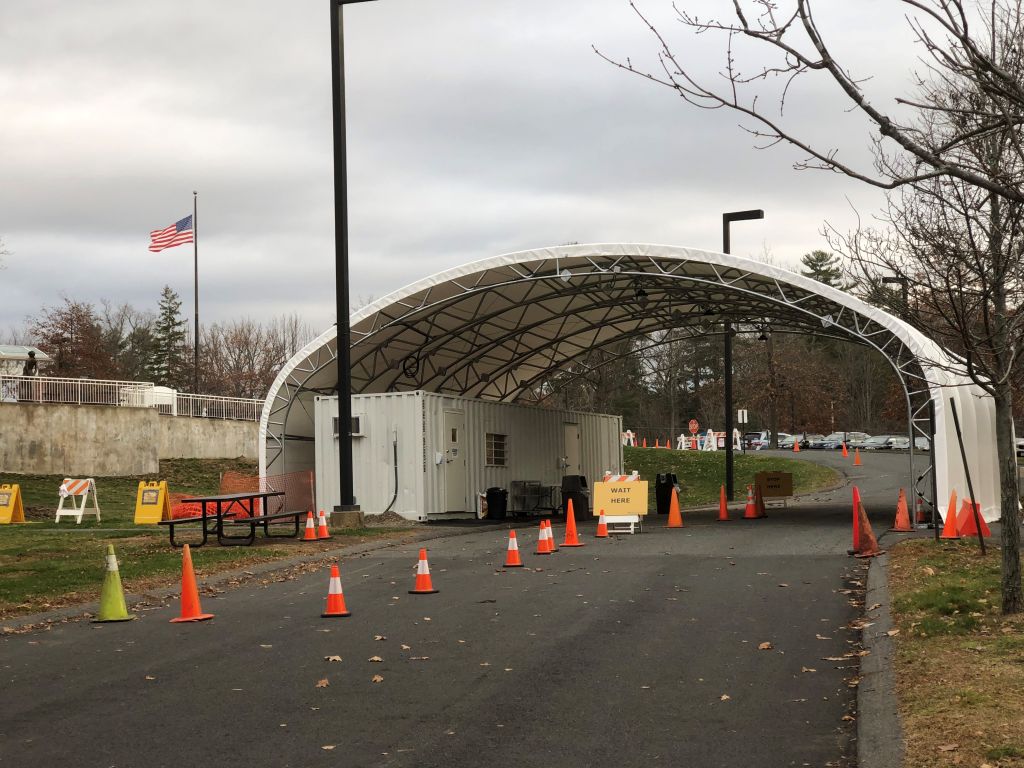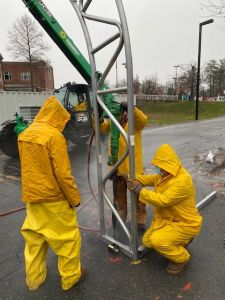 Cooley's COVID testing team, which used to operate out of a small trailer loaned to Cooley Dickinson Hospital from the Northampton Board of Health, now has a larger more permanent structure and an over-the-roadway canopy that can accommodate two lanes of vehicles while providing improved shelter from the winter weather.
Similar to the erector sets of yore – (remember those?) – Facilities staff assembled the canopy's skeleton during last Monday's day-long rain event. Once the skies cleared, crews both on the ground and operating a forklift, worked to stretch the 40x45ft white canopy over the metal frame.
Director of Facilities Jonathan Slater says one of the biggest reasons to purchase the structure was driven by both patient and life-safety requirements.
"From the patient/staff perspective, this meets both wind and snow requirements so staff can work and test with confidence. The bonus is the fact that local fire trucks can now travel safety along our designed fire lane," Slater adds. Referring to the size of the structure, he says "I hope that one day we can set up a stage under this beauty and host a concert or even a going away party for COVID!"
LEARN MORE ABOUT COVID-19 TESTING AT COOLEY DICKINSON
"We are so appreciative of our Facilities staff," says Administrative Director of Clinical Services Cathy Reed. "Last Monday's rain and cold temperatures didn't matter; they work through all kinds of weather to get the job done."
Reed notes that volume through Cooley Dickinson's drive-thru testing facility continues to be high, averaging approximately 165 tests per day. "I am so proud of the staff and for all they are doing for our community," she adds.
For people who need to access the testing facility on the Cooley Dickinson Hospital campus, revised and more visible signs now guide community members to the tent location.