November 11, 2020
Seven months ago, high school senior Liza Pobezinskaya watched the COVID-19 pandemic unfold on TV and social media and thought about what she could do to help. The 17-year old quickly realized she could share her appreciation for health care workers in the one way she knew how: through her love of art and a network of like-minded friends.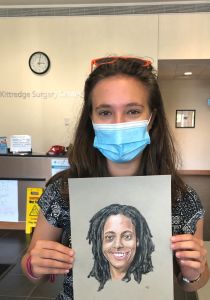 Pobezinskaya contacted the art students as she knew, while her art teacher at Amherst-Pelham Regional High School Jeffery Stauder reached out to former art students.
Pobezinskaya's goal was to share her gratitude by creating portraits of health care workers.
She recruited 17 artists – 9 students, 7 alumni and her closest friend from Maryland – to support her cause. Artists were given minimal instructions and a link to the Cooley Dickinson website where they could choose an image of a health care worker to replicate in their chosen medium.
"I was able to create (Emergency Department physician) Khama Ennis in about 3 to 4 days," recalls Pobezinskaya, who drew Dr. Ennis' portrait using colored pencils. Other artists completed their portraits in a few weeks.
Dr. Ennis says it was incredibly touching to receive the portrait and to see the other portraits Pobezinskaya inspired her classmates to make. "Thank you to Liza and the other artists for thinking of the team here as we continue to do our best to care for our patients and the community."
Pobezinskaya came to appreciate health care workers last year when she volunteered as a junior volunteer at Cooley Dickinson Hospital.
"I loved getting to know the staff, building connections, and getting an inside look at what it was like there," she adds. "I especially enjoyed volunteering on North 3, where I talked to patients and got to know some of them."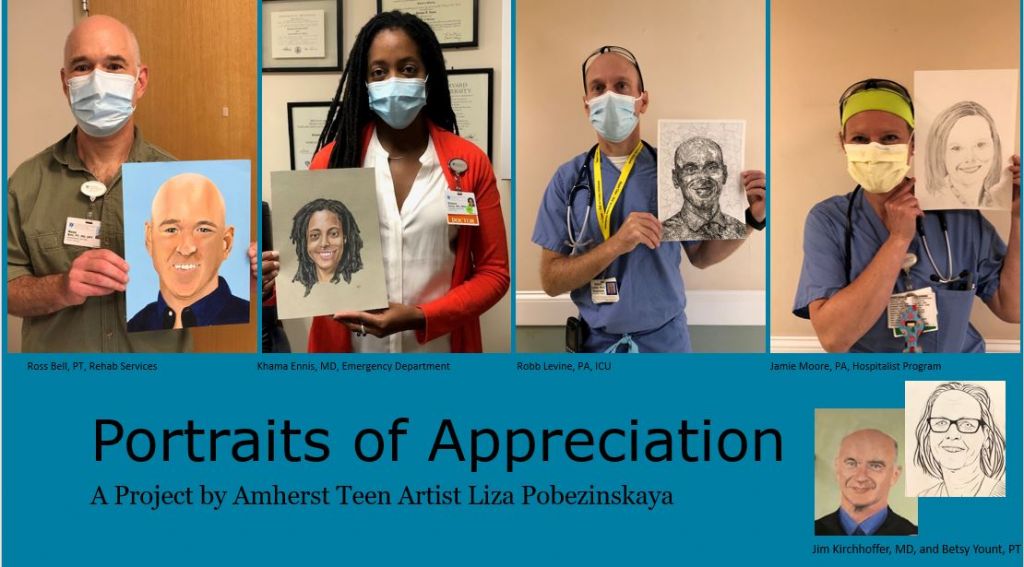 Director of Volunteer Services Robin Kline onboarded Pobezinskaya when she started as a junior volunteer and was excited to offer guidance for the art project. "Liza is a creative and caring individual who was able to harness the transformative power of art to create a community of caring. Those connections make an incredible difference to others, just as her caring connections made a difference to our patients when she volunteered here."
With the portrait project behind her, Pobezinskaya says her love of art and of health care continue. Her plans, she says, include "pursuing my dream of becoming a doctor while painting/creating art in my spare time."
-30-