January 21, 2021
You Make a Difference Award, January, 2021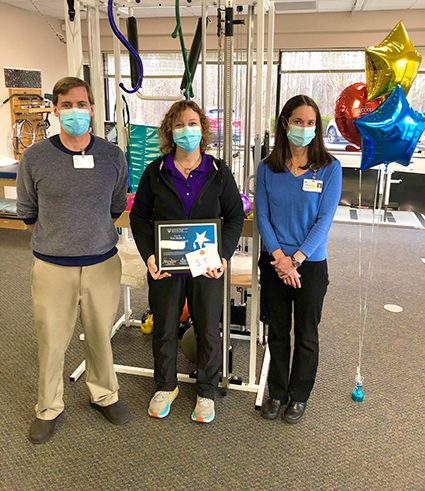 Stacy Troy
Congratulations to Stacy Troy, Physical Therapist at Hadley Rehabilitation, on being chosen as the recipient of the January You Make a Difference Award!
Stacy specializes in pelvic floor rehabilitation and restoration which provides a vital service to the Pioneer Valley that is usually only found near a large city. This field continues to advance and expand at a rapid pace and Stacy regularly attends continuing education activities in Boston, both as a student and lab instructor. Stacy has been recognized by Hollis Herman (National Pelvic PT Guru based in Boston) as a preferred pelvic clinician in Western Mass.
Pelvic issues are often not something people are comfortable talking about. These issues can be embarrassing for patients and very personal. Tackling them can have an enormous impact on a person's life. "Stacy recognizes the emotional challenges that come with navigating these conditions and provides a safe and empathetic space for patients to address them" said her nominator, Dennis Mathewson, PT at Hadley Rehabilitation, adding "She is particularly passionate about ensuring access to, and awareness of her services to the transgender and trans-sexual community."
Stacy has always been a leader for the LGBTQ community and is presently the LGBTQ leader for the CDHC rehabilitation department. She is a strong advocate for providing her expertise to all patients, regardless of socioeconomic status, transportation, disability or health insurance.  On October 25, 2018, Stacy received the annual Paul Winske Access Award from the Stavros Center for Independent Living.  Stacy was nominated by her patients for providing compassionate care to persons with disabilities.  Stacy was the only health care professional recognized at the awards ceremony that year.
Stacy is a fantastic resource for the entire rehab department, surgeons, and primary care providers throughout the Pioneer Valley. She works closely with area surgeons from Boston, Hartford, Brattleboro and Springfield to make sure patients are provided with the proper post-surgical care, education, and support they need.  She is the "go-to" clinician for pelvic questions and it's reassuring for the entire rehab dept. and hospital staff to know they can send their friends and family to a trusted and skilled clinician. She strongly advocates for staff to become more aware of pelvic issues and how to navigate and support the LGBTQ community in their clinical practice.
Thank you, Stacy. You are truly making a difference!
---
You Make A Difference Award, December, 2020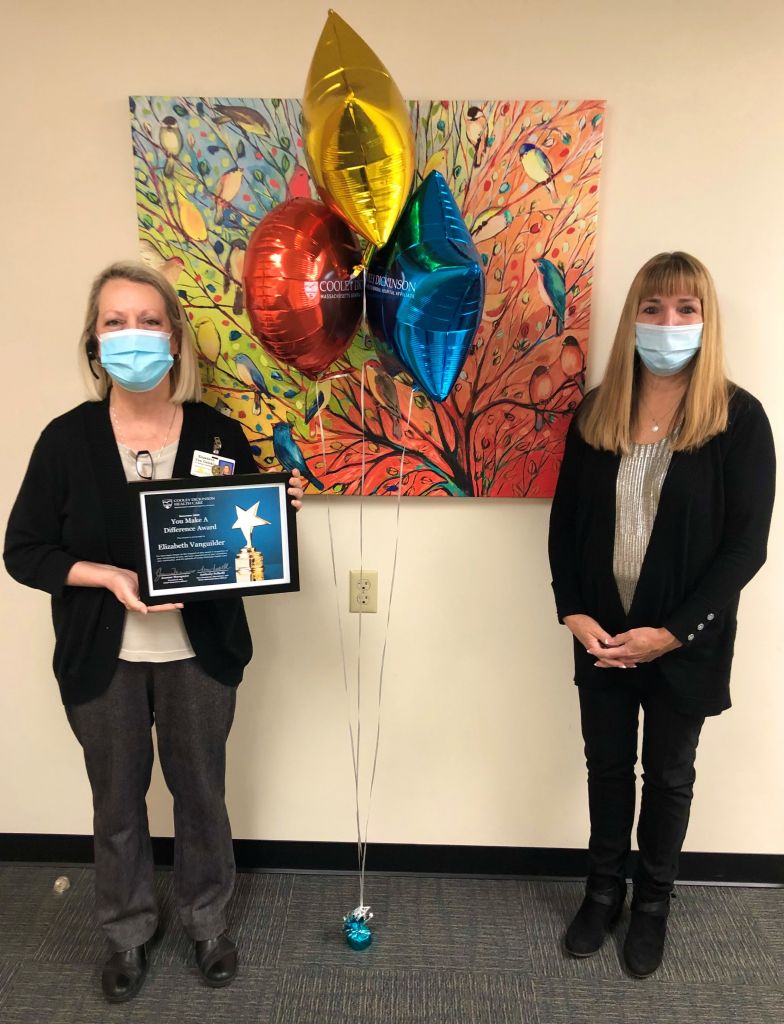 Elizabeth Vanguilder
Congratulations to Elizabeth Vanguilder, South Deerfield Rehabilitation Patient Access Coordinator, on being chosen as the recipient of the December You Make a Difference Award!
Throughout the pandemic things at the South Deerfield Rehabilitation office have been consistently changing and Liz "has been the grease that has kept the cog wheels of the clinic working", explained her nominator Alicia Idrogo, Physical Therapist. "Liz adapts quickly to changes in the schedule or the therapist's day, always in easygoing manner and with a smile on her face!"
"Liz is always looking for a way to personally connect with staff and patients. She goes out of her way to follow loose ends to their logical conclusions, and it makes our job so much easier knowing that everything is taken care, and done so with a smile" said Liz's second nominator, Terrance McKeon, Physical Therapist.
Upholding quality in her job every day, Liz is always respectful and friendly to both staff and patients. "She demonstrates amazing patience with challenging situations whether in person or over the phone. She is always a team player and keeps us organized, by reminding us of progress notes, remembering staff birthdays, and keeping the clinic running smoothly", added Liz's third nominator, Rebecca Dejnak, Physical Therapist. (And yes, that's correct – Liz received 3 separate nominations for this award!)
"Liz gives so much of herself to our patients and her coworkers each and every day" said her manager, Sue Pollard, Patient Access Services Supervisor. Adding that "She is thoughtful and kind to everyone she speaks to, her graceful qualities put patients at ease and she leaves a significant impression when servicing our patients."
We are so lucky to have Elizabeth on our team and are incredibly thankful for her commitment to living the values of Cooley Dickinson.
Thank you, Elizabeth. You are Making a Difference!
---
You Make A Difference Award, November, 2020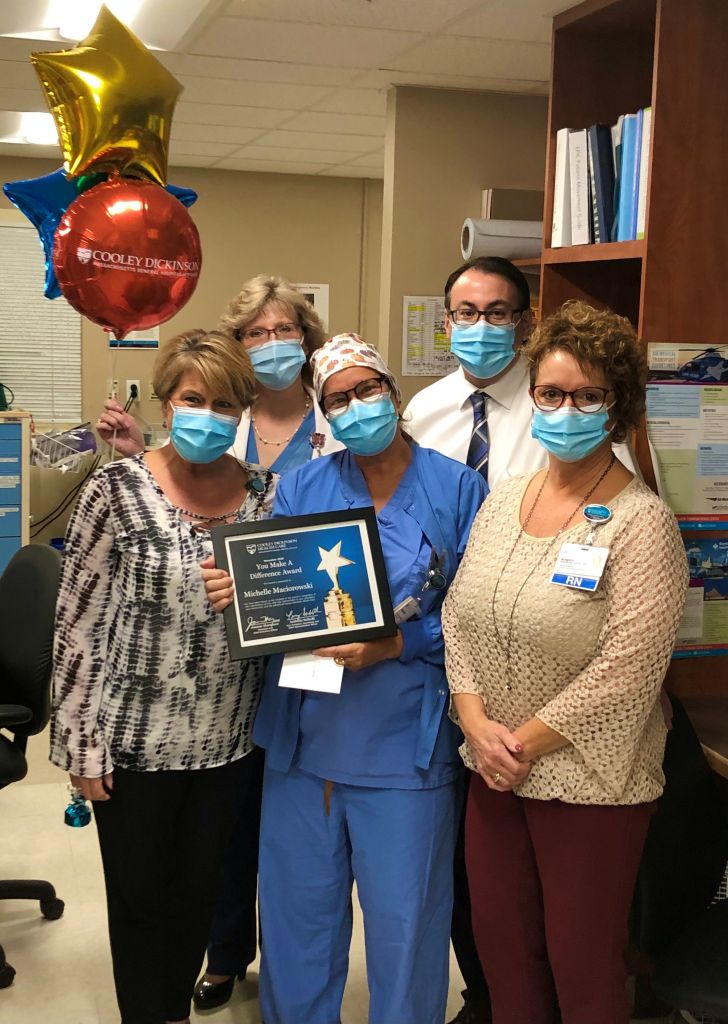 Michelle Maciorowski, Emergency Department RN
Congratulations to Michelle Maciorowski, Emergency Department RN, on being chosen as the recipient of the November You Make a Difference Award!
Michelle is dedicated to making a difference in the lives of our patients, coworkers, and community. She is described by her nominator, Kelsey Conti, Patient Access Service Coordinator, as kind, compassionate, and caring." "She is an incredible nurse!"
When Michelle cares for patients, she is an active listener, taking in every word and emotion. No matter the emotional state folks come in, our patients are always comforted by Michelle. Our patients feel safe, heard, and valued because Michelle is committed to our mission of providing exceptional, compassionate, and personalized care. She has often been the charge nurse in the ED and is recognized as being able to balance both taking care of the staff and managing a busy department. If anyone feels overwhelmed with an assignment, Michelle jumps in to help, and of course listen.
"Michelle has extraordinary compassion for all patients" said Sara McKeown, ED Nurse Director, adding "It can be the beginning of a shift or the end of a long day and Michelle never waivers in her passion and commitment to providing exceptional care."
Michelle is an essential team member and role model in the Emergency Department and is making a difference to those that she encounters on a day-to-day basis. Her coworkers believe that she is always in their corners, looking out for them, to provide comfort or guidance whenever they need it. We are so lucky to have Michelle on our team and are incredibly thankful for her commitment to living the values of Cooley Dickinson.
Thank you, Michelle. You are Making a Difference!
---
You Make A Difference Team Award, Fall, 2020
Drive Thru Testing Tent Team
Earlier this week the Drive Thru Testing Tent Team was honored with the You Make a Difference Team Award, which recognizes teams that live up to Cooley Dickinson's values and who make a difference for patients and families, coworkers, and in our community every day.
The Drive Thru Testing Tent Team "has been the heart and soul of the COVID testing process" said Cathy Reed, Administrative Director of Clinical Services, adding "I am humbled by their work ethic – this group are truly rock stars and exemplify what the 'Cooley Strong' movement is about!" When COVID started to emerge in our area and the need to set up a more formal process for drive thru testing emerged, this team rose to the occasion. The members of this team have changed throughout the last several months, but all played an important role during the time they were involved. Cathy would also like to give a shout out to all the Cooley employees who have stepped in to help this team during their time of need!
Testing Tent Team Members:
Nicole Allen | Laura Andersen | Amy Biela | Kayla Conde | Jennifer Costa | Sarah Diemand | Tayler Hersom | Jennifer Jenks | Shelley Mather | Stephanie Moore | Tracey Nareau | Natalia Rivera | Pernille Scavotto | Elizabeth Seymour | Bridget Shelkey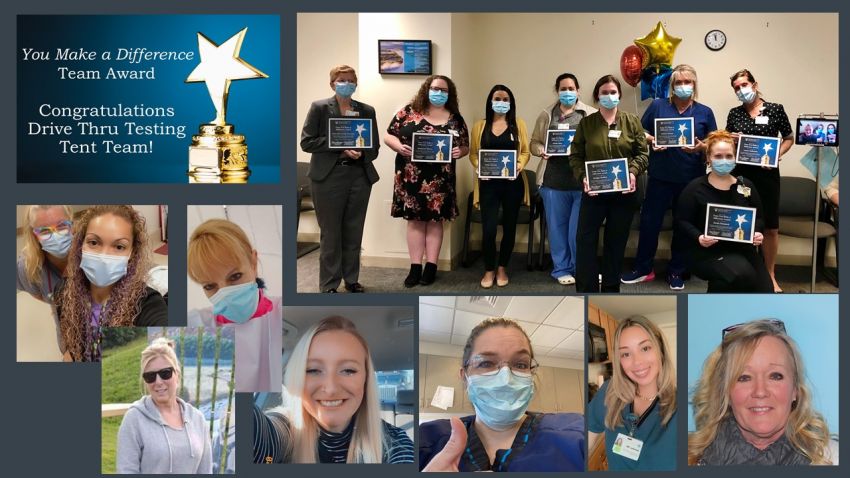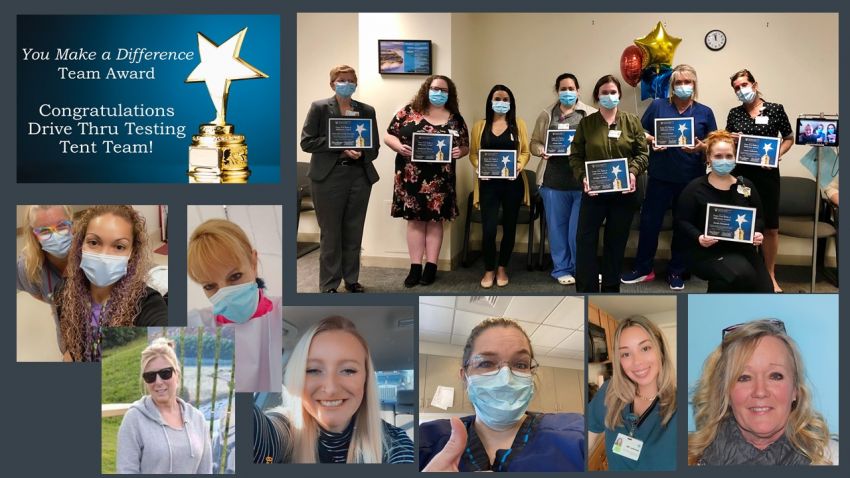 As of this posting, the Testing Tent Team has performed more than 32,000 Covid-19 tests
The Drive Thru Testing Tent Team came together in March and have persevered through all types of weather (snow, rain, wind, and heat) all while dressed in full PPE, and did so with smiles and a sense of pride. This group worked as a team to develop a workflow that kept patients moving through in a timely fashion with minimal wait times. The staff worked tirelessly scheduling appointments to assure patients could receive their testing as quickly as possible. This team has shown great compassion, dedication, and commitment to ensuring our community received the testing that was so vital to flattening the curve.
Thank you, Drive Thru Testing Tent Team, for your commitment to upholding quality, fostering collaboration, and providing exceptional, compassionate and personalized care to our patients! You are Making a Difference!
---
You Make a Difference Award: October 2020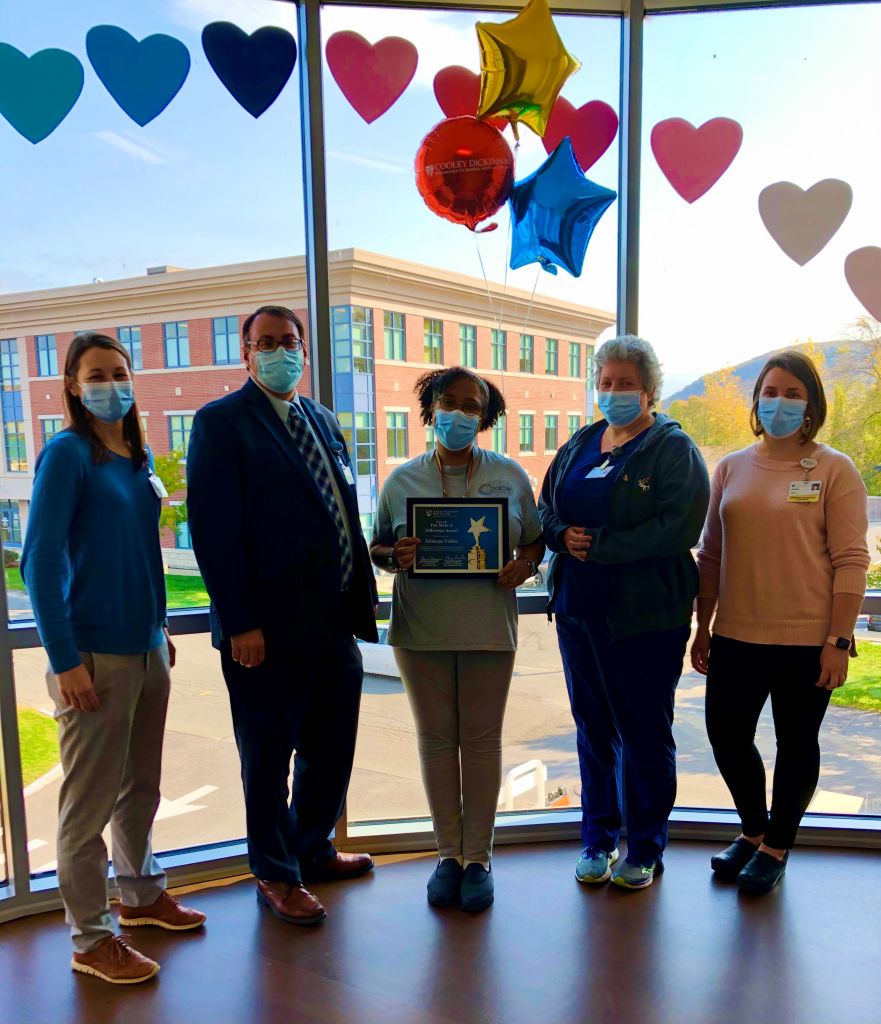 Fabienne Valdes
Congratulations to Fabienne Valdes, Oxbow Primary Care RN, on being chosen as the recipient of the October You Make a Difference Award!
It is easy to count the ways that Fabienne makes the Oxbow Primary Care office a better place. To start with, her exceptional nursing skills, and the compassion she demonstrates with every interaction she has with patients and their families. "Fabienne has boundless respect, patience, and understanding for our patients in both the routine care she gives and when they are in distress" said Sara Thrasher, fellow Oxbow Primary Care RN. Fabienne is able to put people at ease with her wisdom, supportive therapeutic listening, and gentle guidance.
Fabienne's cheerful personality and supportive demeanor create a pleasant work environment. Her competence in training new hire triage nurses is second to none. She has the ability to share her vast knowledge of working in a busy office easily with other nurses. Always making herself available for follow up questions or clarification for the new triage nurses she has trained, is a great example of her ability to foster collaboration while upholding quality.
"Fabienne has been unfailingly supportive and affirming of our LGBTQ patients and goes out of her way to make sure that we are treating everyone with the respect they deserve" said Aleah Nesteby. Some even describe their nurse visits with Fabienne as a "highlight of their day". Fabienne embodies the Cooley Dickinson values in her daily work ethic and we are thankful to have her on the Cooley Dickinson team!
Thank you, Fabienne. You are truly making a difference!
---
You Make a Difference Award: September, 2020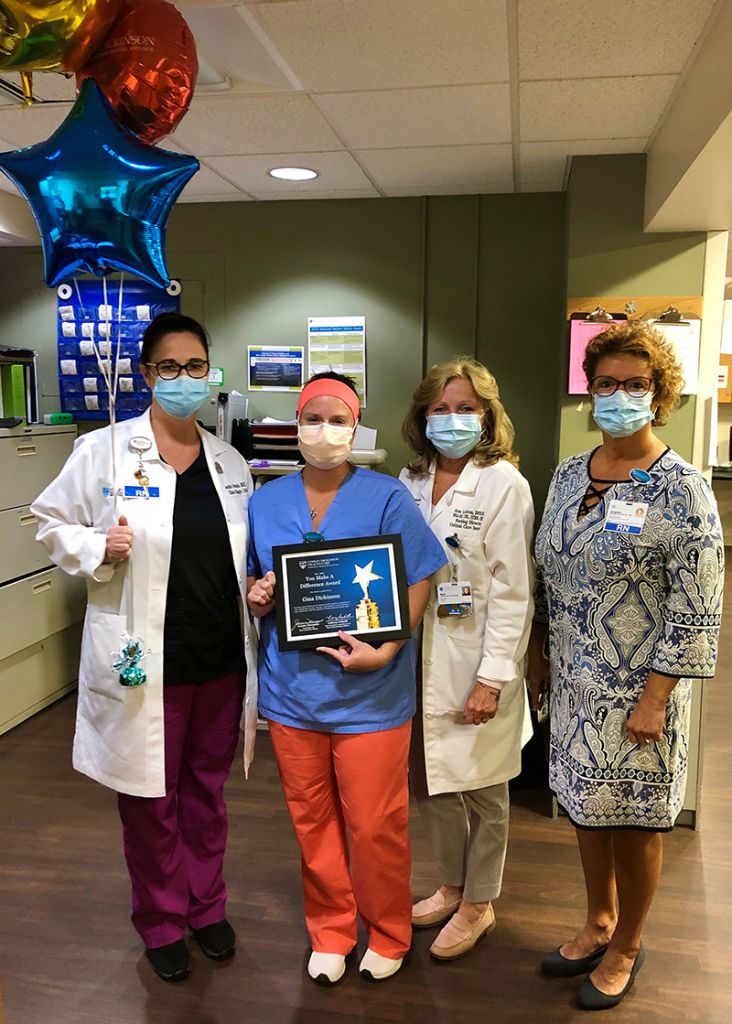 Gina Dickinson
Congratulations to Gina Dickinson, Telemetry PCA, on being chosen as the recipient of the You Make a Difference Award!
Gina lives the values of our organization every day and is most known for exemplifying the organizational value; Demonstrate Compassion. Gina actively assesses patient and family needs and perspectives and creates an atmosphere of respect and empathy. She is a fierce advocate for our patients and ensures that we are all doing everything in our power to ensure they are treated with kindness and respect while receiving excellent care.
Gina's manager, Jennifer Germain, Clinical Manger, Critical Care Services said that "Gina exudes the values of CDH every day she works!"  Jennifer explained that Gina delivers compassionate care and always goes above and beyond for the patients and her coworkers! "Gina is a leader and has exemplified maintaining her level of integrity throughout the many changes brought upon us throughout the COVID pandemic".
Gina is a role model for other PCAs on the Telemetry unit as she runs to answer bells to meet the needs of our patients. She has a great sense of humor and can make even the "crankiest" patients laugh.  Whenever asked, Gina is willing to join or assist with committees or initiatives if it means improving care for our patients. Ann Lebrun, Clinical Nurse Director, who nominated Gina for the award, said that "Gina is no shrinking violet and makes sure that her voice is loud and clear when it comes to the needs of our patients". Gina's goal is to make sure that all the patients on the Telemetry Unit have the best possible experience while at Cooley Dickinson and we are so thankful to have her on our team!
Thank you, Gina. You are truly making a difference!
---
You Make a Difference Award, September, 2020
Paul Grace
Congratulations to Paul Grace, Cancer Center RN, on being chosen as the recipient of the You Make a Difference Award!
Paul is truly one of a kind. His ability to find the good in everything, remain positive and be a part of the solution day in and day out is something that Paul's manager, Jen Ledoux, "admires, respects and appreciates greatly". Not only do these qualities make Paul an excellent co-worker, they also help in making him an outstanding nurse. No matter what is happening, Paul remains calm, patient focused and clinically sound. The oncology patient population is a unique subset of patients who you really begin to know and develop bonds with, and Paul is incredibly skilled at finding unique ways to connect with each patient.
Throughout these past several months, Paul has remained adaptable, open minded, and willing to make changes on the fly, as that is what is happening daily! Paul has stayed focused on the goals and values of our organization and has done whatever it takes to keep our patients at ease as their fears have been heightened during these challenging COVID times.
Paul's integrity, empathy, and dedication to the values of our organization has played a vital role in ensuring we meet our mission of providing exceptional, compassionate, and personalized care.
Thank you, Paul. You are truly making a difference!
---
You Make A Difference Award, August, 2020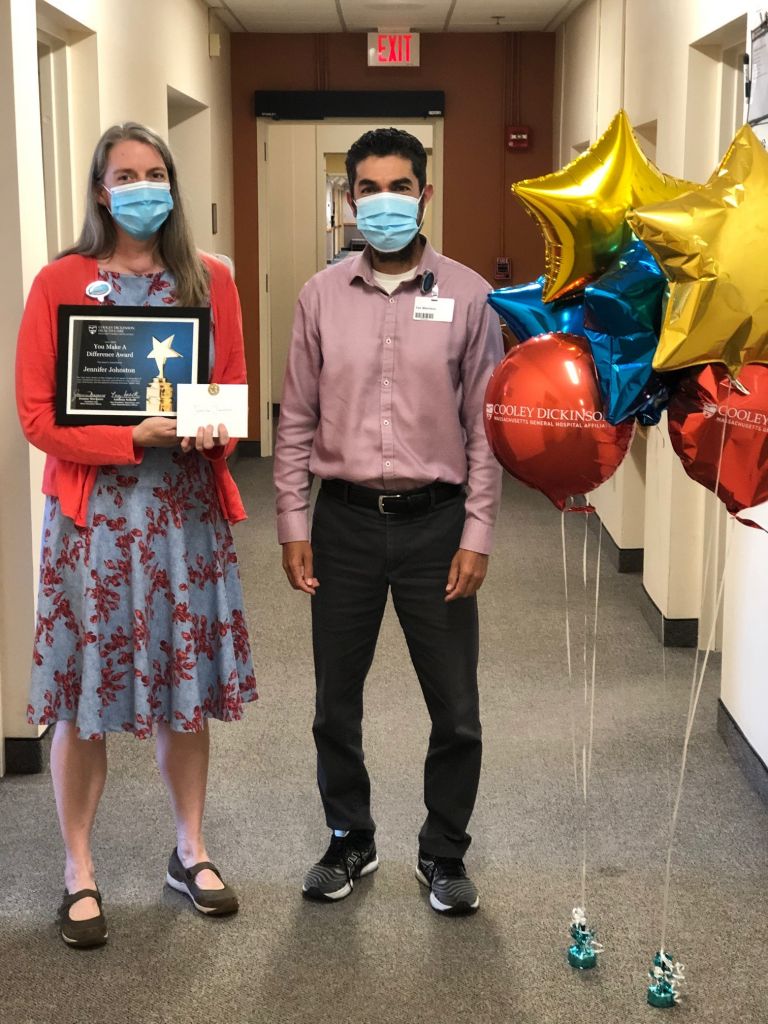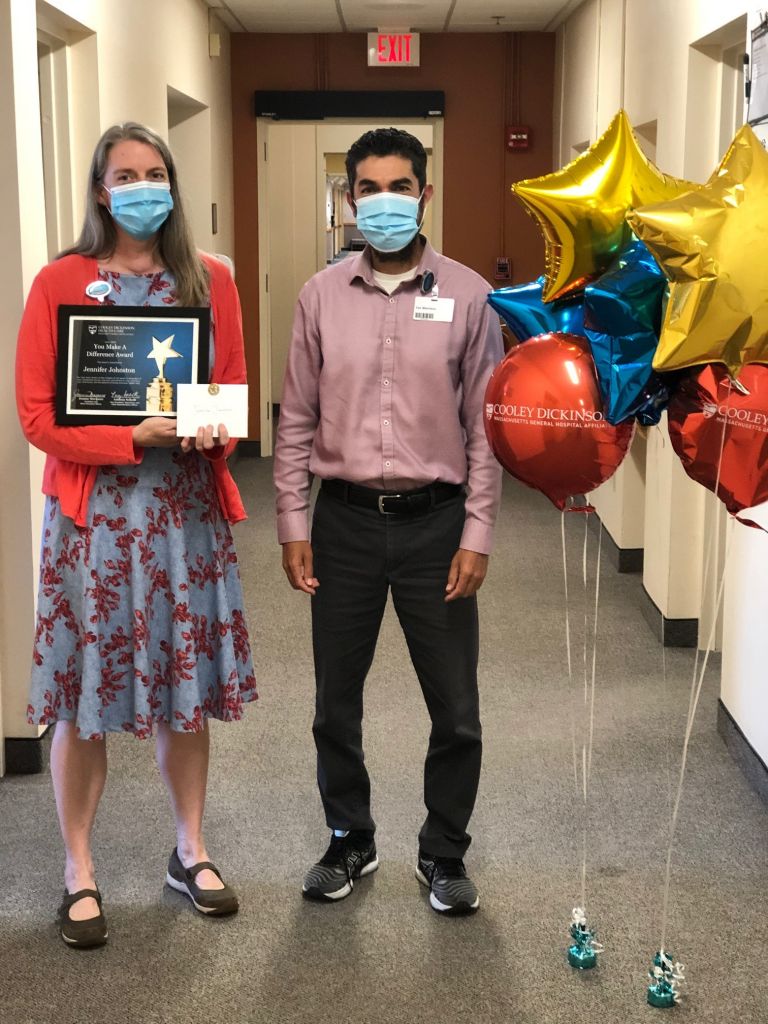 Jennifer Johnston
Congratulations to Jennifer Johnston, IS Project Specialist, on being chosen as the recipient of the You Make a Difference Award. Jennifer, pictured with CIO Lee Martinez, is someone you can count on to enthusiastically help you with whatever question may have about an IT project.
She has a wonderful demeanor and tracks down an answer for you even if she isn't the right person to ask.  Incredibly organized and skilled at keeping numerous projects moving forward for the IT team, Jennifer can also be found assisting on other projects throughout the organization. Specifically, she has been one of the driving forces around the patient gateway portal and with the rise of telemedicine, her support has been greatly appreciated. Jennifer is truly genuine about her willingness to help and always does so with a smile.
Director of IT Ed Borowski, Jennifer's manager, expressed that during the COVID pandemic "Jen has done an enormous amount of work in simply being there for all staff, Nursing in particular, as they've adjusted to both telemedicine and the combination of remote/local staff and the use of video technology." Specifically, she is working to become an expert in both Microsoft Teams and Zoom to assist coworkers properly. Jennifer has worked diligently with both IT and Nursing on the use of the iPads as a way for patients to communicate with their families and loved ones during the pandemic.
Jennifer is always putting herself out there to help in any way she can and truly embraces the values of the organization. Jennifer's commitment to fostering collaboration and continuous improvement makes things better for our staff, our patients, and our community.
Thank you, Jennifer. You are making a difference!
---
You Make A Difference Team Award, Summer, 2020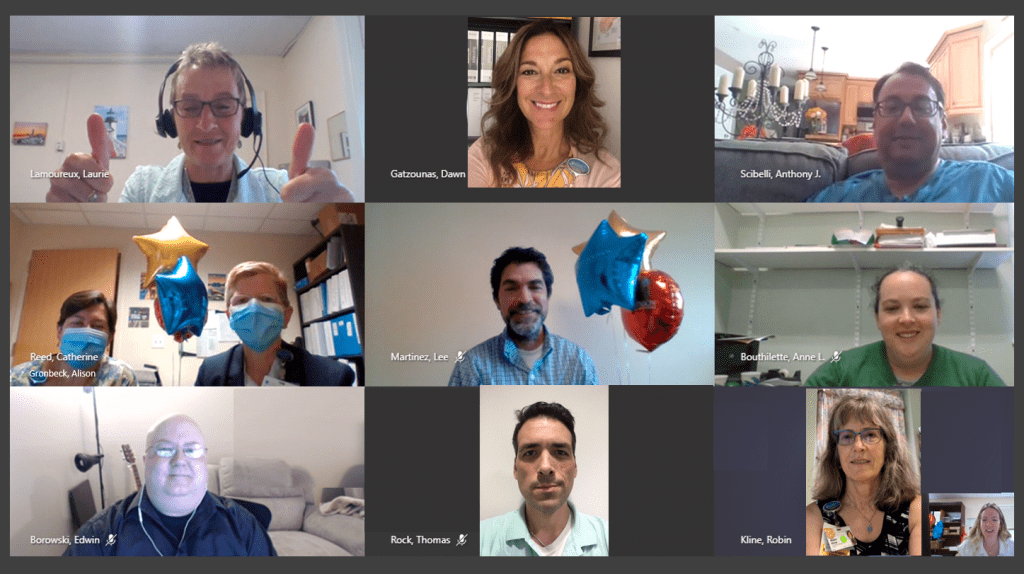 Electronic Lab Fax (ELF) Team
Earlier this week, the Electronic Lab Fax team – Ed Borowski and Tom Rock, of Information Systems, and Alison Gronbeck, Dawn Gatzounas, and Cathy Reed all from the Lab – were honored with the You Make a Difference team award, which recognizes teams that live up to Cooley Dickinson's values and who make a difference for patients and families, coworkers, and in our community every day.
The Challenge
Since the implementation of Epic and Sunquest, the process of faxing reports from Sunquest has presented challenges, such as the inability for STAT results to be auto faxed or, providers not properly receiving patient's lab results, who were not set up in the fax table.
A Cross-Functional Team's Solution
Something needed to be done and it was this group of people who came together to discuss solutions. Ed Borowski was able to write a computer program affectionately known as ELF (Electronic Lab Fax) and the Electronic Lab Fax team was formed. This program receives all lab results from Epic, places them into the report format designed by the team and faxes them to the providers based on the information defined in Epic.
By using computer programming, the system holds a patient's completed results for 30 minutes to give an opportunity for any additional lab results to complete. It will then combine the results into one report to minimize the number of sheets that are faxed. Because reports fax every 30 minutes, there is no longer a need for staff to manually track STAT orders to completion.
Patient-Centered Care
ELF's success was demonstrated to a group of Mass General Brigham facilities, that were struggling with the same issue and were seeking a solution. The creation of ELF assures that all laboratory reports are getting to the patient's provider and ensures that our patients are getting the follow up and care they need.
Thank you, Electronic Lab Fax team, for your innovation and commitment to continuous improvement! You are making a difference!
---
You Make A Difference Award, July, 2020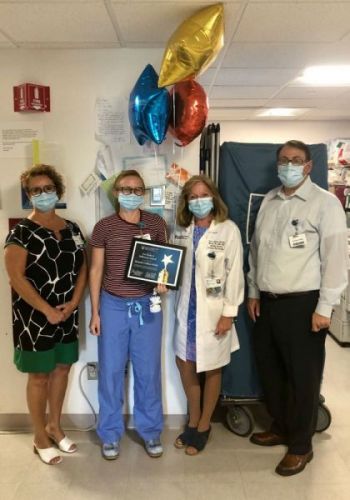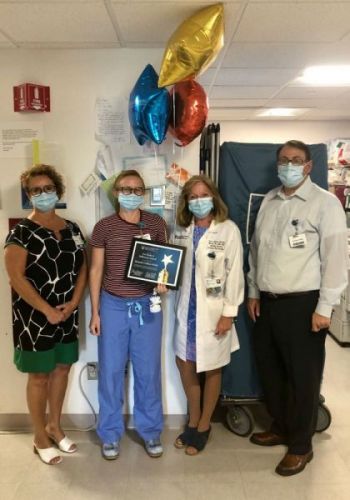 Hannah Collins-Wolfe
Congratulations to ICU Registered Nurse Hannah Collins-Wolfe on being chosen as the recipient of the You Make a Difference Award! The You Make a Difference Award is recognition for individuals that are making a difference for patients and families, and for their coworkers. Hannah's nominator described her as "one of those nurses that you want working with you every time you are scheduled. She anticipates both your needs and the needs of our patients."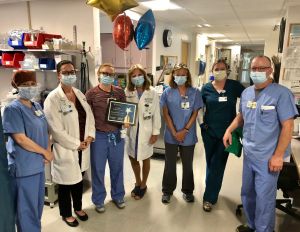 When a patient comes onto the unit, Hannah, pictured, third from left with her ICU colleagues, is always the first one in the room to help settle them.  When the unit is short-staffed, you can count on Hannah to come in to help, because she knows our patients need care. Whenever you are feeling overwhelmed, there comes Hannah into your patient's room to help.
During the height of our COVID-19 surge, Hannah made sure to check in with other staff members to make sure that they were okay, knowing the difficult toll this pandemic was taking on everyone.  She helped to orient re-located staff members and made sure they felt comfortable and well-supported in the ICU.
Hannah is the epitome of teamwork and does it all with a positive attitude and a smile on her face. We appreciate Hannah for her amazing sense of teamwork.
Thank you, Hannah. You are making a difference!
---
You Make A Difference Team Award, Spring 2020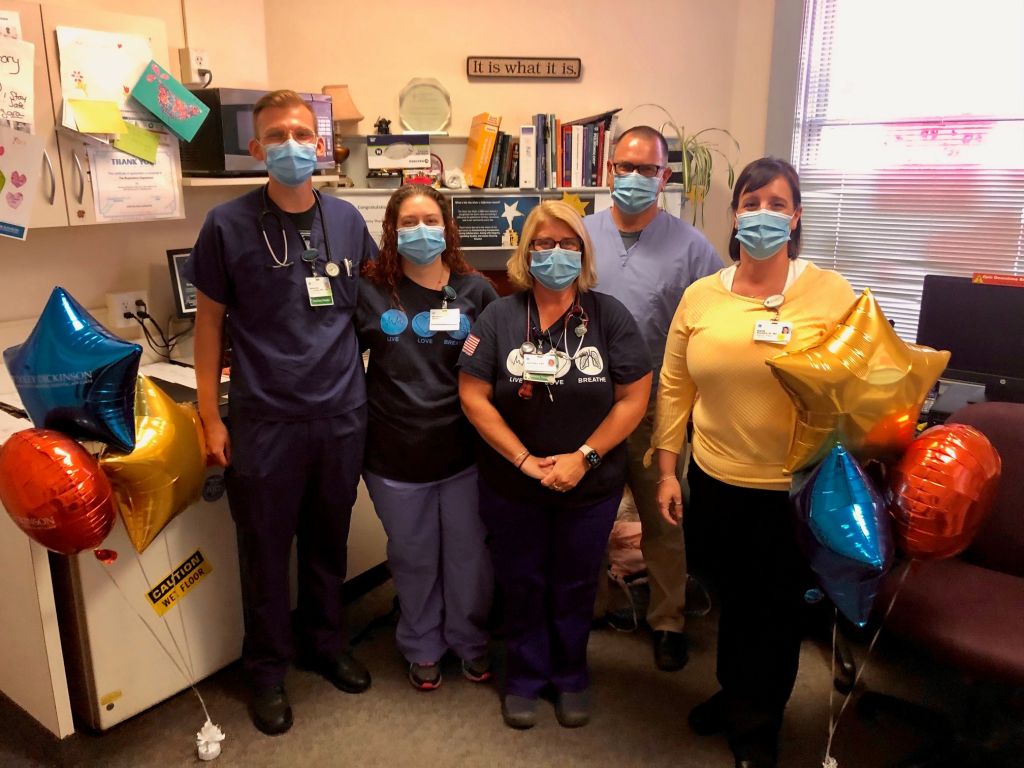 Respiratory Therapy Team
Earlier this week the Respiratory Therapy Team was honored with the You Make a Difference Team Award, which recognizes teams who live up to the values of our organization and are making a difference for patients & families, coworkers, and in our community every day.
The Respiratory Therapy Team works with Doctors, Nurses, and other Healthcare Providers in assessing a patient's respiratory status in an emergency. This team also assists Providers with intubations and manages lifesaving equipment.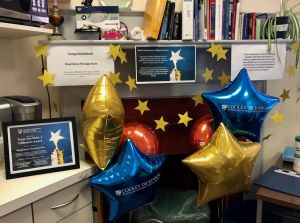 You can find Respiratory Therapists at their patient's bedside providing education about their lung disease or condition, discussing respiratory medications, or reassuring them that "it will be ok." RT's also work with Case Managers to ensure discharges go seamlessly with respiratory patients who need respiratory equipment at home. Or in the Pulmonary Function Lab, testing patients breathing, while at the same time, easing their anxiety about such a difficult test.
Team Respiratory, could be helping a newborn take their first breath or helping a patient take their last breath with dignity. They are a group that provides compassionate, caring and exceptional care to all our patients at Cooley Dickinson Hospital.
Thank you Respiratory Therapy Team, YOU are making a difference!
---
You Make A Difference Award, June, 2020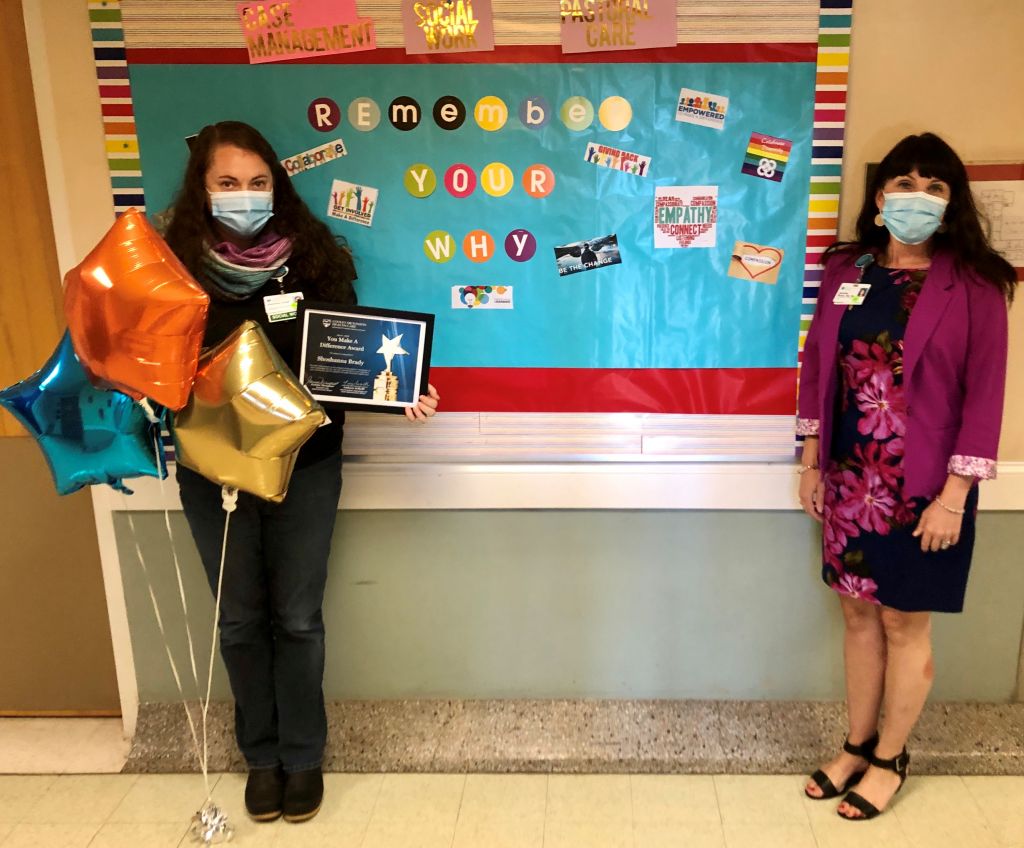 Shoshanna Brady
The You Make A Difference Award nominations that were submitted back in January were originally planned to be celebrated over the last few months but due to the COVID-19 pandemic, the recognition plans were put on hold.
We are happy to announce that the recognition celebrations for the recipients of the You Make A Difference Award have started back up and although the recognition may look different the honor of this award remains the same.
Shoshanna Brady, MSW is the recipient of the You Make A Difference Award and was honored earlier in the week during a virtual Zoom celebration.
Shoshanna's nominator described her as a role model for our mission, vision, values and standard of behavior here at Cooley Dickinson.
As a member of our hospital Ethics Committee, Shoshanna worked along with her ethics colleagues to review and make recommendations to the Crisis Standards of Care Guidelines during the COVID-19 pandemic. Shoshanna strongly advocated for fair resource allocation for patients who may have already suffered healthcare disparities and social injustices.
Shoshanna is a team player and works harmoniously with her peers and hospital staff. She demonstrates an ongoing interest in professional development, taking on additional tasks and attending educational trainings to continue her growth. We look forward to Shoshanna's continued success here at Cooley Dickinson and are grateful to have her part of our team!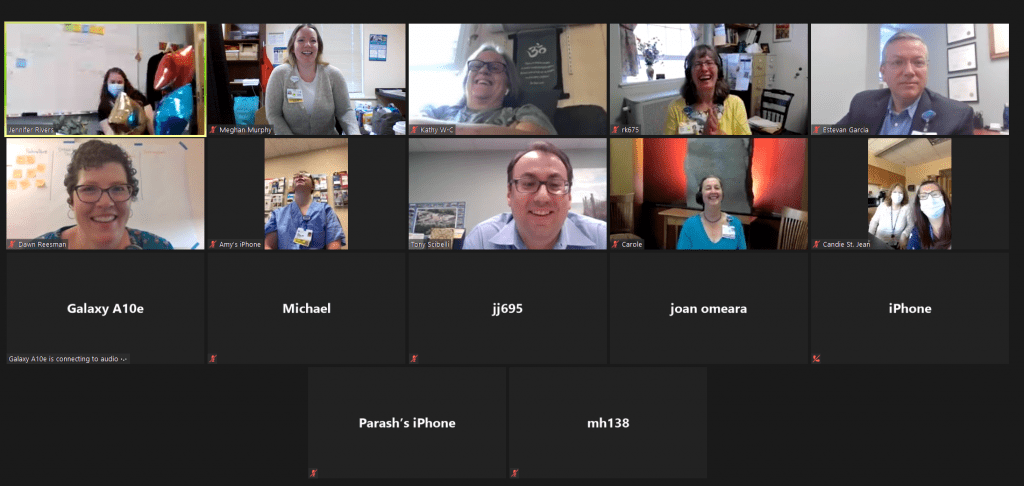 Thank you, Shoshanna. You are making a difference!
---
You Make A Difference Award, February, 2020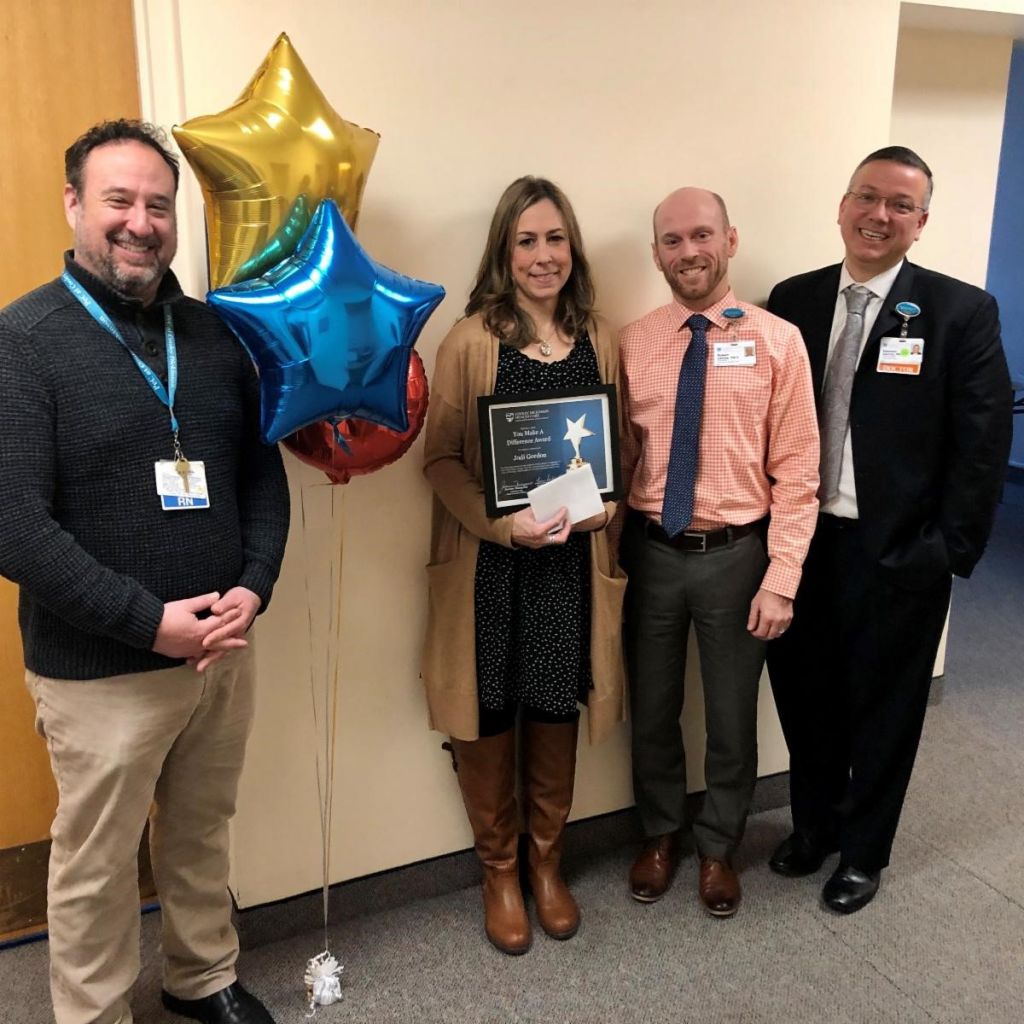 Jodi Gordon
"Proactive, Solutions-Oriented, Quick on her Feet: Congratulations to Jodi Gordon, Recipient of the February You Make a Difference Award
Clinical Business Analyst Jodi Gordon, pictured above with, from left, Lorin Baumgarten, Robb Levine and Estevan Garcia, is a wonderful example of an employee who routinely goes above and beyond to support her team and the organization. Specifically, her work and collaboration with the providers in OB and in peri-operative services is where she shines. These areas can be challenging to support because the issues that emerge can quickly impact patient care (aka, during a birth or a procedure). Jodi is proactive, solutions-oriented, and quick to think on her feet.
Always friendly, Jodi is known for being a trusted team member and collaborator by both her team and the departments she supports. Her passion to care excellence and her dedication to the end users she supports is truly remarkable. Jodi's ability to remain even keeled, professional, and compassionate, even in the most stressful of situations, puts the people around her at ease.
Jodi is a role model to her colleagues and embraces the many cultural attributes that our organization strives for: fostering collaboration, continuous improvement, and upholding quality, are just a few examples of where Jodi excels. Not only does Jodi embrace our organizational standards, she models the degree of excellence we all should strive for.
Thank you, Jodi. You are making a difference!
---
You Make A Difference Award, January, 2020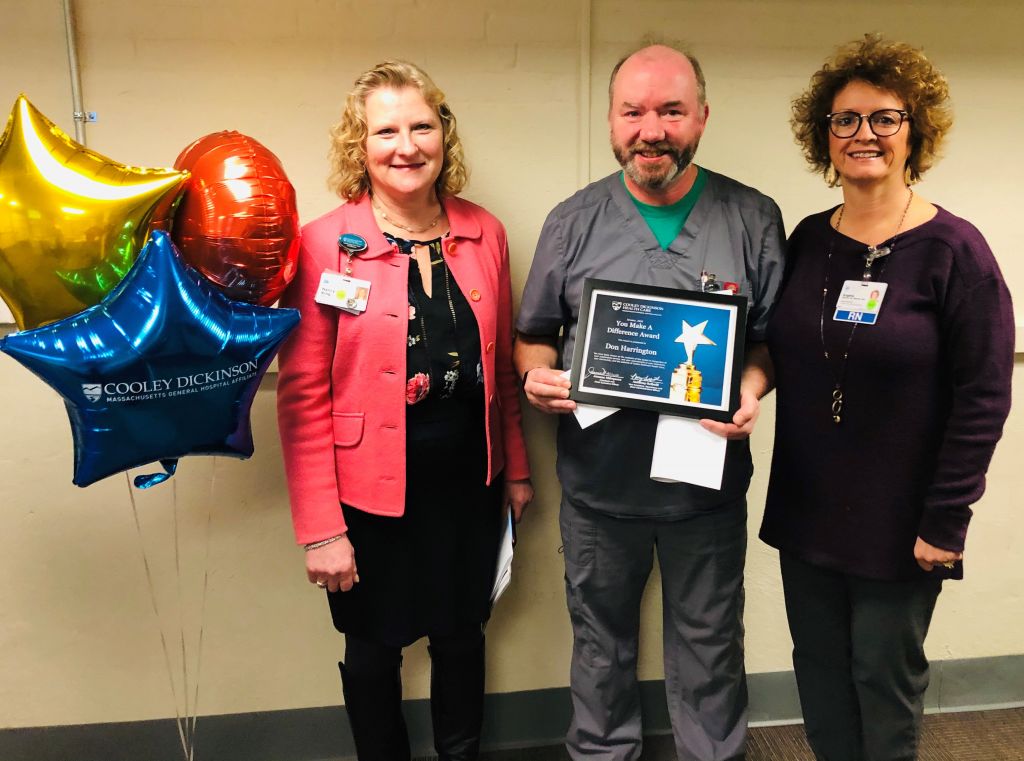 Don Harrington
Congratulations to Don Harrington. Winner of the January 2020 You Make A Difference Award! Don is always pleasant, accommodating, and versatile in his role. He will help anyone on the Medical Imaging team—or outside of the team—with whatever project may come up. He is a "can-do" kind of person who will hunker down and get the job done.
Don lives the Cooley Dickinson Health Care values in every way, and he does so every day. He takes on challenges and projects with enthusiasm and commitment. He represents our Medical Imaging Department with a very positive attitude and he does this every day with consistency.
Don goes above and beyond, especially when we are facing short staffing. He will start IVs, bring prep kits to the floors for CT, or anything else that is needed to support staff and patients. He does this without being asked or prompted—but when he is asked, he never turns down a request for help. Don is especially well-known for his excellent IV starts on patients. He is a very important and integral part of the support system in Medical Imaging and a team player in every way, every day. Thank you Don, You are making a difference!
---
You Make A Difference Award, December 2019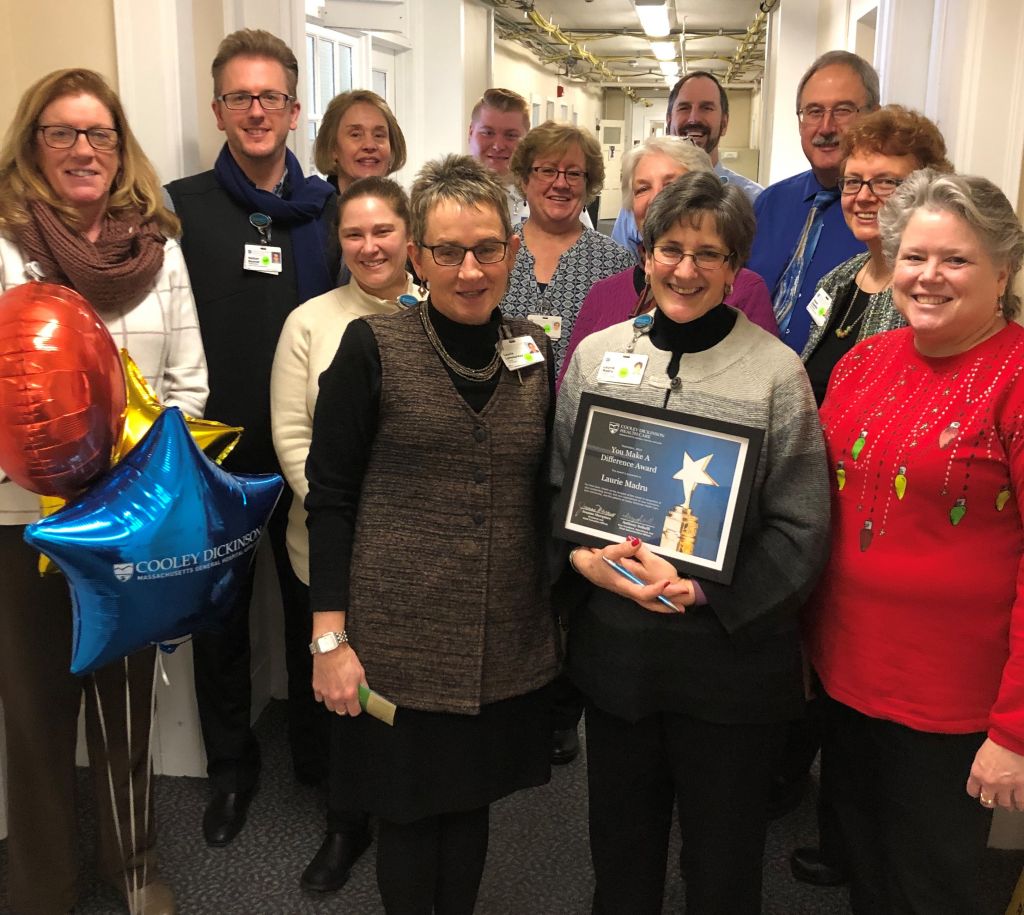 Laurie Madru
Congratulations to Laurie Madru, winner of the December 2019 You Make A Difference Award. Laurie epitomizes the Cooley Dickinson Health Care mission, vision, and values every day through her willingness to collaborate on projects big and small. Laurie is a positive force who will take a deadline as a challenge—it is a challenge she always wins—and turn out top notch work in no time at all. Laurie produces intricate, quality work with a keen eye for detail. As a member of the finance team, the work that Laurie does is incredibly important to the organization, even though it may not always be seen. She has worked with the Development Department to secure funding that is essential to supporting the daily operation of our hospital, and that has allowed us to become the community hospital of choice for the people we serve.
Laurie is respectful of her colleagues and patients in every interaction that she has with them. When asked about Laurie, Linda Medeiros said that "Laurie is the sort of person who greets you with a smile each time you arrive unannounced at her office door. She knows what to do and is driven to do best by you. From my close work with Laurie, she's an incredible planner and amazingly productive and always puts Cooley and its mission first. I feel grateful to have Laurie as both my colleague and friend at work."
Laurie upholds quality and acts with integrity every day because it is part of who she is. Thank you, Laurie, You are making a difference!
---
You Make A Difference Team Award, Winter 2019

Central Sterile Processing Team
The Central Sterile Processing team may not always be the first team to come to mind when thinking about what makes Cooley Dickinson Hospital tick, but the work they do is essential to daily operations. This team ensures that the important tools of the health care trade are available for all our providers on demand.
In February of this year, the VA Central Western Mass Healthcare System reached out to Cooley Dickinson with an urgent need—a broken water pipe had completely shut down their Central Sterile processing unit, and without it they would not be able to continue to provide services for area veterans. Cooley Dickinson's Central Sterile Processing team stepped up and within a few short days was processing equipment from the VA in addition to the equipment they regularly process for Cooley.
This was no easy task. The VA has a different process for their equipment. Under the guidance of the VA team, our hard-working crew quickly learned the new instruments, processes, and packaging requirements to meet the community need. In a three-week period, the CSP team processed thousands of instruments for the VA on top of their normal workload. The staff were extremely committed to upholding quality, even while they extended their hours late into the evening to get the job done.
Chief of Staff VA Central Western Mass Healthcare System Seth Kupferschmid, MD, said "the collaboration went very well. We were impressed at the responsiveness of management at CDH on a Sunday afternoon to having supports in place on Monday morning. The 3 weeks of help kept services at the VA operational. Of course, we send thanks to all at CDH."
Thank you for showing your support of our community and rising to the challenge! You are making a difference!
---
You Make A Difference Award, November 2019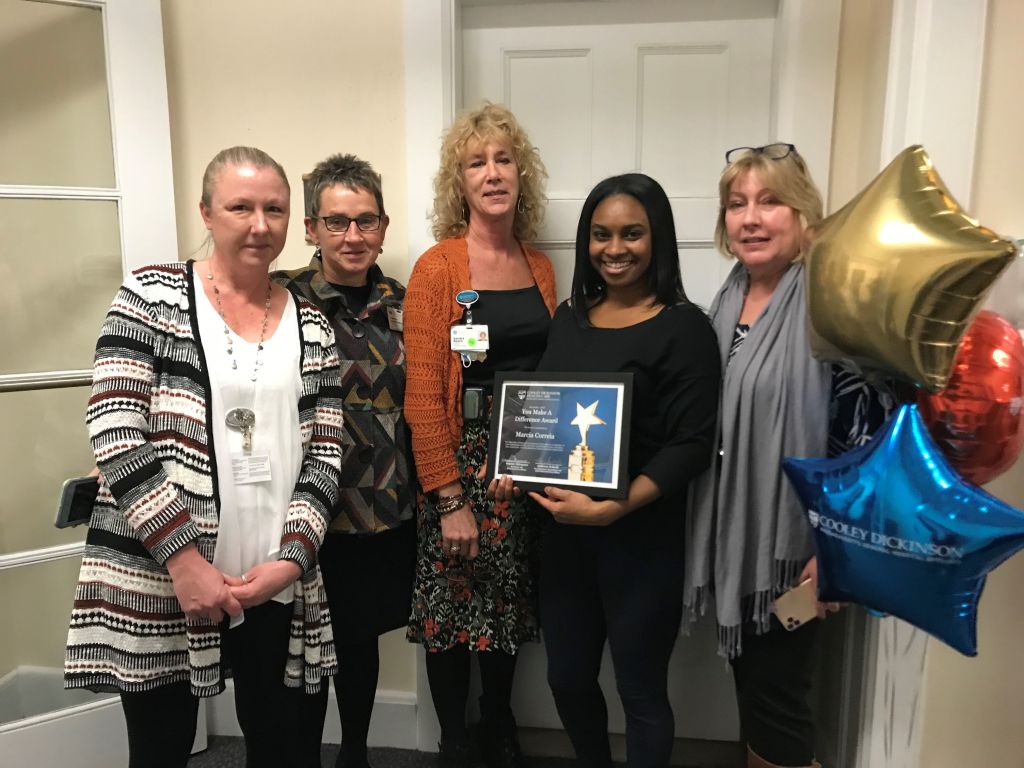 Marcia Correia
Congratulations to Central Registration Coordinator Marcia Correia, the November winner of the You Make A Difference Award! From day 1, Marcia's co-workers say that she has been nothing but an exceptional role model!
Marcia takes on many different roles and jumps in to help when and wherever she can.  Marcia is more than a team player: she exemplifies the Cooley Dickinson Mission, Vision, and Values—and we appreciate her!
Marcia is very flexible with her time; she is known to step up whenever and wherever there is a shift that needs to be covered. Her nominators say that "if she is needed offsite, she never questions why or complains about the commute. Marcia will take the initiative and see that our patients and our providers have the coverage and support that they need.
At any given time, you might find Marcia hard at work from Belchertown to Williamsburg, or right here in the hospital. Coworkers find it hard to remember ever seeing Marcia without a smile on her face. She is always upbeat and supportive of our patients, and will always, without hesitation, go above and beyond to make your day.
Thank you Marcia! You are making a difference!
---
You Make A Difference Award, October 2019
Jennifer Crocker
Jen comes to work each day with a smile on her face and a detailed plan to deliver excellent care to her patients. Whether it is dressing up a patient's child in scrubs and making that child her "assistant" for the day or ensuring that a patient has a peaceful and respectful death. Jen makes sure that she provides compassionate, high quality care to ALL her patients and their families.
Jen not only ensures an excellent experience for her patients, she also focuses on team building activities with her valued coworkers. She has gone above and beyond to plan trips to the casino and a local winery for her colleagues to have fun time to bond as a team, and she opens up her house to everyone on the unit for our annual Holiday Celebration!
Jen is devoted to Cooley Dickinson patients, their families, and to her coworkers. Her positive nature and great sense of humor makes every day a great day.
Thank you, Jen, you are making a difference!
---
You Make A Difference Award, September 2019
Megan McCarthy
Whenever a particularly challenging patient care situations arises in the Behavioral Health Department, Megan is called upon to be part of the solution.  Her calm, caring, and highly professional manner complements her characteristic ability to connect with even the most distraught patients. She actively brainstorms effective resolutions and works collaboratively with patients and other departments to bring calm to persons who are experiencing difficult moments.
She willingly responds to patient situations throughout the hospital and is recognized for her skills to quickly assess the situation and assist with compassion.   It is clear that Megan cares deeply about her patients and seeks to provide them with a healing experience.  She makes a difference for patients who are in particular need of support and compassion, and she does this with compassion and humor.
Thank you Megan, you are making a difference!
You Make A Difference Award, August 2019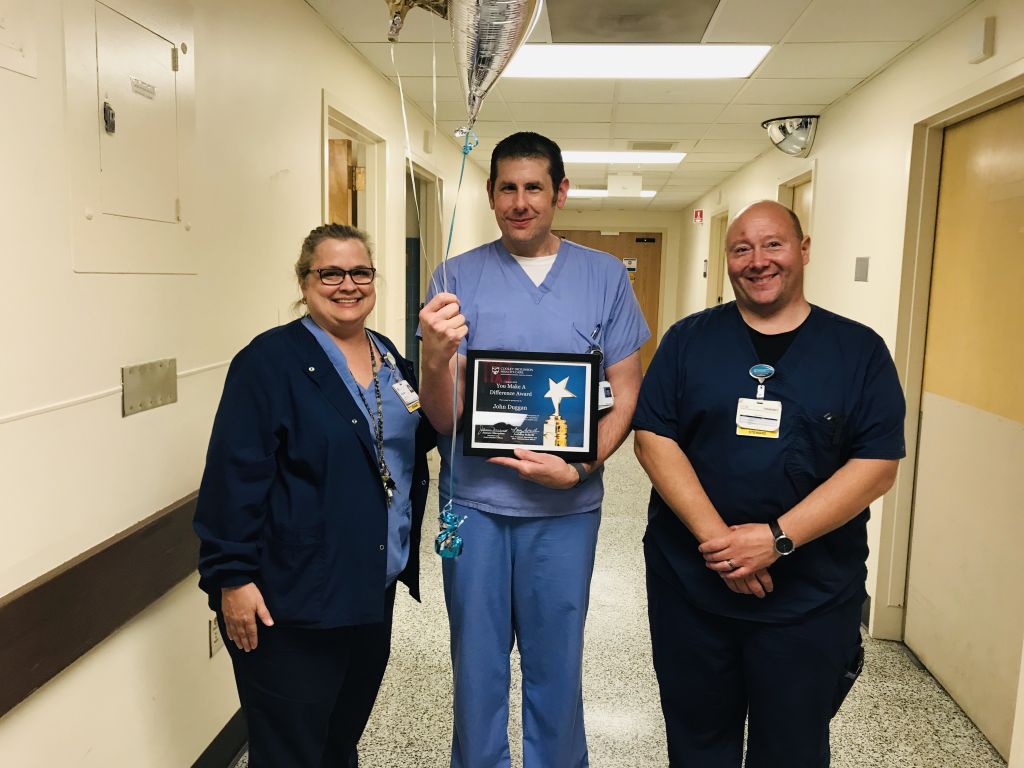 John Duggan
John Duggan is the winner of the August 2019 You Make A Difference Award. John is a long-term, second-shift employee on the Transportation team who has seen the staffing challenges in the Environmental Service department and has taken those challenges head on as an opportunity for collaboration.
By cross training and learning new skills, John works in an EVS role for the Emergency Department and continues to provide exceptional customer service to patients and his Cooley Dickinson colleagues who depend on Transportation.
What sets John apart is that he provides exemplary, top-notch service excellence in both roles. He has filled in to cover critical second and third shifts, and he will stay late so that he can set up the next shifts for success. Because of his commitment to quality, patients and staff in the Emergency Department are leaving glowing reviews for his work! He has been proactive about learning and has shown a strong desire to do the right thing by our hospital and all our patients. In fact, John's expertise in both EVS and Transportation allows him to provide enhanced services to our patients.
Congratulations John! You are making a difference!
---
You Make A Difference Team Award, Fall 2019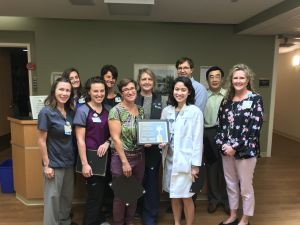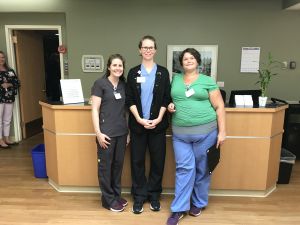 Radiation Oncology Team
Congratulations to the Radiation Oncology Team for winning the August 2019 You Make A Difference Team Award! The Radiation Oncology staff are highly collaborative among their team, and with colleagues throughout Cooley Dickinson and at Massachusetts General Hospital. This collaboration and open communication uniquely positions them to provide seamless access to highly specialized care that is unlike what any other community hospital can provide.
They have pulled together time and time again, always keeping the patients' experience at the center of what they do. No matter the challenge, they come out stronger, tougher, and more committed to Cooley's mission of providing compassionate and personalized care for patients and their families.
The team recently collaborated on a project to bring in new CT equipment that greatly benefited our patients and they did this while their patient volume doubled! The Radiation Oncology team always jumps right in and works together to make sure that our patients are well informed and taken care of.
Thank you for your dedication. You are making a difference!
---
You Make A Difference Award, July 2019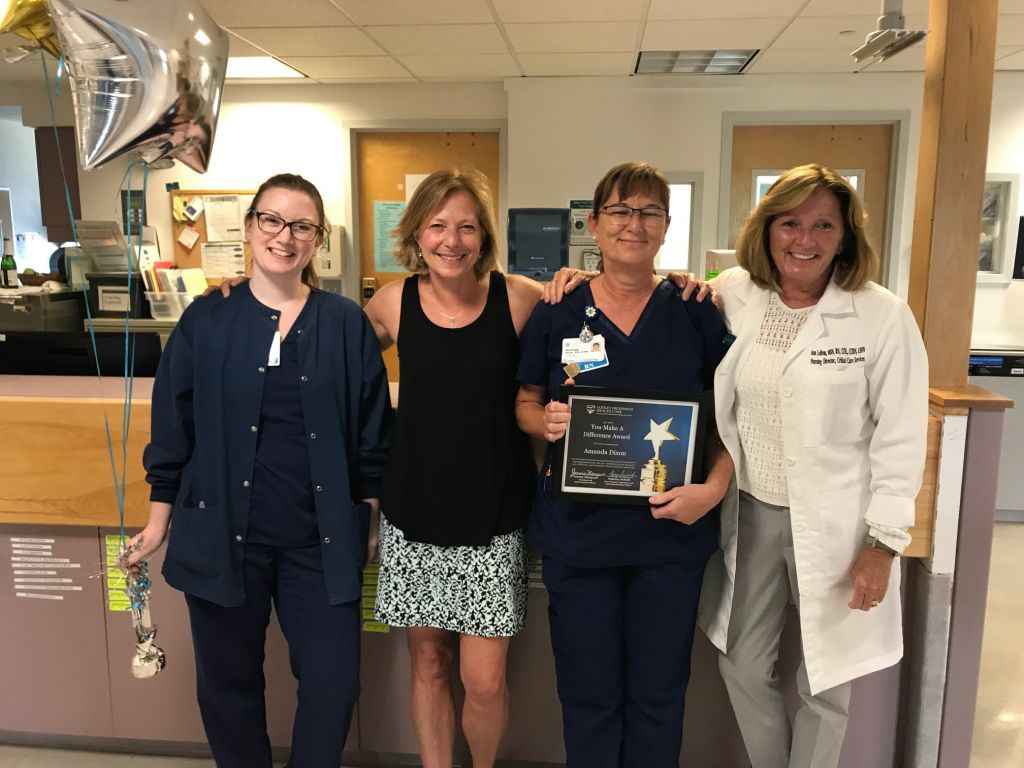 Amanda Dixon
As the charge nurse in the Critical Care Unit for the day shift, Amanda goes above and beyond to ensure that all patients in the unit are treated with the utmost compassionate, patient-centered, and high-quality care that they deserve. Amanda has high standards for her team and for the care that they deliver to Cooley Dickinson patients and families. Her compassion and respect do not stop with patients though, Amanda also has a reputation for treating her coworkers with respect and kindness.
Amanda is highly skilled and is an essential resource for staff throughout the hospital as she attends to Rapid Responses and Code situations. Her first thought is always for the patient and how she can make their experience as comfortable as possible. She always takes the time to learn about what matters most to her patients so that she can provide them with compassionate care that is personalized and geared toward their preferences and their values.
One of Amanda's many strengths is providing compassionate end of life care that empowers patients and their families to take ownership of their care. She treats every patient with dignity and respect, every time.
Amanda, Thank you for making a difference!
---
You Make A Difference Award, June 2019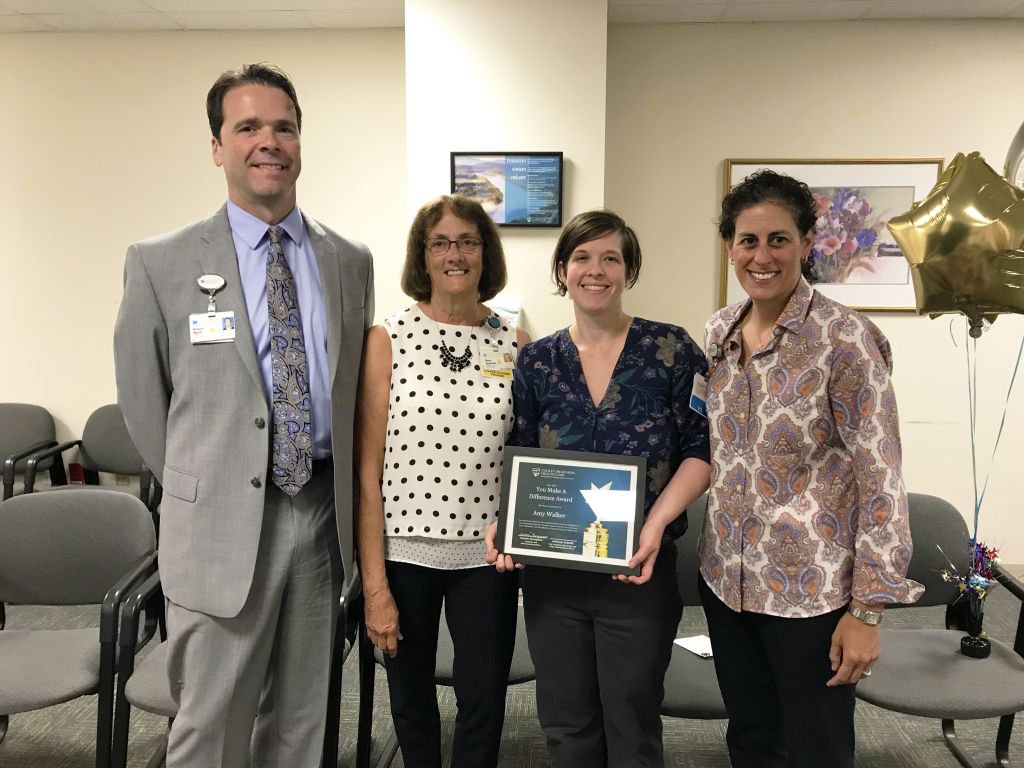 Amy Walker, CNM
Amy Walker is a compassionate, creative, and collaborative Certified Nurse Midwife here at Cooley. She has shown her skill and dedication through her work to establish the New Beginnings program to help pregnant people who are recovering from substance use disorders.
Amy cares deeply about all new parents and babies and is committed to providing them with compassionate, non-judgmental, and top-quality care. She believes in the power of peer support and education that can address the complex medical and social needs of pregnant people during a vulnerable time in their lives.
Thank you, Amy, for your determination to make our community a healthier and more compassionate place for everyone.
---
You Make A Difference Award, April 2019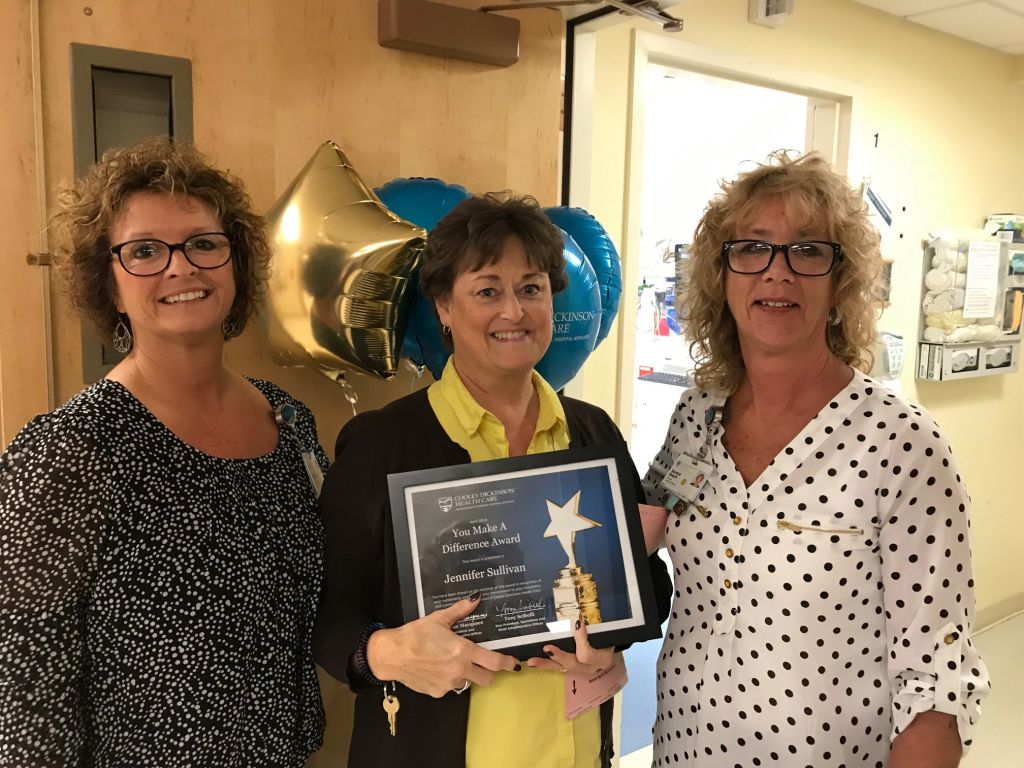 Jennifer Sullivan, PAC
Patient Access Coordinator Jennifer Sullivan is the April winner of the You Make A Difference Award, and is in a role that she loves—helping people face to face.
Jenny stands out for her support of Cooley Dickinson Patients with both a high level of expertise and sincere empathy. She knows that it is a privilege to care for people in our community and is working successfully to improve the way we collaborate with and support our patients.
Thank you, Jennifer, for putting our patients first and for using your creativity and compassion to make Cooley Dickinson Hospital a better place! You Make A Difference!
---
 You Make A Difference Award, March 2019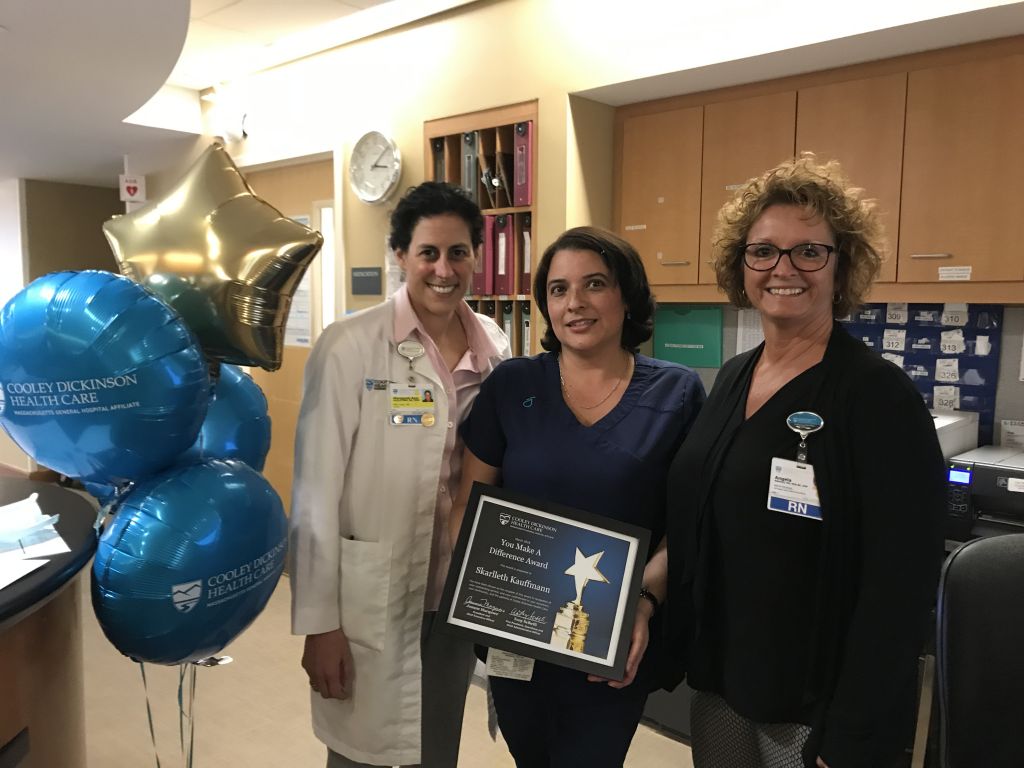 Skarlleth Kauffmann, PCA
North 3 Patient Care Associate Skarlleth Kauffmann is the winner of the March You Make A Difference Award because of her kindness and dedication to Cooley Dickinson patients. Nurse Manager Nicole Fisette says that Skarlleth's coworkers describe her as someone who is "gentle, conscientious, and a pleasure to work with." She is known to use her own form of medicine—humor, laughter, and the ability to be in the moment—to craft experiences for her patients that exceed typical expectations for a hospital stay.
One example of her commitment to patient experience and well-being happened when she found out that a patient was just a few days away from celebrating a milestone wedding anniversary. Skarlleth talked with the patient about writing a love letter to their spouse, and provided them with pen and paper. That might be enough for some, but not for Skarlleth, who found out the couple's wedding song, and talked a friend into learning to play the song. She picked up a bouquet of roses and an anniversary card, and arranged for a sweet, kind-hearted surprise.  The patient's spouse and family arrived for a visit and were serenaded with an impromptu performance and celebration as they walked into the room.
Thank you Skarlleth, for putting our patients first! You Make A Difference!
---
You Make A Difference Award, February 2019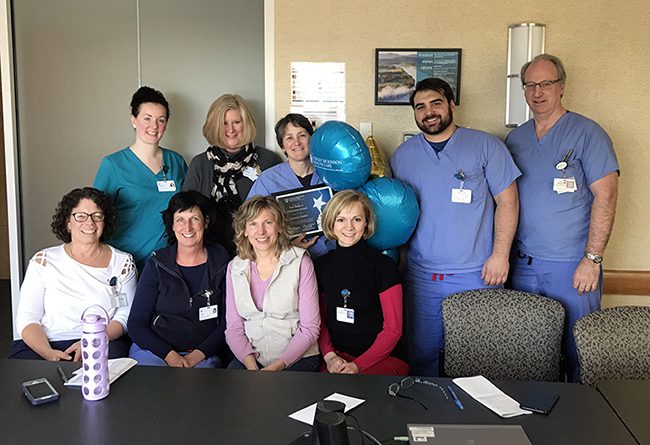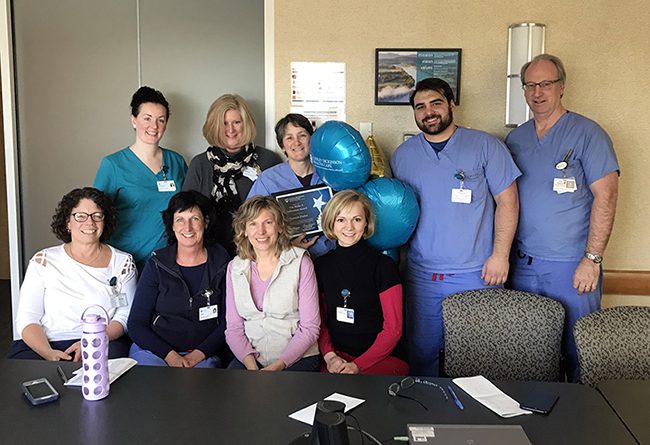 Tammie Foster, OT
Occupational Therapist Tammie Foster is the February winner of the You Make A Difference Award because of her dedication to the well-being of Cooley Dickinson patients.
Tammie received multiple glowing nominations highlighting her skills and her compassion. Atwood Occupational Therapist Karen Kelley had this to say: "Tammie helps patients realize they are still valued and can still function and contribute, even with limited capacities. she builds a therapeutic relationship that turns into friendship."
Several of Tammie's nominators shared that Tammie has gone above and beyond for a patient or coworker, including times she has stepped in to cover for someone who was out sick or has driven to more distant offices to help a patient in need.
One particular story stands out. When Tammie was leaving work one day, she happened upon a patient who was being discharged and waiting for a cab. Tammie was worried that the patient was not well enough to be discharged, so she took the time to stop, take vitals, and reach out to nursing and transport staff. Tammie followed the patient home to make sure they were able to get home safely. The patient was later readmitted. Tammie trusts in her good instincts and skills, which makes a difference for all of our patients.
Tammie demonstrates all the values of Cooley Dickinson: Quality, Compassion, Collaboration, Respect, and Integrity. Thank you, Tammie, for being an inspiration to all of us at Cooley Dickinson. You Make A Difference!
---
You Make A Difference Award, January 2019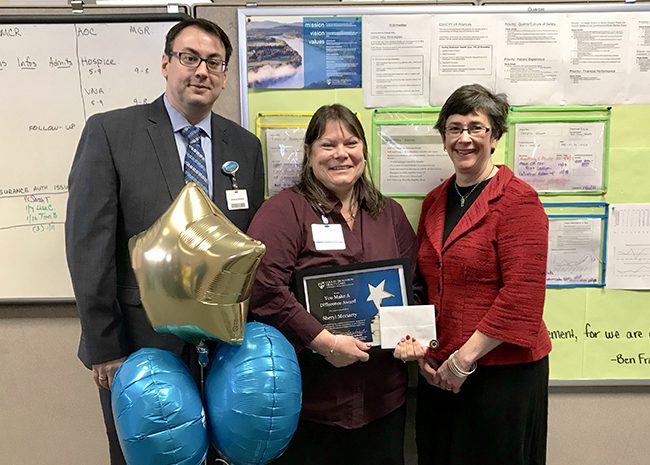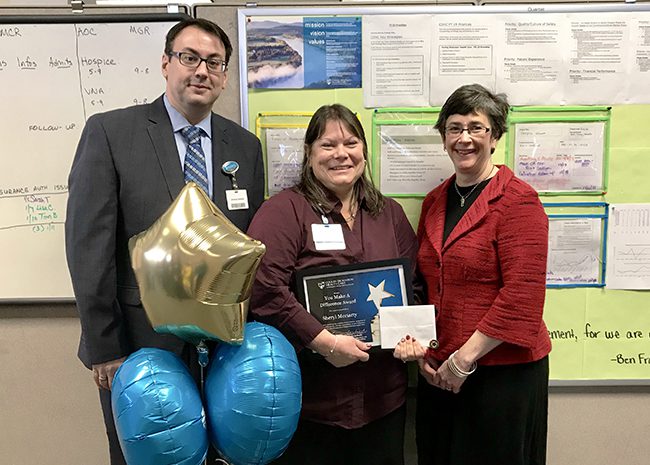 Sheryl Moriarty, RN
Sheryl Moriarty has been part of the team at the VNAH for over 20 years and has never let her commitment to quality patient care slip below anything less than her number one priority. Currently the VNAH's Clinical Support & Education Nurse, she sets the bar high for herself and her coworkers and then continues to raise it. That is why Sheryl is the January recipient of the You Make A Difference Award.
Sheryl is someone who is not intimidated by change –  in fact, it inspires and motivates her to step up and take more responsibility. She takes charge of ensuring excellent patient care and is able to address issues with swift precision and, most importantly, empathy.
She makes a habit of discussing concerns with every single nurse, and this has led not only to a boost in morale, but also to cost savings by optimizing how we use supplies. Her collaborative spirit makes everyone accountable for continuously improving the care that we deliver.
Sheryl truly makes a difference in our patients' lives, and the lives of her coworkers every single day.
---
You Make A Difference Award, Dec. 2018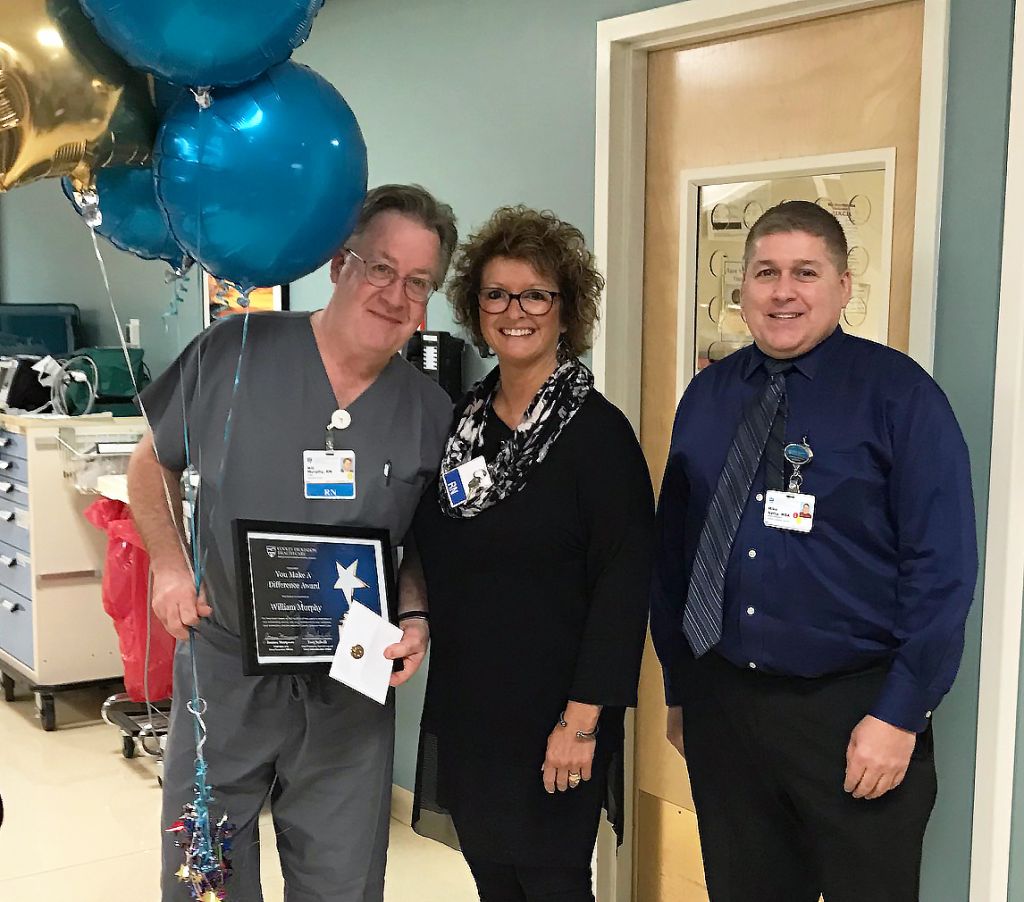 William Murphy, RN
Bill Murphy has been an RN at Cooley Dickinson for over 31 years and we are very fortunate to have him as part of our team. Bill is tremendously respected by patients and by his peers, and that is why he is the December recipient of the You Make A Difference Award.
Bill receives a substantial number of thank-you letters and cards from patients due to his exceptional clinical skills and the relationships that he is able to form with patients and their families. In a recent thank-you note, a patient's spouse wrote about how scary it was to wait alone in the ED during a procedure, that is, until Bill brought in a cup of tea and a warm smile.
Bill not only demonstrates the high quality of care we expect at Cooley Dickinson, he coaches his coworkers and advocates for better care as part of his daily routine. His actions speak volumes, and we are proud of all that he has accomplished.
---
You Make A Difference Award, Nov. 2018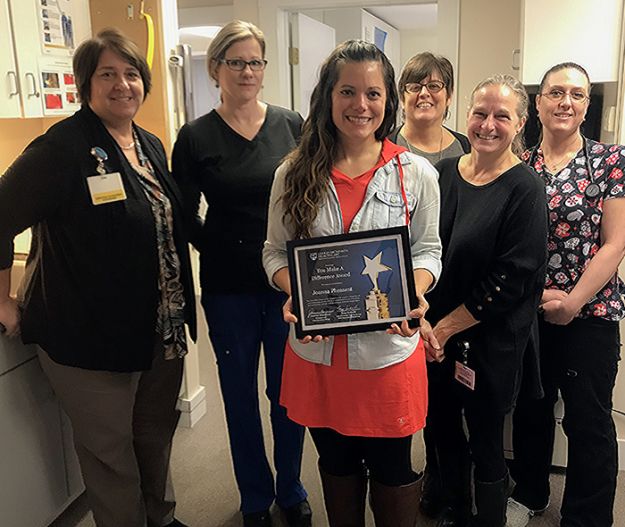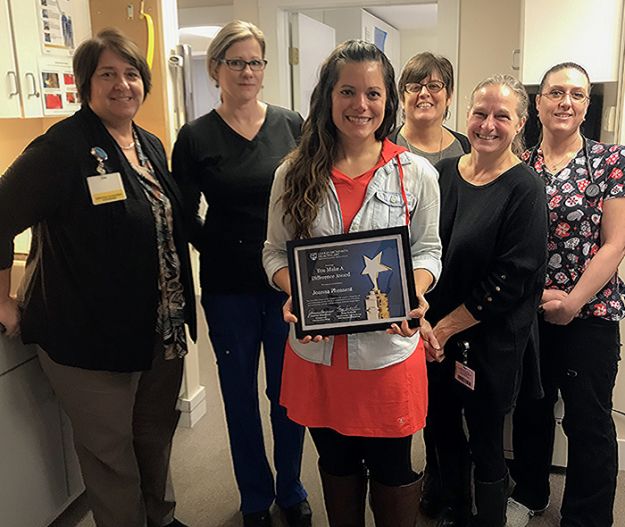 Joanna Pheasant, NP
Williamsburg Internal Medicine Nurse Practitioner Joanna Pheasant inspires her coworkers with the level of kindness and care she gives every day and exemplifies Cooley Dickinson values by demonstrating compassion and showing respect for her patients and coworkers. That is why Joanna is the November recipient of the You Make A Difference Award.
Williamsburg's practice is growing every day, and as workloads have increased, Joanna has continued to support the practice by providing walk-in care to patients-which is not an easy balancing act.
Many of her patients have complicated and challenging needs, and Joanna steps up to provide them all with compassionate and personalized care. She always takes the time to explain a diagnosis and set treatment expectations in a way that makes her patients empowered and informed participants in achieving their health goals.
Nominator Kelly Hughes wrote that Joanna's "appreciation for the work we all do has warmed my heart and set an example of the type of coworker I want to be."
---
You Make A Difference Award, Oct. 2018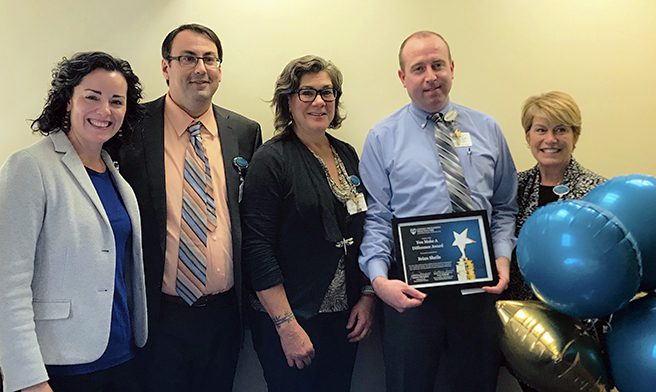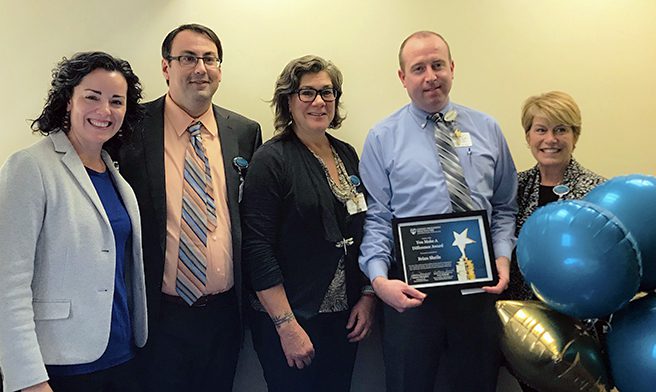 Brian Sheils
Brian is an invaluable member of the Cooley Dickinson Performance Improvement Team, and a data investigation prodigy. Brian LEANs in to challenges and upholds the quality of care at Cooley Dickinson by maintaining our data and systems and collaborating across the organization to provide creative solutions to complex situations.
He took the initiative to really get to know the data streams in EPIC and taught himself how to use the reporting and dashboard functions—now he is the expert. He has uncovered and brought attention to lost work-queues and is dedicated to improving quality of care for our patients.
Brian is also known to excel at coaching staff in a respectful and highly effective way to work through problems and improve productivity.
---
You Make A Difference Award, Sept. 2018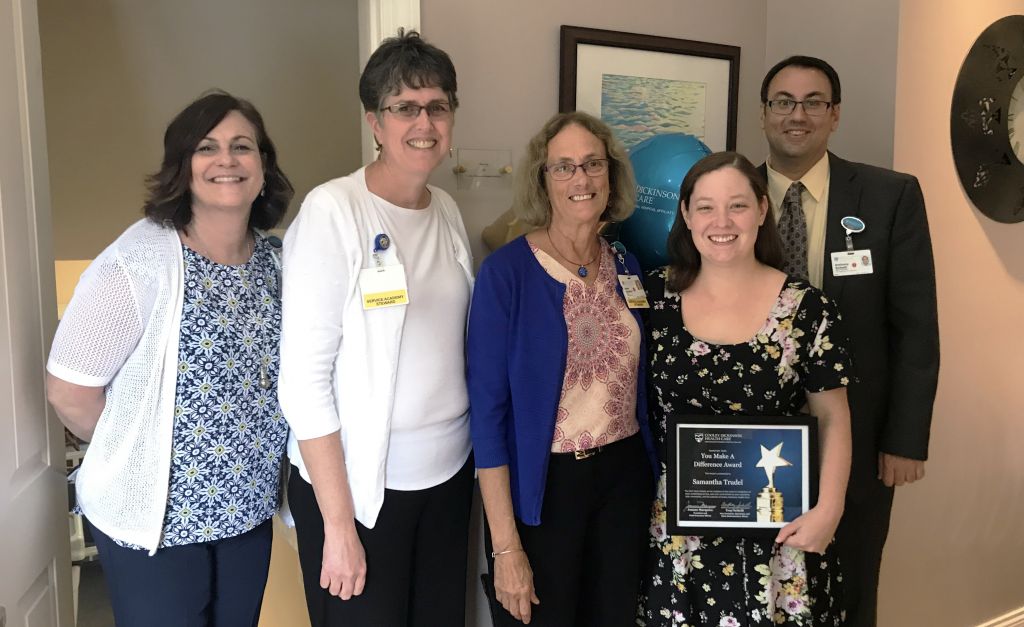 Samantha Trudel
Samantha Trudel is the September winner of the You Make A Difference Award at Cooley Dickinson.  Sam received multiple nominations from her coworkers in Women's Health because of her commitment to making every patient interaction welcoming and special.
Sam has been with Cooley Dickinson for 5 years and has been working hard at making a difference for both coworkers and patients since her very first day. She is known for bringing great ideas and enthusiasm to her work, and for living the Cooley Dickinson values of Integrity, Compassion, Collaboration, Respect, and Quality.
Tanya Roy had this to say about Sam: "She is compassionate with patients, co-workers, and every person she meets. Sam is caring, hard-working, and always willing to go above and beyond".
Congratulations Samantha. You Make A Difference!
---
You Make A Difference Award, August 2018
Sammy Rosa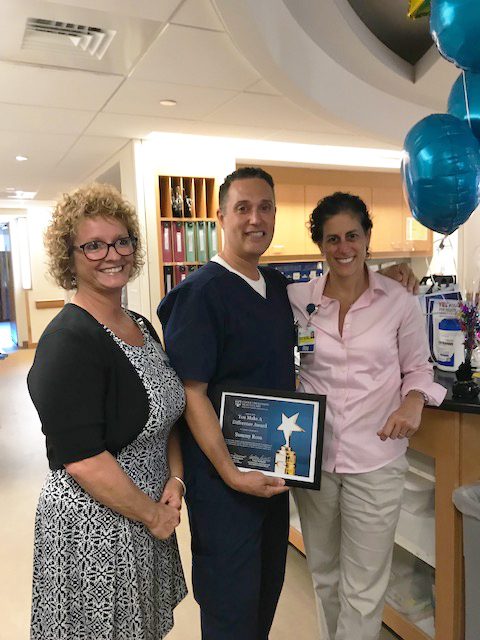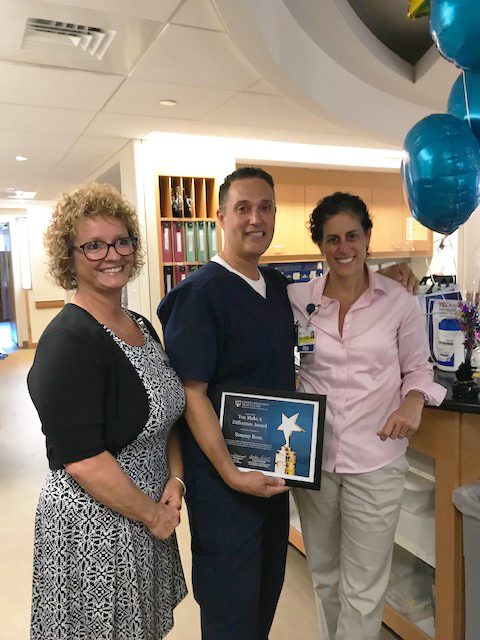 Sammy Rosa is the first winner of the new You Make A Difference Award at Cooley Dickinson.  His coworkers on the evening shift on North 3 know him as an exceptional Patient Care Associate who has a talent for making meaningful connections with the patients he serves every day. No matter what a patient needs, Sammy always demonstrates compassion and acts with integrity.
Sammy has been with Cooley Dickinson for 15 years and has never passed a day without bringing his big smile and upbeat personality to work with him. You can tell that he is making a difference by the easy conversations and laughter that float out into the hallway whenever he is in the room.
Sammy says that the "best part of working with patients hands on is that they are living, breathing tomes of information and experiences" that enhance our own lives. His advice for approaching every work day? "Stay cool, in temperature and in attitude."
The nominator had this to say about Sammy, "He's one of the best and sets a high standard for all his coworkers. His kind-hearted positive approach makes him a pleasure to work with."