February 23, 2021
We Couldn't Do This Without You
Thanks to All of You for Your Valuable Contributions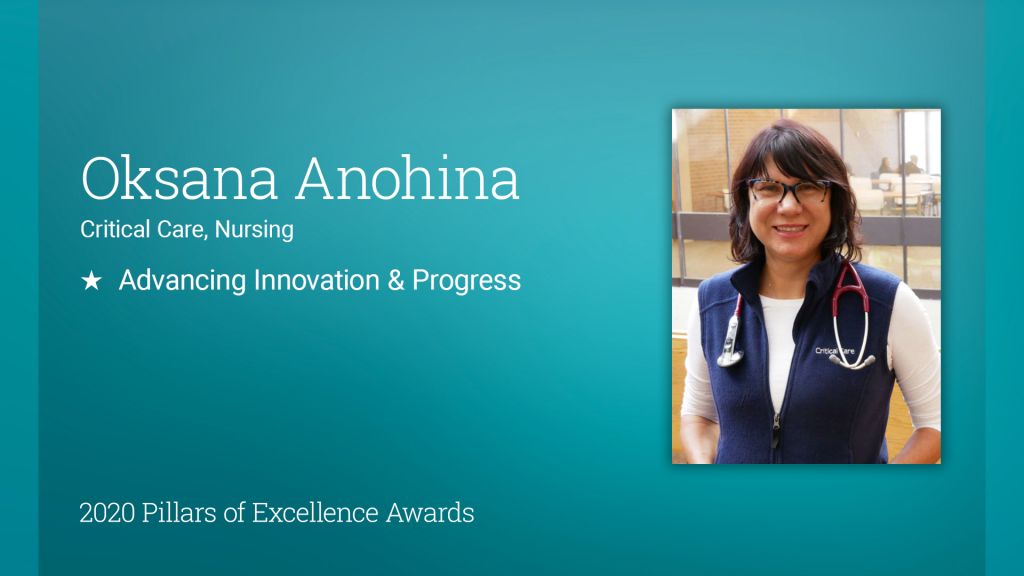 Critical Care RN, Oksana Anohina was nominated for her work in advancing innovation and progress by single-handedly getting the Institute of Healthcare Improvement's (IHI) Age Friendly Health System (AFHS) initiative off the ground at CDH. Oksana has been working on her advanced nursing degree and chose to make her Capstone project about delirium. Oksana created a learning module on delirium, created a pre and post-test, and started a 21-day PDSA cycle with the goal to have nurses complete the EPIC-based Confusion Assessment Method for every adult older than 65. She calculated the results daily, monitored accuracy and was available to answer any questions and provide further education for any nurse who needed it. Because of Oksana – we achieved AFHS recognition and can now further develop this great work. Oksana poured her heart and soul into this project and didn't let the challenge of COVID stand in her way. She educated the staff about the initiative, planned a kick-off celebration, and worked diligently with the Geriatrics team, IHI and her instructors to ensure this pilot went off successfully. Over 81% of the staff voluntarily participated in the learning module, the pre-and post-tests, and gave feedback on the initiative. Because of Oksana, we are growing closer to becoming an Age-Friendly Health System. Congratulations Oksana! Congratulate Oksana by sending a Kudos for Coworkers!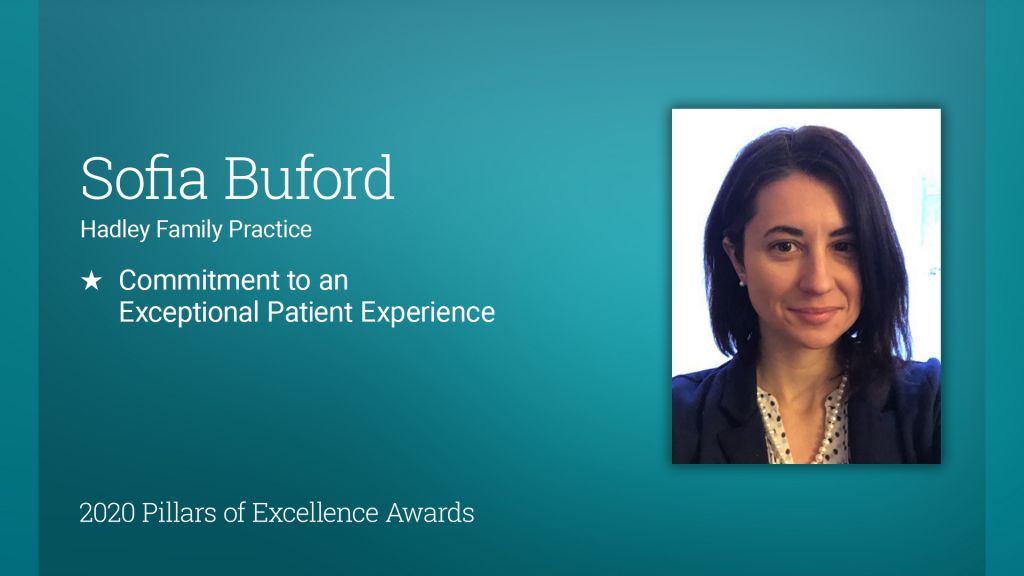 Sofia Buford, Nurse Practitioner at Hadley Family Practice, was awarded for her commitment to improving the patient experience. In her everyday practice Sofia demonstrates a deep caring and compassion for her patients and is always willing to go the extra mile for them. She frequently stays after hours to make a phone call to a patient or talk to a specialist. She is very thorough and thoughtful about her evaluations and never leaves a clinical question unanswered. The quality of her care is always excellent. Sofia likes to work collaboratively, and often asks thoughtful questions of her colleagues and helps to solve other's questions. She is always thinking about her colleagues and willing to help others when she can. Throughout the pandemic, she has worked at the RIC and has been enthusiastic about helping her colleagues in the clinic when changes in scheduling are needed. Sofia is a true asset to the Hadley Family Practice and our community, and we are honored to recognize her for her outstanding work. Thank you, Sofia. Congratulate Sofia by sending a Kudos for Coworkers!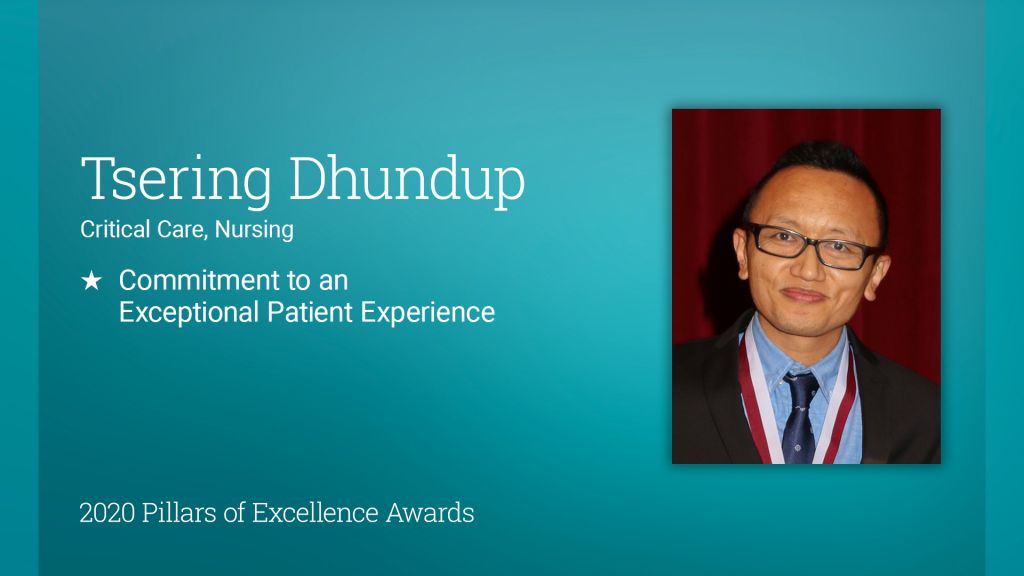 Critical Care Unit RN, Tsering Dhundup received an award for his exceptional work with providing quality, coordinated and compassionate care. Tsering exemplifies the values we all hope to have: He is caring, compassionate and patient. His outstanding characteristic is that he spends time with patients listening to them as well as anticipating their needs and going out of his way to meet them. Tsering can often be found sitting by a patient's bed just listening. Tsering builds important connections with patients that is valuable for developing trust and supporting healing. This process can be challenging on the Critical Care units, as patients are often too sick to make that connection with others. But because of who he is and the values he expresses every day, he is able to be there for patients, providing strength and support. Tsering is a valuable member of the CCU team and is a strong collaborator with others. His combination of warmth and kindness helped the CCU team during the incredibly stressful times we have been through during the pandemic. Thank you Tsering, for your commitment to providing an exceptional patient experience. Congratulate Tsering by sending a Kudos for Coworkers!
VNA and Hospice Rehabilitation Team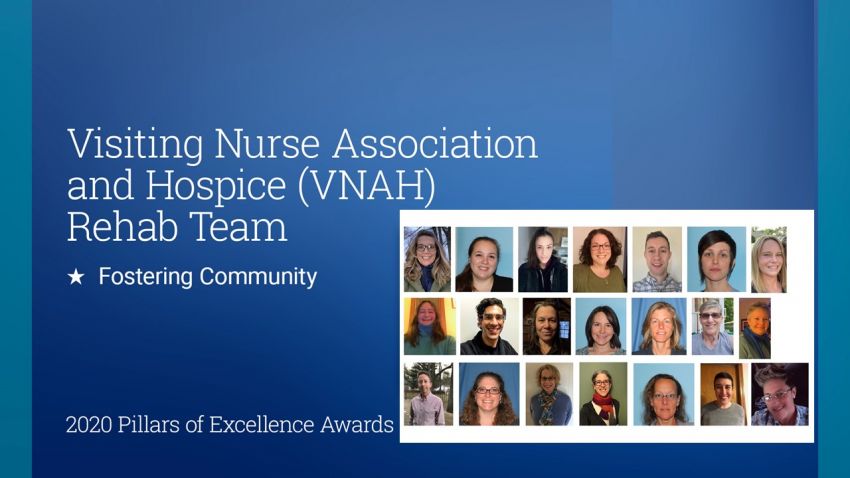 The VNA & Hospice Rehabilitation Team are being recognized for their dedication to fostering community and improving the health and well-being of our colleagues and neighbors. The VNA & Hospice rehab Team is represented by team lead Jenny Hutchinson. The rehab team collaborates successfully, communicates well, and cares for one another both at work and outside of work. During the COVID outbreak, they quickly transitioned patients with warm handoffs to ensure the best care. Then half of the team were redeployed, but even this didn't fracture the team – in fact the pride in those who were at the hospital shined through the difficulty. Even though the team members weren't doing what they were hired or licensed to do, they recognized that the work they were doing was essential and critical to the safety and wellbeing of our patients, our community, and each other. Since then the team has come back together, supporting one another, thankful for the chance to make a difference and grateful for the ability to be taking care of our patients. Find the full list of VNA & Hospice Rehabilitation Team Members here. Send a Kudos for Coworkers to the team to thank them for their achievement!